Perham sophomore needs help
News | Published on March 17, 2022 at 11:21am EDT | Author: Chad Koenen
0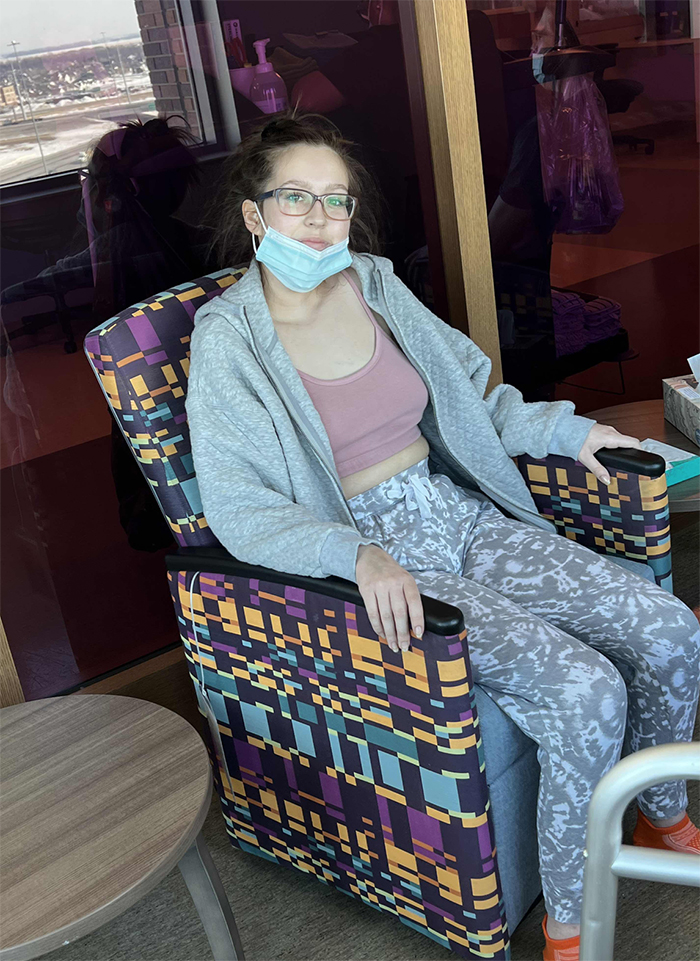 By Barbie Porter
Editor
Amelia Hill is fighting for her life, and her family needs help.
The 15-year-old sophomore at Perham High School was recently diagnosed with 4 T-Cel Lymphoblastic Lymphoma, which is a form of non-Hodgkin lymphoma. 
The difficult news broke after Hill visited a doctor to have a lump on her neck examined. The findings had doctors sending her to Fargo, N.D., with urgency. More tests followed and fluid was found in Hill's lungs. There was also a large mass in her chest.
The daughter of Kelly Winkels and Nick and Nikki Hill, was admitted to Sanford Pediatric Oncology, where the fluid was drained and biopsies taken.
Unfortunately, the news came back that cancer was present. Hill underwent a bone marrow biopsy to narrow down the specific cancer, which was when it was discovered she had stage 4 T-cell Lymphoblastic Lymphoma.
"Before I knew anything about cancer, I assumed stage 4 was terminal. This is not necessarily a terminal cancer. The progression and circumstances around her particular cancer are considered very serious and aggressive."

Kelly Winkels in a CaringBridge journal
Hill was provided a treatment plan, which included a round of chemotherapy.
"The team is fully optimistic that the tumors will shrink rapidly and hopefully (she will) begin outpatient care at Roger Maris Cancer Center in Fargo," Winkles wrote.
Tests also revealed cancer cells were in Hill's spinal fluid and surrounding her brain.
"There are no signs as of now that there are present tumors from these cells," Winkles wrote. "The stage 4 diagnosis came from these results."
That may mean radiation of Hill's brain will be needed.
"Amelia is overall feeling pretty good and being so tough," she continued. "It's just all these mental parents who are driving her nuts with our emotions."
By the end of February, the treatments left doctors optimistic enough to allow Hill to go home, before getting chemotherapy treatments at Roger Maris Cancer Center.
On March 3, Hill returned home in the afternoon. Tears of joy flowed as she walked into her newly painted and decorated bedroom.
"She was able to come upstairs to spend time with family, and open all her packages," Winkles wrote. "Please, if you sent something from Amazon, let us know who you are and send a message. She got so many amazing care packages, but all those from Amazon had no indication of who they're from."
As Hill and her loved ones move forward into the unknown, Keshia Fulford is doing what she can to help.
"There is so much left unknown at this time, but what we do know is that Amelia (Hill) is strong and has amazing support of her beloved parents, siblings, immediate and extended family and all of her amazing friends," Fulford said. "Life changes so unexpectedly, so fast, and this includes financially as well. No one is ever prepared for anything such as this. Even with insurance, medical expenses will build."
Fulford asked all who are able, to donate to the Hill family to relieve financial stress so they can focus on caring for Hill.
"No donation is too small. If you're unable to give, that's OK," she added. "Prayers are welcomed equally, if not more."

Keshia Fulford
How to help
Fulford, a resident of Perham, and Winkles, a resident of Ottertail, gave permission to use information shared on the fundraising site. Hill's story can be followed by going to: 
• www.gofundme.com/f/gyzgk-support-for-amelia
• www.caringbridge.org/visit/ameliahill
• Winkles is also the manager of The Brew in Perham. Donations could also be brought there. Fundraising events are being planned as well.