Branden brings home Driver of the Year award
News | Published on March 24, 2022 at 2:38pm EDT | Author: Chad Koenen
0
Frazee driver has been trucking his whole life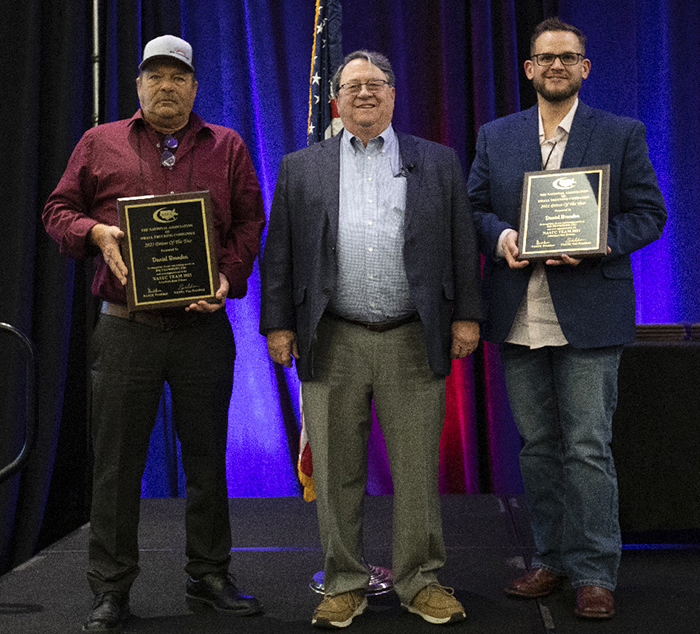 By Barbie Porter
Editor
BM Transport driver, Danny Branden, was recently named Driver of the Year by the National Association of Small Trucking Companies.
Growing up in Audubon, Minn., the son of the late Arvin and Marlene Branden is the self-proclaimed odd ball of the family. He explained everyone was born in North Dakota, except him. He made his debut into the world in Detroit Lakes.
"I was also the only one born in a hospital," he said. "Some were on the way, but when my mom decided to have her kids, she had them right then."
Branden grew up as a farmer's child. He was in the field picking potatoes by the time he was seven, and when he turned 14 his chores increased.
"My dad was a deputy sheriff for Becker County, drove truck and worked heavy equipment in construction. My uncle owned trucks too."

Danny Branden
Branden would occasionally take trips with his dad or uncle. His favorite trucking adventures were with his dad to Duluth, Minn.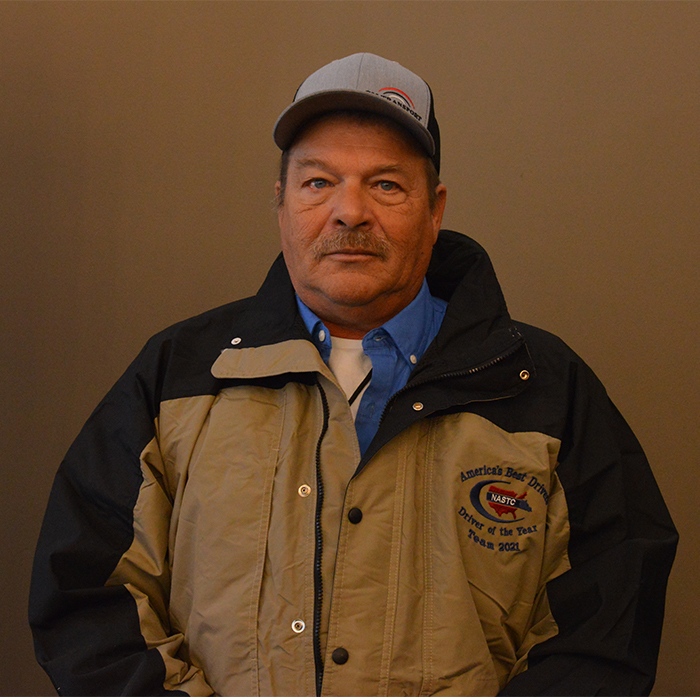 "It was just fun being in a truck and on the road with my dad," he said. "We had a lot of good times and we'd get up there and see the big ships. We'd meet other drivers and I'd sit there listening to them. They were a bunch of gossipers with a lot of stories. It was a different way of life and I liked it."
The 1975 Audubon High School graduate joined the National Guard and served four years in the motor pool division as a vehicle mechanic. He also started driving truck 46 years ago.
"I knew how to do it and knew I wanted to right out of high school," he said. "One thing, it was for the money and the other thing, it got me out of the shop and off the farm. Out there, you are free, but it is hard work."
Branden recalled his first solo trip was filled with jitters, nerves and a lot of hope.
"I hoped to heck that I didn't screw up and wreck the truck. Let's just put it this way, it was like taking a finals test that I needed to pass if I wanted to graduate."

Danny Branden on his first solo trip
In addition to the long hours and mental focus the job requires, Branden said he was introduced to different cultures and personalities that didn't exist in his hometown.
At first, he was limited to driving in-state. After turning 21, the silver beltway opened up to great him.
"I've been a lot of places that many will never go to in their lifetime," he said. "I've been all around the country and Alaska too, all the proveniences and up through the northern territory."
It was in the Yukon in Northern Canada that Branden met his biggest challenge on the road. He recalled everything was different, from the lay of the land to the people and laws.
"Their ghettos looked like a regular city," he said. "Everything was so clean…and there were so many mountains."
He noted in a time before cell phones, sparsely populated segments of the road stretching into the mountains, as temperatures plummeted, can raise the hair on the back of one's neck.
"If you break down, you wait. You wait for someone to come along and call a Mountie (cop) to help you out."

Danny Branden on being stranded along the road before cell phones
While Branden noted he was blessed with a truck that seemed to be modeled after the "Little Engine that Could," the fear was always in the back of his mind. He explained, the truck equipment has changed during his tenure in the field. In the early years the engines were less dependable, had less power and less room for living quarters. Now, the air-ride seats provide comfort for the long haul and the amenities make life on the road easier.
"Now I have a fridge, T.V., microwave…everything," he said.
Branden and his father-in-law owned their own trucking business for more than 30 years. As the equipment aged, they decided to join forces with BM Transport in Frazee.
BM Transport Safety Coordinator Hailey Priola shared the company nominated Branden for the honor of Driver of the Year.
"Danny (Branden) is the epitome of a driver that looks at this as a true profession and way of life," the letter read, noting he has worked for BM Transport since 2011. "He never quits being the true professional that he is whether he is delivering in downtown Los Angeles or rural parts of Minnesota."
Branden has successfully completed roughly 5.5 million accident free miles, and not had a moving violation for 40 years.
When Branden was selected for the honor, he was gifted with a trip to Nashville, Tenn. to accept the award.
"The company went to bat for me and put my name in," he said. "There are 192,000 small trucking companies in the country. When they told me I was a Driver of the Year, I thought they were pulling my leg."
When he learned he truly was one of the few chosen for the honor, Branden said it took his breath away and tears started forming.
"It was pretty awesome," he said. "It is an honor."