Kropuenske presented with lifesaving award
News | Published on March 24, 2022 at 2:42pm EDT | Author: Chad Koenen
0
Frazee fireman saves the life of an inmate in Becker County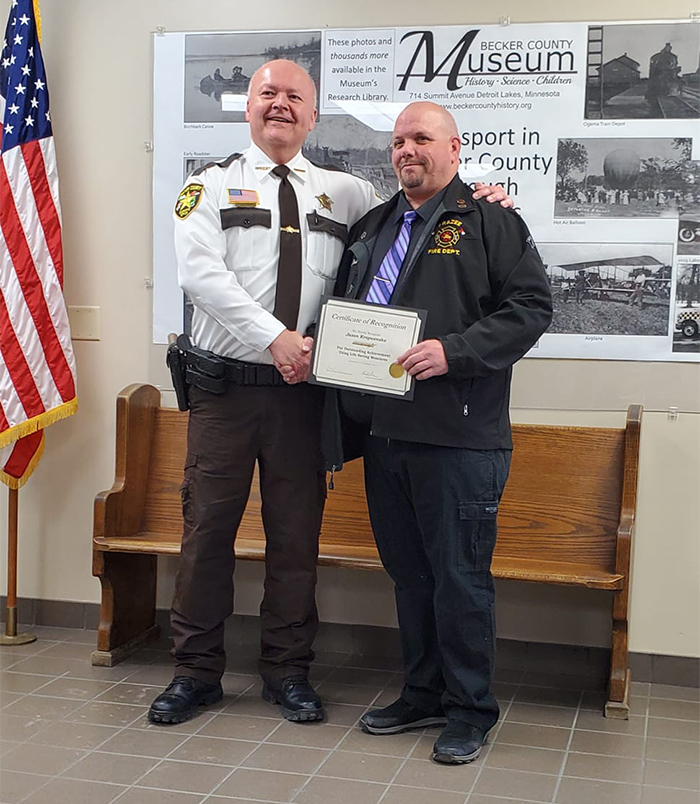 By Barbie Porter
Editor
Jason Kropuenske has seen both sides of those moments when one's life flashes before their eyes.
The Frazee resident was pinned by a skid steer and wasn't certain there would be a tomorrow. He was also one of the three correction officers at Becker County Jail who watched an inmate's life begin to slip away.
The 45-year-old recalled that fateful July day when an inmate wrapped a sheet around their neck in attempt to end their life. A correctional officer found the individual and called for assistance, that is when Kropuenske arrived.
With 16 years as a member of the Frazee Fire Department, Kropuenske's brain went on autopilot­—meaning the emotions that often create chaos during intense moments were shut out. With laser focus on the lifesaving task, he wedged his hand between the sheet and the individual to reduce constriction of the airways. A third correctional officer arrived and cut the sheet. The inmate gasped for air. Another minute or two and the story could've been tragic, Kropuenske noted.
"I've been working at the jail for almost five years. I've never experienced that before, but because of my training with the fire department, I knew what to do."

Jason Kropuenske
For their life saving efforts, Kropuenske and his two colleagues (Jason Stallman and Matthew Brun) were presented with a Certificate of Recognition For Outstanding Achievement Using Life Saving Measures.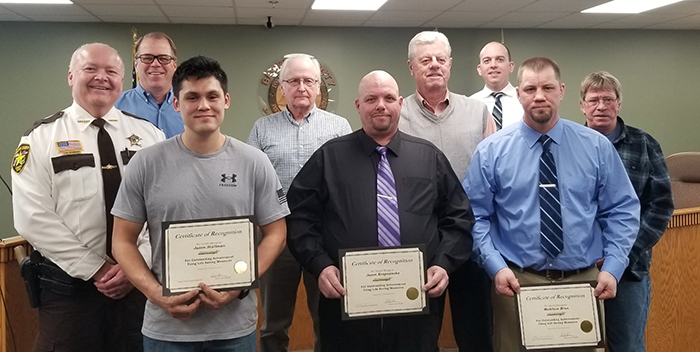 Kropuenske said he was notified of the award by Becker County Sheriff Todd Glander. After receiving the certificate at a ceremony, Kropuenske said he plans to frame it and put it where people can see it.
"I will either put it on my wall in the garage, where I spend a lot of time hanging out with people, or in the living room," he said.
Saving a life has been something Kropuenske has wanted to do since he was a young man. The Eagle Scout explained when he joined the fire department he did so with the hope that someone would be on the earth, because the team he is a proud member of were able to help. 
Some of his team members came to his aid about 15 years ago. After switching attachments on his skid steer, he got back into the running machine and stepped on the pedal. A terrifying pin followed.
He was able to free his arm to call his wife, who then called rescue. Because of the quick reactions and life saving measures, Kropuenske was on the earth to save another when the time came.