Rodeman steps into cowardly shoes at FHS
News | Published on March 24, 2022 at 2:10pm EDT | Author: chadkoenen
0
FHS musical set for April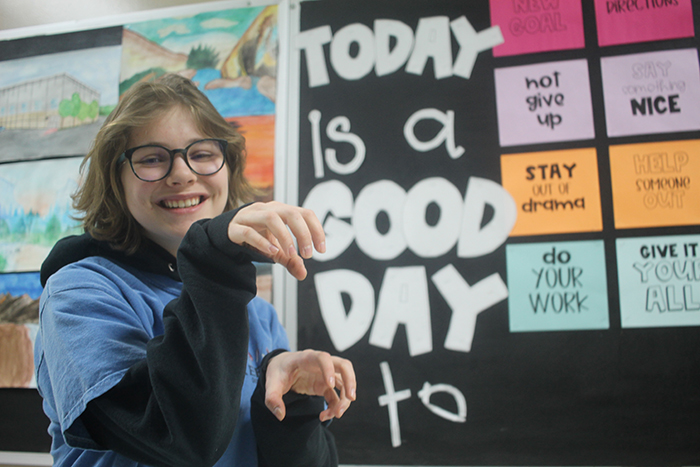 By Barbie Porter
Editor
Sydney Rodeman looks forward to taking the stage and playing the part of a coward who finds courage.
The daughter of Lisa and Todd Rodeman will play the Cowardly Lion in the "Wizard of Oz" musical, set to debut in early April at Frazee High School.
She tried for the role of the Cowardly Lion because she wanted to play an overly-dramatic character. Rodeman also liked the Cowardly Lion's backstory.
The Cowardly Lion is supposed to be a king, but feels his fear decreases his worth. While he acts in moments many would be gripped with fear, he doesn't understand that is courage. So, he joins Dorothy on her travels to see the Wizard of Oz, in hopes he will grant him courage.
Rodeman examined the character and herself, and found commonalities, such as the initial appearance of almost being cocky.
"When you get to know me you see I have flaws like everyone."

Sydney Rodeman
A trait that she wasn't too familiar with was being a coward. She had to consider what traits a coward may have that are non-verbal and built mannerisms to show the audience about her character without a word.
"I do things like fidget and hide," she said.
Having the audience see all their hard work is what Rodeman looks forward to the most. Especially to have her family in the seats and join in the fun.
Rodeman has taken the stage at pep fest and school events to sing. Most may assume she had years of training, but it wasn't until this year that she joined choir.
"I've always enjoyed singing," she said. "But in choir I learned you can train your voice; you're not stuck with the vocals you have, there is a process to improve."
Journey to stage began sophomore year
The rural Frazee resident first joined the musical scene last year. She recalled an e-mail notification to sign-up went out to students. After reviewing her calendar and seeing she had free time, she took a chance.
"I found it was easy to act on stage. It felt like I was just playing around. What was hard was the pace."

Sydney Rodeman
Rodeman explained, noting when practice starts three months or so before the curtains are pulled back on opening night, it seems there is ample time to learn lines, dances and so forth. However, the time seems to speed up at some point.
This year, the Frazee High School junior knows what to expect. That reduces the nerves that go along with public performances. The director's guidance also helps a great deal. Rodeman said there are late practices at times, which seem to be when things go wrong. Having those moments is beneficial, as it teaches the actresses and actors what to do if a line is missed.
"We have to roll with it and make it seem like it was all part of the play," she said.
In her second year in the high school musical, Rodeman continues to have fun with the after-school activity.
Her cast members make her smile and feel appreciated, and she works to return those feelings of support.
"Being in the play is the first time I've been part of a team," she said. "I'm in cross country and track, but those are really solo sports. Being part of a team I realized how important each person is, no matter how big or small the part, it wouldn't work without them."
Rodeman also applauded the director Amber Sazama for her dedication to the play and the many hours she spends directing the cast.