BNSF gives update on Frazee train derailment
News | Published on March 30, 2022 at 3:06pm EDT | Author: Chad Koenen
0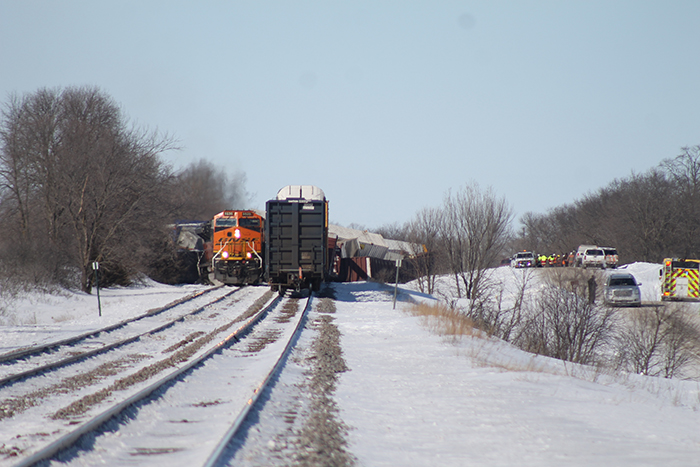 By Barbie Porter
Editor
The cause of a train derailment in rural Frazee on Thursday, Feb. 17 is still under investigation. Public Affairs Director, Lydia Underdahl, for the Burlington Northern Santa Fe railroad provided additional information regarding the trains involved in the accident.
Underdahl stated the eastbound train as coming from Minneapolis and heading to North Dakota. It derailed about two miles outside of Frazee in Burlington Township. The train was carrying consumer products, such as TVs, batteries, paint and so forth. The engine was pulling about 40 rail cars.
"The derailment impacted an eastbound train, which was coming from the West Coast and heading toward Chicago, Ill.," Underdahl stated in an e-mail.
The train heading toward Chicago, Ill. was stationary at the time of contact.
The derailment happened around 9 a.m., near the intersection of Indy 500 Road and Valley View Road. Residents living in the area were evacuated as a precaution until the accident could be assessed.
"Safety for our employees and the communities where we operate is paramount. We have protocols in place, and in the event of a derailment the train crew reports an incident with their train appropriately and then exits the locomotive for safety."

Lydia Underdahl, Public Affairs Director for the Burlington Northern Santa Fe railroad
She added the investigation into the cause of the derailment remains open so it can be fully investigated.
Underdahl added the investigation includes "the condition of equipment, track and train handling."
"We take the full time available to conduct a thorough investigation so we can learn what occurred and why and work to prevent it from happening in the future," she wrote.