Experienced Frazee line up returns to softball diamond
Sports | Published on April 13, 2022 at 12:31pm EDT | Author: chadkoenen
0
Eight letter winners return from last year's 18-8 team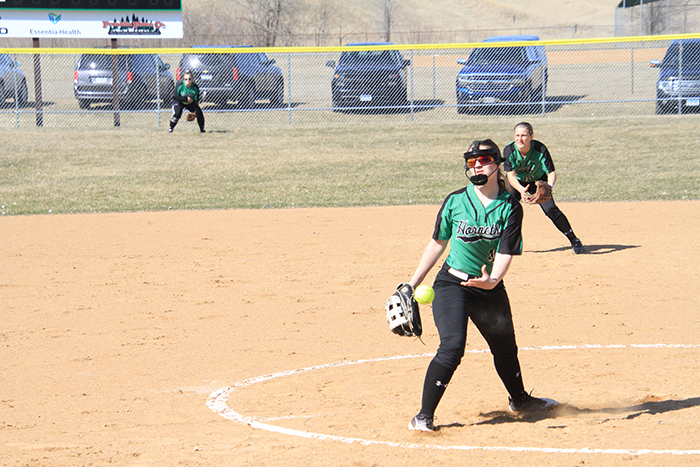 By Chad Koenen
Publisher
Frazee has had its fair share of success on the softball diamond over the past few years. After finishing with a record of 18-8 last season and a third place finish in the section tournament, the Hornets are hoping to take that next step in both the conference and competitive section tournament this season.
The Hornets will return eight letter winners this season including: Anna Drewes, Kiley Karger, Harley Kropuenske, Malena Mahoney, Claire Pausch, Annika Reierson, Faith Hamm and Kate Vigen.
While they have quite a bit of experience returning to the field, they will need to replace four key parts to last year's team that were lost to graduation. That includes third baseman Anissa Antonsen, first baseman McKenna O'Brien, pitcher and outfielder Madison Starry and shortstop Dani Piche.
Among the non-letter winners who could fill those holes will be Riyan Eckert and Ashley Malikowski.
In addition to the new members to the team this year, there will also be a new head coach leading the charge for Frazee. Tavia Bachmann is taking over for Matt Bauer who left to coach a college softball program in Missouri after last season.
Bachmann said the Hornets hope to compete in both a tough Heart O' Lakes Conference and make another strong run in the section tournament this year.
"We have a tough conference and section, but we are the underdogs this year and I feel that teams may overlook us," she said. "We have a strong group of girls coming back and are excited for the weather to shape up and get out on the field."
Among the preseason conference and section favorites will be Hawley, Dilworth-Glyndon-Felton and Pequot Lakes. However, Bachmann said a number of teams in the conference and section will be tough this year.
"Many teams in our conference and section are strong contenders and each game will be a battle," she said.