LAC holds stockholders meeting in Perham
News | Published on April 13, 2022 at 1:01pm EDT | Author: Chad Koenen
0
Awards presented during annual meeting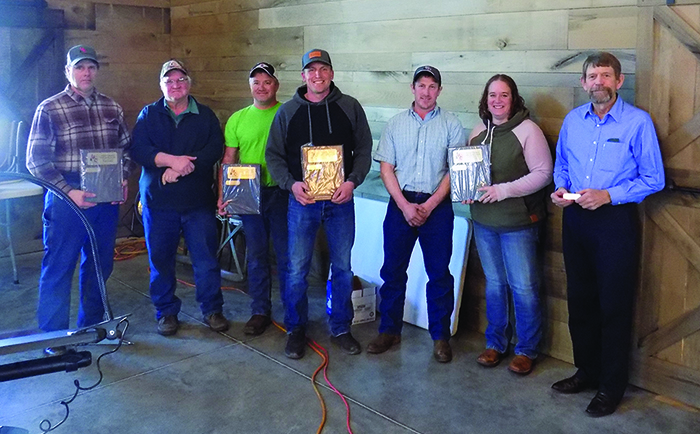 On March 17, the Lakes Area Cooperative (LAC) held its 109th Annual Stockholders meeting at the Countryside Barn. President John Schultz called the meeting to order at 10:30 a.m.
Secretary Jason Bachmann gave the Board of Directors' report and thanked the patrons and the employees for their support in 2021.
Auditor Mike Misheski of Widmer Roel presented the financials, reporting record sales of $97.9 million and net savings of $3.878 million.
Manager Dale Tellinghuisen then gave a detailed report of 2021 and looked forward to 2022.
Operations of "Professional Agronomy Services" fertilizer and supply joint venture with Nutrien were also discussed. PAS has completed its 11th successful year of operation and LAC will be paying a 5.7 percent dividend on all 2021 agronomy purchases. LAC will also pay dividends of 1.9 percent on feed sales and 1.215 per cwt. on milk purchased by the co-op. In 2022, LAC will be paying out $2.4 million in cash and issuing $2 million in equity to patrons of the company based on 2021 purchases and stock retirements.
"We're extremely proud that once again we can deliver this important benefit of being part of a cooperative business to our member-owners," said Tellinghuisen. "One of the most important ways we help producers succeed is by delivering an economic return on the business they do with Lakes Area Cooperative and for them to use LAC and PAS as an extension of their farming operation . Our annual meeting is our way of connecting Ag business services to Ag production with the governance of this cooperative. 
Milk Quality Awards were then presented to local dairy farms. Three incumbent directors were elected for three-year terms, including Ron Palubicki, Ken Herbranson and Jamin Aho.
Lakes Area Cooperative is a diversified energy, farm supply, meat market and milk-purchasing cooperative with locations in Perham, Ottertail, Battle Lake, Vergas, Dent, Menahga, Wolf Lake, Park Rapids, Wadena, Hackensack, Akeley, Clarissa and New York Mills.