FFD Relief Association Auction returns April 23
News | Published on April 19, 2022 at 4:37pm EDT | Author: chadkoenen
0
Fundraiser to be held at event center on Saturday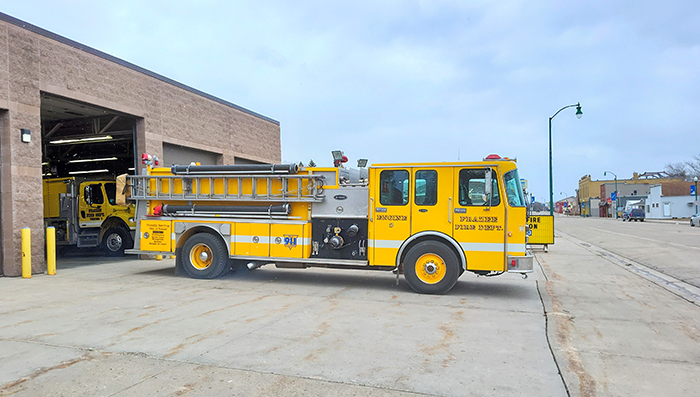 By Robert Williams
Editor
After two years of working around the pandemic and not holding a full event, the Frazee Firefighters Relief Association Auction returns in full this year to the Frazee Event Center. The event will be held on Saturday April 23, from 5-9 p.m.
The event did not happen at all last year, forcing the association to raise money in other formats.
"Three or four years ago, we started the calendar fundraiser, so we did that," fire chief Nathan Matejka said.
Along with the Frazee Demo Derby fundraiser, an online raffle and a pancake feed, the association managed to raise funds, but the auction is by far the department's biggest fundraiser.
"The last two years have been down years for our fundraisers. We've done alright with our other fundraisers, but not having our big one affects retention, recruitment and retirement."

Bricker Ware, Frazee firefighter
Recruiting new firefighters is equally as important as equipment.
"We're always looking for new recruits," said Ware.
"Even if you don't live in the Frazee area, join your local fire department," Matejka said.
In the past, items like a Fortuna inflatable boat for ice rescues and rescue jacks have been purchased with the funds. Rescue jacks run around $15,000, the boat around $5,000.
"Sometimes there are things that come up, like equipment, which we haven't budgeted for," Matejka said. "You can choose to wait, bite the bullet, or use our fundraiser money for it."
A need on the list this year are air bags, used to lift, or support a car and move heavy objects off accident victims.
"It's not a matter of wanting to wait until it's budgeted with the city," Matejka said. "Ours are old and they have to be replaced."
Money from the auction goes directly to a fire department fund, rather than through the city.
The city budget requires approvals and time, where the department is able to make decisions immediately based on needs from fundraiser monies.
"No matter what your budget is, you always need more," said Ware.
Personal gear for firefighters, like coats and pants alone cost $2,500, add another thousand for a complete set, something that is in this year's budget.
"The city has been really good working with us the past couple years," Matejka said.
Another specified need is to replace a leaky hose reel. The unit is used to spray off trucks after calls and clean gear. A replacement or two will help with efficiency and time-saving, something that is important to the volunteer crew to complete calls. Each firefighter has a job or family to get back to after completing an emergency run.
Retention is a major key to keeping the all-volunteer crew staffed. A small portion of the funds go to group activities to build camaraderie and reward the efforts of the firefighters with needed activities to boost morale.
All three firefighters expressed the importance of the brother and sisterhood the volunteers have created and keep in the department.
"You're not doing this for money," said Ware.
"You're doing it to help people and your community," retired firefighter Shawn Ohman said.
Ohman has been essential in organizing the fundraiser, according to Chief Matejka.
"Shawn has been our head guy for the auction," said Ware. "A credit to Shawn for heading up the auction and doing the vast majority of the work for us. It's a lot of work."
Food from Ketter's Meat Market will be served by the Ladies Auxiliary thanks to a donation to by Nate Woodard from Thrivent Financial, one of many auction sponsors.
"Thank you to all the sponsors out there and everybody giving donations," said Matejka. "We wouldn't have this without sponsors and donations. A huge thank you to them."
Donations can be made up to and including the day of the event on Saturday, which will include a live auction, silent auction, charitable gambling, horse races, games, raffles, guns, wine, tub of booze, tool packages, outdoor gear, patio stuff, events, gift certificates, sports paraphernalia, spin the wheel, drawings, heads and tails, free stuff and more.