Frazee Family Foods preps to open new laundromat
News | Published on April 19, 2022 at 4:07pm EDT | Author: Chad Koenen
0
Company installs Frazee's first electric car charger
By Robert Williams
Editor
For the first time in a decade, Frazee will have a laundromat and for the first time ever, an electric car charging station.
"People have been talking about it for a while and I've been thinking about this for a long time. I've always been the type, if someone else wants to do it, I don't want to stand in the way."

Heath Peterson, owner of Lucky Bubble Laundromat
The laundry facility will be an added convenience for shoppers, who can complete loads of laundry while picking up groceries.
For the Petersons, including co-owner and wife Laura, adding the laundromat was critical to fulfill a need in Frazee.
"We want the town to grow and I just thought this was imperative for the town to grow," he said.
The Lucky Bubble is located on the back end of the building, in a portion formerly owned by Daggett Truck Line. The entrance is on the parking lot side.
A few tables and chairs have yet to arrive, but the laundromat is preparing to open in the coming week or so.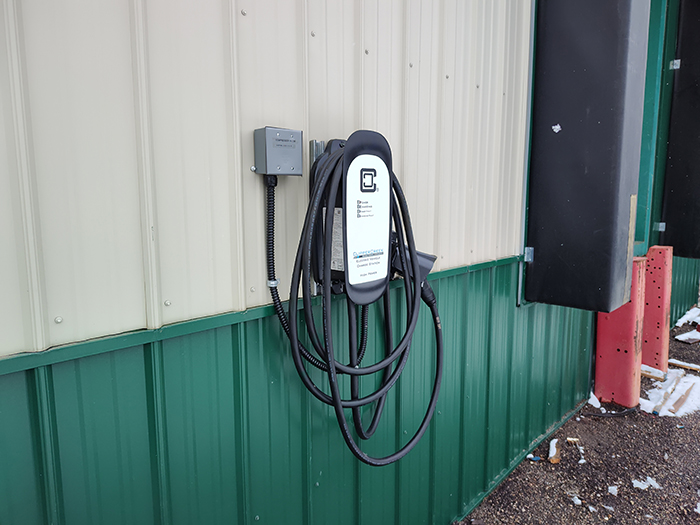 "I'm super excited about it," said Peterson. I'm hoping by the end of next week we can open the doors and give it a shot, but we'll see."
Opening has been a work in progress from initial planning to acquiring equipment.
"I started talking with people and got serious about it back in August," Peterson said.
Supply chain issues have created multiple delays.
Washing machines were ordered in October and the last machine finally arrived in March.
Signage for three sides of the building are currently backordered.
Between the grocery store and Lucky Bubble entrances sits a new electric car charging station, the first of its kind in Frazee.
Demand is low as electric vehicles are not prominent in the area so far.
"I do see that changing," said Peterson.
Frazee joins Detroit Lakes and Perham as towns on this stretch of highway 10 with charging stations.
The charger installation was done with a grant from Otter Tail Power Company. The Minnesota Public Utilities Commission approved Otter Tail Power Company's electric vehicle charging infrastructure pilot program in 2020. The program enabled Otter Tail Power to build direct current fast chargers throughout its service territory in rural Western Minnesota.