Kertscher ready for 'one more year' at Maple Hills
News | Published on April 26, 2022 at 5:47pm EDT | Author: Chad Koenen
0
Family tradition continues for the course's 45th season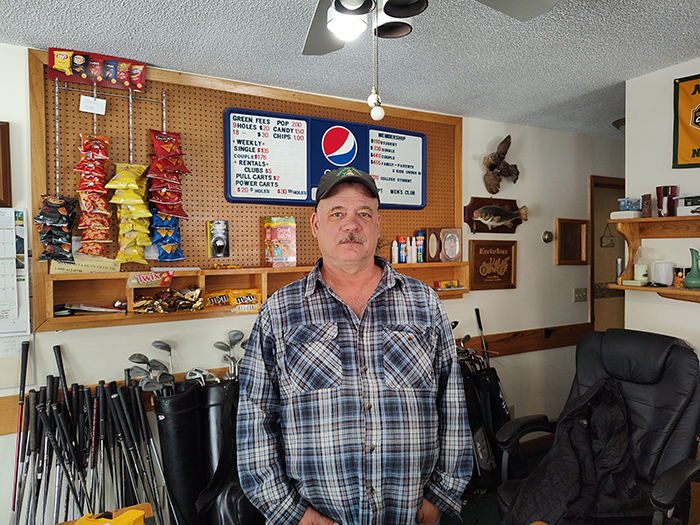 By Robert Williams
Editor
There is a very noticeable absence at Maple Hills Golf Club after the passing of course creator and fixture Les Kertscher last October at the age of 86.
Regulars at the golf course were just getting used to not seeing his wife Pat after she passed away in October of 2018.
Their son Ron has been the superintendent and every other job title a golf course can have for nearly half a century at a job where the regular workday is sun up to sun down seven days a week.
"I had a heck of a time when he first passed away," said Kertscher. "I'd always come down here, check on him and cook him breakfast."
Like every golfer, Ron is waiting on the snow to go away so golf can resume on the course that has been like a second home for so many local enthusiasts since its inception in 1977.
Starting the season without his dad has left Ron in a situation where he is basically running a one-man operation. That is nearly an impossible task.
"It's a hard thing to go through," said Kertscher. "With dad, I saw him every day and I still see all his stuff. It's a huge change, especially when you still see their stuff sitting around."
Les' love of wood turning can still be seen in the bowls he had on display in the clubhouse and anyone who has golfed Maple Hills regularly will notice the absence of his presence. It is palpable.
An unnamed buyer has been in pursuit of the golf course recently, but it was going to take a special dollar amount for Les to let go of his creation. The course and an attached 40 acres were listed for sale once a few years ago for $2.3 million.
In the middle of last season, Les told Ron he was ready to keep going.
"Dad wanted to go one more year and that was last summer when he was feeling pretty good. He said, 'let's do this one more year and then let it go.'"

Ron Kertscher
Ron and Les had numerous discussions on the future of the course.
"Dad said if the money is there, get rid of it," Kertscher said. "He knows how much work is involved and it just ain't the same either without him around."
An uptick in business helped the past couple summers, especially during the pandemic, but making a profit at the course has not been easy.
"COVID brought a lot of people out," said Kertscher. "It was better compared to other years. It's a tough season. You only have a short season."
This year is proving difficult with the weather. The course opened for play in March of 2021, while April is nearing its end this year with snow still blanketing the course. Each passing day represents lost revenue at a business that needs time and fair conditions to make money.
"It's hard to make that up," said Kertscher. "Real hard. Hopefully, this will be a decent year."
Replacing Les is going to be a new expense this year also.
Les lived at the clubhouse, literally, while Ron kept the course in shape, kept carts running, and did the many things it takes to provide a place to play golf.
"I'm going to have a heck of a time trying to pay for some extra help," Kertscher said. "Dad sat in here 16 hours a day."
While Ron is used to being the main man when it comes to operations at the course, this year is going to be a challenge. There is also the weight of keeping a family tradition going that meant so much to his parents.
"It's a lot. It's not a one-man operation. It's a full-time job keeping the mowers running, the carts, and irrigation."

Ron Kertscher
The aqua driving range remains usable, but was one of the course amenities that had to take a backseat last season.
"We kind of let that go the last couple years," said Kertscher. "It was just too much to take care of all that."
The pond still gets a few plops from players capping off a round after the ninth hole.
"Everybody that comes off of nine, if they have an old shag ball, they have to go see how far they can hit it out there," Kertscher said.
With golf hopefully continuing into November like last year, there is still time for nearly a full season. All Maple Hills needs is for the snow and mush to go away.
A quick clean up of the greens, tee boxes and a change of cups will have the course ready to go for the early birds.
"There will still be snow out there along the edge of the woods when they come out golfing," Kertscher laughed. "We're just waiting for the weather to change."
Maple Hills remains one of the most affordable places to golf in the area for individuals and families. Prices were slightly raised for the coming season, but compared to any other courses around it will barely be noticeable. It was the first time prices had been raised in six years.
Membership rates are $110 for students, $220 for college students, $330 per individual, $440 per couple and $495 for a family membership (parents and kids under 18).
The Maple Hills clubhouse can be reached at (218) 847-9532.
For tech savvy golfers, the course does have an app for yardage while on the course. It is called Maple Hills Caddie and can be downloaded for Android phones from chipapk.com/app/1176138
The app was created in 2015 by Ron's nephew Josh Kertscher.