State Highway 87 construction a month away
News | Published on April 26, 2022 at 5:16pm EDT | Author: Chad Koenen
0
Possible solutions discussed with city council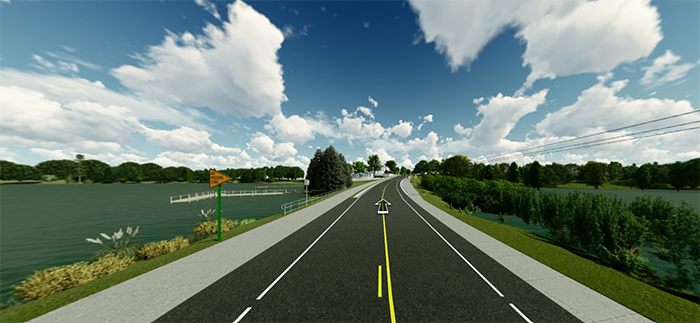 By Robert Williams
Editor
City Engineer Kris Carlson discussed budget updates on the upcoming State Highway 87 reconstruction project at the Frazee City Council meeting Monday, April 18. The project includes resurfacing, city utility replacements and improvements to pedestrian and bicycle access.
The overall city share is just over $2 million dollars ($2,026,583), prior to any outside funding, according to a preliminary budget breakdown.
Utilities, lighting and sewer make up the majority of the expenses at just under $1.75 million, according to Carlson.
A preliminary assessment breakdown of the state-funded project with federal funding was also shared.
Carlson has a verbal agreement for a Minnesota Public Facilities Authority (PFA) loan forgiveness in the amount of $404,800 of the estimated cost of $777,678, which is essentially a grant for the water portion of the project.
Frazee is getting no grant money for sewer work. According to Carlson, the city does not have a lot of sewer debt and that is a liability when seeking grant dollars.
The PFA provides financing and technical assistance to help communities build public infrastructure that protects public health and the environment and promotes economic growth.
Carlson is investigating further cost savings on the project.
The project was one of 230 announced by the Minnesota Department of Transportation in March. Construction on the $4.5 million project is slated to begin in May and run through November.
The city council approved a pair of resolutions on the project, one for assessment purposes and the other to pledge reserve funds if necessary.
Water works
Public Works Superintendent Larry Stephenson reported 5,674,000 gallons were pumped by the water plant in March. By way of comparison, a report from the same timeframe last year showed 3.4 million gallons were pumped in March 2020.
In early April, portions of the town's water supply were shut down near Walnut Avenue for assessment purposes.
"I'm hoping those numbers will start dropping. Otherwise, I'm going to have to start looking for some leaks somewhere and they are hard to find around here. It can take months."

Larry Stephenson, Public Works Superintendent
The upcoming Lake Street work on sewer and water pipes, part of the State Highway 87 project, is one area Stephenson hopes will show improvement in the future.
"Seems like every time we do a street project it improves the water loss," he said.
Quiet month for emergency services
March was a rather quiet month for police, rescue and fire squads.
Fire Chief Nathan Matejka reported there were no fire calls in the month of March.
"Hopefully, that trend continues," he said.
The fire department headcount lost one firefighter this month.
According to Police Chief Tyler Trieglaff, the staff responded to 83 calls with six being traffic related.
The rescue squad responded to 20 calls, 10 in town.
Trieglaff also noted that police will be issuing nuisance car letters in the coming weeks.
Accessory structures ordinance amended
The council approved an amending to city ordinance No. 160, regarding zoning regulations pertaining to maximum coverage of accessory structures in residential zoning districts.
"The purpose of the ordinance is to give people with larger lots a little more flexibility to have larger accessory structures."

Mike Sharp, Vice Mayor
Provider Appreciation Day
Mayor Ken Miosek signed a proclamation to make Friday, May 6, Provider Appreciation Day. Child Care Aware America, a not-for-profit organization, and other organizations have targeted May 6 as a day to recognize child care providers.