The Hive Nutrition set for opening in May
News | Published on April 26, 2022 at 5:51pm EDT | Author: Chad Koenen
0
One of two businesses going into the former bowling alley building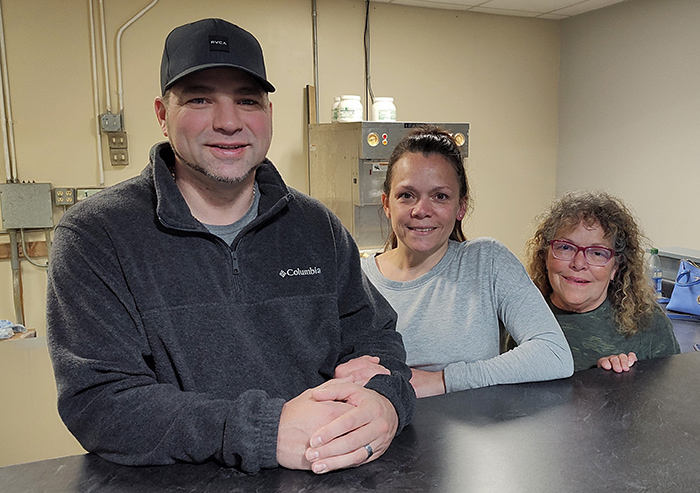 By Robert Williams
Editor
The Latham family of Frazee is nearing the opening date of The Hive Nutrition in the former bowling alley on Main Avenue. 
"It's been a work in progress, for sure, but we're getting there," Brandi Latham said.
Construction efforts began in October and remodeling is wrapping up with a hopeful opening during the first week of May.
The store shares space with the incoming Frazee Fitness Center.
"It just kind of worked out that the fitness center was going in and it seemed like a good thing to do," said Brandi. "It kind of pairs together. We were excited about that."
While both businesses did not originally plan to open at the same time, according to Brandi, they have been on similar timelines on both remodels.
"The health department is a little more strict with us so it all kind of is based around them," she said.
Originally from Memphis, Tenn., Brandi, Bryan and Marilyn Thomas, affectionately known as "Just Grandma" relocated when Bryan got a job with BNSF Railway that moved the family to South Dakota, before a relocation to Frazee.
"He just asked me one day if I get a job somewhere else do you want to go? So, I said ok. We went to Sioux Falls and eight years later, here we are."

Brandi Thomas
Upon arriving in the area, Brandi was a para at Frazee-Vergas High School and worked in marketing for J&K Marine prior to the pandemic. Later, she started working at McKinley Nutrition in Detroit Lakes in August of 2020 and began the process of becoming an independent distributor for Herbalife Nutrition.
Herbalife is a multi-level marketing corporation that develops and sells dietary supplements. The company was founded by Mark R. Hughes in 1980.
The Hive will specialize in protein shakes and metabolizing teas, also used as meal replacements.
Scheduled hours of operation will be Monday through Friday 6:30 a.m. to 6 p.m. Saturday, 9:30 a.m. to 3 p.m., and Sunday 10 a.m. to 2 p.m.
Hours will also be extended for basketball games, wrestling tournaments or other events in town.
"We're going to be fluctuating on that for now," she said. "Luckily, all my kids are on board to help."
The family has four children in the area.
Both Bryan and Brandi have owned prior businesses. How The Hive came to be was more circumstance than original planning.
"It just kind of happened that way," Brandi said. "We want to see what we can do and it's going to be a family thing and that's good."
Grandma Marilyn has a testimonial for the family products, having lost 50 pounds during the pandemic summer using the shakes and teas.
The family is putting the finishing touches on the remodel, set to add tables for in-store dining and a high bar along the wall. There will also be a walk-up window for outdoor orders from the street side of the building on Main.
Opening a business in Frazee and bringing something new to town was an important aspect of opening here.
"Small businesses in small towns, to me they're so important. I've lived in small towns for so many years and I do my best to always do business in Frazee."

Marilyn Thomas
Finding a somewhat niche market in a small town is also a challenge, but one the Lathams are ready to take on.
"That's basically what this business is about," said Brandi. "The harder I work catering to the people that need it, want it, the high school athletes and all that, the better I'll do."
The store at 106 West Main Avenue has a web presence on Facebook, search The Hive Nutrition.