World-traveling Boston Brass band delights Frazee students
News | Published on April 26, 2022 at 5:32pm EDT | Author: Chad Koenen
0
Ensemble shares instruction and one-of-a-kind musical experience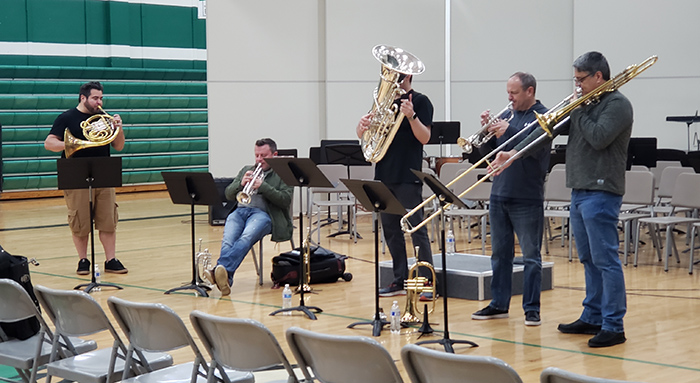 By Robert Williams
Editor
Frazee band director Brian Selander had grant money from the Lakes Region Arts Council burning a hole in his pocket.
The grant from 2021 was unused, because of the pandemic, and a brass band booked for March of this year fell through.
That sent Selander on a search for a replacement with time ticking to get another band approved by the council board before the grant expired.
"I didn't know where to go," said Selander.
Selander's coworker with the North Dakota State University Marching Band Connor Challey, the NDSU Assistant Director of Athletic Bands, had a connection.
Boston Brass has traveled the world for more than three decades performing classical arrangements to jazz standards, while treating audiences to a unique brand of entertainment, including lively repartee, humor and personality.
The philosophy of Boston Brass is to provide audiences with a wide selection of musical styles in unique arrangements, provided in a friendly and fun atmosphere.
Having been around the world and back playing in over 30 countries and 49 of 50 U.S. states, the band was familiar with the Fargo to Minneapolis region, but not Frazee.
"I, personally, like coming to these places. First of all, it's a place I wouldn't normally get to see and it's beautiful here. Second, just meeting the people and talking to students who are not in a big city where they can go check out a big orchestra or see bands play. It's really cool to come here and be working with students."

Chris Castellanos, Boston Brass french horn player
For Selander, the score of landing such a talented and renowned band was a very welcome surprise.
"In all seriousness, I was just kind of joking," Selander said. "If Boston Brass wants to come down."

The ensemble had a camp scheduled at NDSU and Challey had to call and discuss details for that. He explained the Frazee project and Selander did not hear back until a day before the grant money was set to expire on a Wednesday.
The day before, a phone call to Boston Brass trumpet player Jeff Conner sealed the deal.
The initial March 14 date was a no-go for the band, but they were going to be in Minnesota the week of April 24 and with little time to spare, Selander booked the band for April 22 in Frazee.
"The stars aligned; they really did."

Brian Selander, Frazee band director
The Lodge in Detroit Lakes donated hotel rooms and Schmidt Music helped out with expenses for the group and picked up the piece the school band was going to play with Boston Brass at Friday night's concert.
The visit is a very unusual, unique and special experience for Selander and his bands.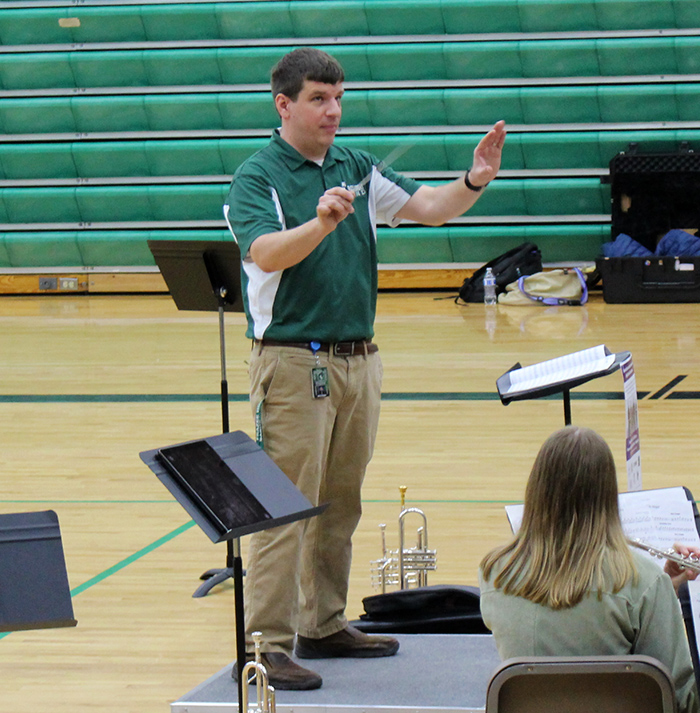 "Stuff like this doesn't happen," he said. "It's huge. You can pull up recordings on YouTube so easily. All the songs you're going to hear tonight are on YouTube, but to hear it in this space, in-person and to see them playing it is 100 percent different."
Boston Brass rehearsed Thursday night at the high school and held a two-hour session to work with the varsity and junior high bands Friday morning prior to the evening's show. The in-school work session was intense at times.
"For them to get to come work with the kids; it's a totally different experience and these are professional musicians," Selander said. "I can't bring a professional musician in every year."
It also gives Selander a chance to share that participating in bands does not end in high school.
"I don't care if I have any musicians that come up that are professional musicians. I want them to know that after they graduate they can still go. You can join community bands; you can go play at college. It doesn't end here. Sometimes hearing that and seeing groups like this coming in, that helps solidify that to them."

Brian Selander
For Castellanos, that feeling is mutual and the visiting band gets their own rewards from sharing time with students.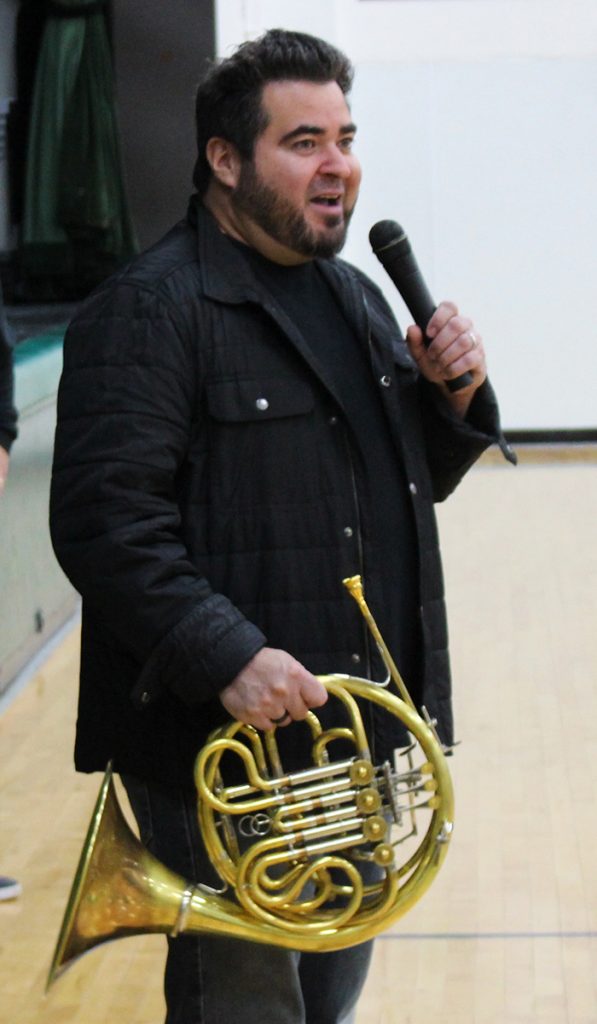 "Really, we just want to provide a little bit of reality and bring them into the way we rehearse and play," he said. "I think it's really important for students, because right now it's super easy for students to be really scattered. When they're in a thing like band or music they have to be focused or nothing comes together. For us, we just try to bring that."
When he says students, it's typically players studying at conservatories and people pursuing music as a profession. Reaching younger kids like the Frazee bands provides a different opportunity. For Castellanos, it provides a chance to share his musical experience personally and how he came from a similar situation to the profession.
"It's more of a challenge to get their attention and get them going, but it's more fulfilling because we know these are future audiences, future players, and it was important to me when I was younger," he said. "I was like a lot of them. I'm sure there are interested and disinterested kids. I was a disinterested kid who got interested and that, for me, was pretty life-changing. We just hope we can come here and give them a little bit of that."
The visit culminated Friday night at a show in the high school main gymnasium.
The Frazee band and Boston Brass played songs intermittently and a piece together prior to intermission. The second half was a full jazz set by the visitors, who are treating this show in a small town like they would any performance at big halls around the world.
"We're going to put as much effort and gusto into this performance as we would if we were playing Suntory Hall in Japan. That, to us, is really important. We're so blessed to be doing what we love to do. We can't come in and phone it in."

Chris Castellanos
Stressing and showing their love for performing is what brings them to places like Frazee. Sharing that message goes beyond music into whatever each student wants to pursue in life.
"Now is the time in their life to get really good at what they really love to do," he said. "It's much more fun to do what you love to do for a living, rather than what you have to do for a living."
A love for music is something Selander has brought to Frazee High School the past 12 years and his efforts have doubled participation numbers the past seven years.
Seven years ago, the Copper Street Brass band out of Minneapolis visited the school. The Frazee band numbers were small enough that the entire seventh through 12th grade bands could participate in a combined piece with Copper Street Brass.
Now, that is impossible.
There are 160 kids participating, 80 in junior high and 80 in the senior high band.
Selander credits the kids and parent involvement as big reasons why participation is so high. Visits by professional bands add a lot to it, as well.
"It's good to see and I hope it continues," said Selander. "Stuff like this helps motivate kids."