Baseball association fundraiser hits new high
Sports | Published on May 5, 2022 at 11:12am EDT | Author: chadkoenen
0
Players distribute 8,000 bags of salt to supporters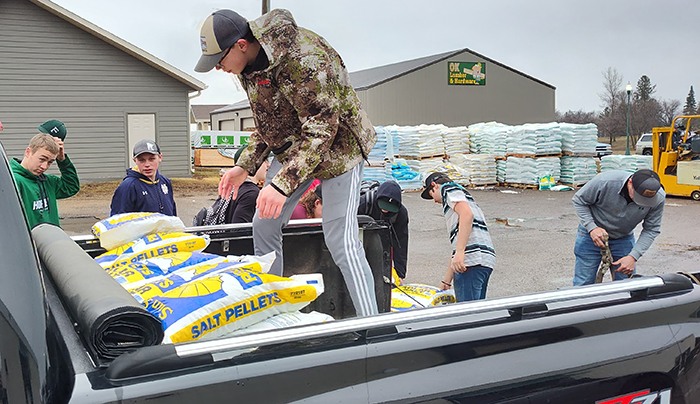 By Robert Williams
Editor
Unlike the beginning of the season so far, rain did not stop the 14th annual Frazee Baseball Association softener salt fundraiser Friday, April 29.
It is the lone fundraiser for the baseball program and covers new equipment and the improvements done on the varsity field.
Hornets head coach Andy Mekalson has been with the program a dozen years and has seen the growth in the fundraiser thanks to the outpouring of support from the community.
"We started out selling about 1,500 to 2,000 bags," he said.
This year's total surpassed 8,000, to which Mekalson credits simply word-of-mouth and people that wait all year to purchase and help the program.
According to the salt distributor, the baseball team's efforts are the second-largest salt fundraiser in the state.
Mekalson was quick to credit Heath Peterson and Frazee Family Foods for organizing the delivery and facilitating the fundraiser at the store each year.
The association gives players incentives for selling $250 worth of salt. The varsity and junior varsity teams earn a free trip to a Minnesota Twins game when matching the goal; the junior high players get a trip to Fargo to see a Redhawks game.
The funds raised go straight into the Frazee baseball booster fund and are distributed where needed, like $2,000 spent this year for the summer recreation baseball program.