Farm and hunting land to be auctioned May 4
News | Published on May 5, 2022 at 11:43am EDT | Author: Chad Koenen
0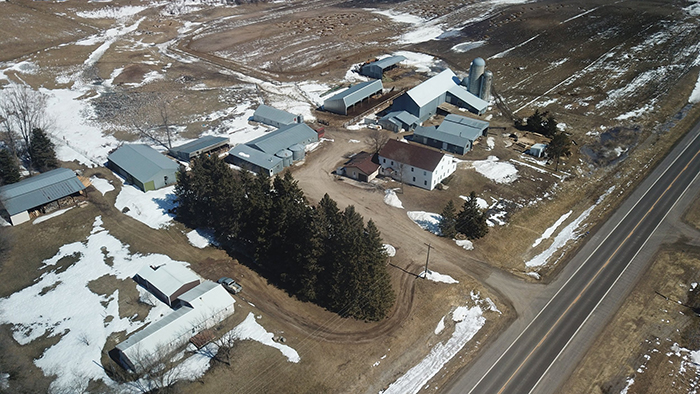 By Robert Williams
Editor
Parcels of land in Frazee with a total assessed value of nearly $1.4 million will be sold via six live auction events on Wednesday, May 4 by Bachmann Auctioneers of Perham.
The live on-site auctions are slated to begin at 10 a.m., on four separate farms and six total parcels of land. All properties are located east of Frazee and northeast of Perham near the Evergreen area in Becker County.
This auction includes Amish community farm sites with homes and multiple outbuildings and land.
The first auction of the day is one of the properties split into two parcels located at 16195 440th Avenue, Frazee: 68 acres of farm, pasture and hunting land; the other a farmsite, a multi-bedroom home built in 2010 with multiple outbuildings and approximately 40 acres.
According to Becker County, both parcels are worth a combined total of 361,600. Of that total, $192,800 is estimated land value; $168,800 is estimated building and improvements value.
Both properties will be sold at 10 a.m.
The other properties being split are located at 43468 State Highway 87 in Frazee: 17 acres of land, homestead, and multiple outbuildings will be auctioned at 1 p.m and 77 acres of farm, pasture and hunting land (valued $360,000).
The owners have a third parcel at 40789 State Highway 87, 142 acres of farm, pasture, and hunting land, which includes a home that needs work, large outbuildings and approximately 84 tillable acres (valued $400,600) that will constitute the final auction of the day beginning at 2:30 p.m.
The remaining auction is at 11:30 a.m., and will be held at 40226 160th Street in Frazee. The parcel includes a home, multiple outbuildings and 60 acres of land with approximately 43 tillable acres ($269,600).
More information, including photos, can be found at bachmannauctioneers.com.
Property information is available from Becker County at gis-server.co.becker.mn.us/www/parcel_search.aspx