Interact Club, Pageant Program sponsor prom rental shop
News | Published on May 5, 2022 at 11:03am EDT | Author: Chad Koenen
0
Budget conscious dresses and affordable accessories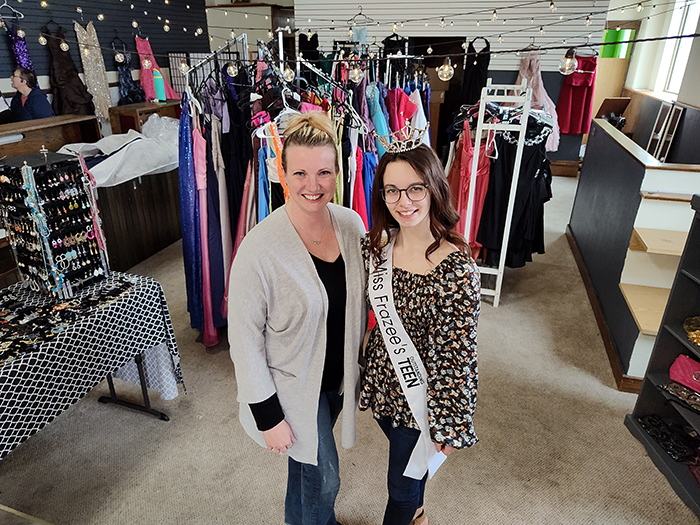 By Robert Williams
Editor
The Miss Frazee Scholarship Program sponsored an all-encompassing rental prom dress shop at This Old Bank in Frazee last weekend as an outreach program of the Frazee high school Interact Club.
Dresses were donated from members of the community, the Miss Frazee program and the high school music department.
"Over the years we have accumulated dresses that people have donated for our pageant girls if they need a dress to use. Actually, the music department at the school had a large donation of dresses for theater productions but they didn't have enough room to store it. So, they asked if they could donate it to us to use for pageants."

Heather Perrine, organizer
Perrine is one of three directors of the Miss Frazee Scholarship program along with Jay Estenson and Alice Furey.
The goal was to provide an affordable option for girls looking for a dress for prom. Accessories were provided by Aleisa Jopp of the Chic Shed Junque Boutique in Frazee. All of the proceeds go to the Interact Club.
Between the two pageants, the Miss Frazee Scholarship Program gives out more scholarship dollars than any other local pageant in the state of Minnesota. Because the pageants are closed to just the local area, the money stays in Frazee, along with the passions of pageant contestants and their desire to help out in the area.
"Our girls are here; they're doing things for our community," said Furey.
Dresses were rented for an affordable $20 each and had to be returned professionally dry cleaned by the end of the school year.
With alterations, some dresses can run in the range of up to $600.
Service Cleaners in Detroit Lakes offered a 20 percent discount to anyone who rented a dress from the club.
The club was started a few years ago by pageant contestant Mackenzie Wutzke and was brought back this past February, It had initially run for one year ending after Wutzke graduated.
Both the current Miss Frazee Katelyn Mack and Miss Frazee's Outstanding Teen Annalynn Wallin spearheaded the return of the club with Wallin serving as its president.
Interact clubs are sponsored by Rotary International aiming to bring together young people ages 12-18 to develop leadership skills while discovering the power of Service Above Self, according to the program's information page on the Rotary International website.
The FHS Interact club met for the first time in late February with just five people involved and has grown to 20 since, with at least one member from each grade seven through 12, after hosting a number of events at school in March.
The club has a direct correlation to Wallin's platform for the pageant – community service. She approached the Detroit Lakes Rotary club to get the club started.
The prom shop received a lot of positive feedback on Facebook despite its first year. Organizers were not expecting a lot of traffic, but were excited to build the idea and keep it going next year.
"We wanted to give back to our community and help out by offering a wide variety of dresses to our area girls."

Heather Perrine
The shop was not limited to just Frazee students. Kids from any school were welcome.
Wallin and the Interact Club will be continuing events through the end of the school year, including an upcoming staff appreciation day.
"We have some thankful things we're going to do to give back to our staff members," said Wallin. "We're also looking to do an end of school year countdown."
The club is planning a fun event during the last 10 days of school.
"We want to get high school more interacted and involved and excited for school," Wallin said. "We've done a few events and everything we've done has gotten a positive response. I think most kids are excited. That's our goal is to get more people involved."
The club meets the last Wednesday of every month and prior to events for planning and setup with plans to be a year-round program to include summer events as well, including Frazee's Turkey Days.
The Miss Frazee Scholarship Program is accepting donations. Contact Heather Perrine (218) 234-4450 for more information.