Tangen retiring after more than 30 years at Frazee
News | Published on May 5, 2022 at 12:02pm EDT | Author: chadkoenen
1
'When I came here, they told me, If you get a job here, you'll stay here.'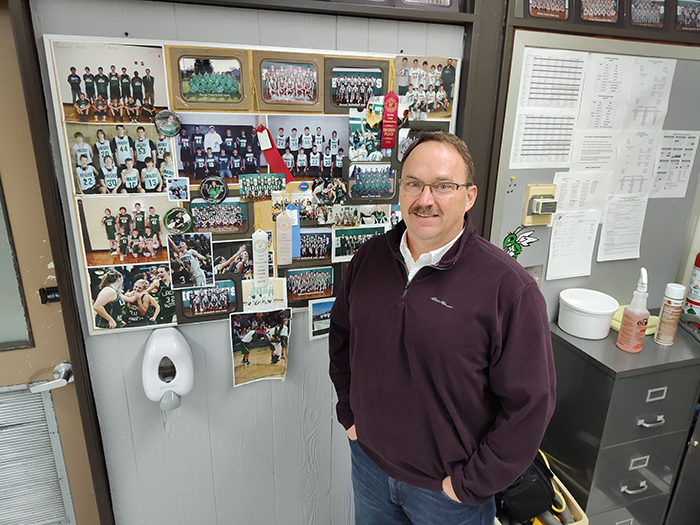 By Robert Williams
Editor
Brian Tangen has spent 31 of his 34-year teaching and coaching career at Frazee-Vergas High School. He will retire from the head boys track and field position and business education teacher at the end of the school year.
"There is no doubt I'm going to miss a lot of it, but I'm looking forward to retirement," he said.
Tangen made a few adjustments to his career path to get to Frazee.
He grew up in Fosston and was a three-sport athlete there playing football, basketball and track. He played college basketball at both the University of Minnesota-Crookston and Bemidji State University.
He earned degrees in sales and marketing and business at Crookston and earned his business education degree at BSU in 1988.
Tangen credits basketball coaches Ralph Boline at Fosston and Gary Senske at UM-Crookston as coaching influences.
Senske was inducted into the UMC hall of fame in 2004 and the court at Lysaker Gymnasium was named after him in 2021.
"He influenced me a lot," said Tangen.
Tangen took his first teaching position at Bird Island-Lake Lillian High School, where he taught business and was the varsity head basketball coach fresh out of college. The next year, the school partnered with Olivia and became BOLD (Bird Island-Olivia-Lake Lillian School District) and Tangen worked there two more years.
In 1991, he was looking to move back up north and Frazee had a business teaching opening. It came with a caveat, the track coaching position was part of the job.
"It was a little out of my wheelhouse; I ran track in high school but that was the extent of it. I embraced it and came right in. It was definitely a learning curve with relationships and working with students, just like teaching is a learning curve."

Brian Tangen
Connecting Hornets past and future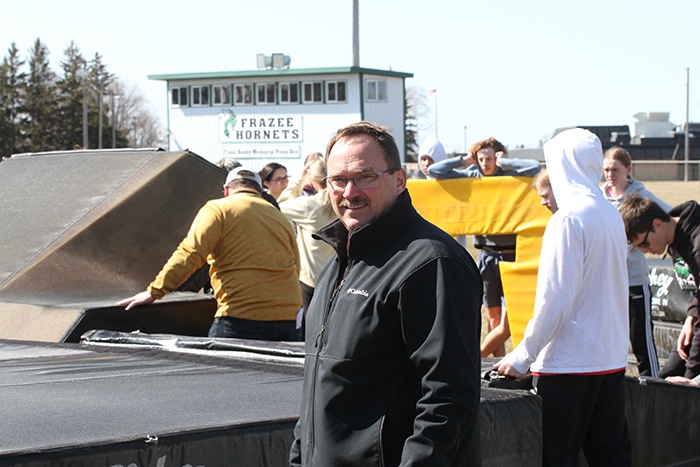 Tangen said he felt fortunate the move to Frazee brought him together with great people.
When he started, he entered a school full of experienced coaches and plenty of now-historical names who had sage advice on taking the job.
"When I came here, they told me, 'If you get a job here, you'll stay here.' They told me that way back then and I think of Parker Williams, Steve Carlson, Eldon Bergman, Frank Hesby and all those guys that were here," said Tangen. "I learned a lot from all those guys, those older coaches."
As Tangen's coaching career has wound down, he's found himself surrounded by a similar group of his own peers.
"We've been fortunate the last 10 years, we've had close to the same staff of good people and good coaches," he said. "That's made it easy."
One similarity to that elder group is the coaching mindset that was prevalent in the 20th century, something that he has carried into contemporary coaching.
"I'm a little old school, disciplined. Respect and do the right thing. I will say things have changed, but I'm still a little bit that way and I try to stick with that."

Brian Tangen
He recalled the changes in his own mentality during his tenure.
"When I was younger, I was way more of a yeller and you could be," he said. "My high school coach and college coach were like that and I respected that. You could yell at me and push me and I'd go another step. I think I've probably mellowed out a little over the years because you have to, to relate, but there is still that old school in me. I don't like the gray area. I like it cut and dry, but it seems like there is more gray area now."
The list of Hornet coaching jobs Tangen has held during 31 years is lengthy. Aside from track, some of those titles were: varsity football assistant and coaching seventh through ninth grades; assistant basketball coach to both Woody Blasing and Denny Anderson, before taking the head coaching job from 1995-2000.
He ended that run to coach his kid's youth programs through elementary school, before getting back into an assistant basketball role for Jason Reierson and back again to the head coaching position for his son Matt's senior season and the following year.
Basketball always had its draw and drawbacks.
"It's the competitiveness in you too," he said. "Getting out of basketball and not doing the varsity thing, the hardest part was the camaraderie that you developed with referees and opposing coaches. Even when you didn't see eye-to-eye with a referee, that camaraderie is still there and you miss that interaction. All the film watching until midnight after a game and preparing for the next practice."
Taking Hornets to the state's biggest stage
Track and field presents its own hurdles. Maintaining a full team is not always easy at a small school.
"It goes in streaks," said Tangen. "We don't say you play track; you run track. We have a lot of kids that buy in during seventh grade and they stick for six years. We don't lose a lot of them."
Tangen worked closely with head baseball coach Andy Mekalson in making spring sports attractive to kids.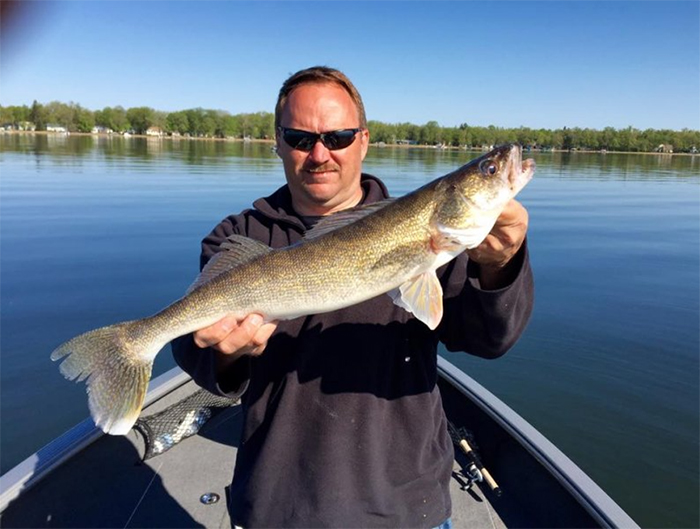 "He's just so good to work with," said Tangen. "If our track numbers are real high, like two years ago they were as high as we've ever had and now this year we're down."
The duo worked together despite coaching competing teams during the spring season. Typically, when one team had lower numbers, the other had more, and vice versa. Athletes are at a premium for teams to be successful at small schools.
"You need numbers and it goes up and down," said Tangen. "Track is a hard sell at times. It's a challenge."
The sport is also different from many others in that victory comes in many forms.
"When you go to a track meet, I leave and there are always a handful of kids who had their best day ever," said Tangen. "You could have a poor day overall, but there are kids who had a personal record. You always leave there with a lot of positives. That's what is always fun about track. There is always someone who had a great day."
Tangen coached a number of state champions and athletes that had great careers at Frazee-Vergas and postsecondary, including standout Luke Pfeifer, a two-time state hurdles champion (1995-96). His efforts vaulted Frazee into the top 10 in the state team rankings that year.
"He went down there alone and took seventh place in four events," Tangen said.
Pfeifer went on to become a four-time conference outdoor hurdles champion (1997-2000) and a three-time indoor conference champion (1998-2000) for North Dakota State University.
"That's something nobody had ever done," said Tangen.
Other notables were Skylar Jackson, a two-time 100m dash state champion (2008-09) and Drew Daggett, a four-time all-state performer in track and field, including the 2007 state championship in the 300m hurdles and a state runner-up finish in the high jump.
"We've had state champions and one of my goals when I took the track job was there are 18 events…I looked at the record board and I wanted to have kids break every record on the board. We got 15 of 18, so I didn't quite get there, but it was close. It was a good goal to push kids to get at."

Brian Tangen
Succeeding in June was always a big part of the program.
"Our goal every year is to see how many kids we can move onto sections and state," he said. "That's always been our goal and the team part comes with that."
Tangen believes every one of his kids has a chance to exceed their expectations, while a few like Jonathon Parsons and team co-captain Nathan Johannsen have expectations already in place this year.
"Nathan probably has our best chance to make it to state," Tangen said.
Johannsen caught some bad luck last year and missed his shot. He was a favorite in the 300m hurdles after running away from the subsection field, but caught an early hurdle and went down at sections.
"That was really disappointing for all of us, but I think Nate has a great opportunity in front of him this year," said Tangen.
Johannsen will wrap up his senior season with his coach before joining his sister Jaryn, a Frazee standout, running track at the University of Wisconsin-Eau Claire.
"He's had a lot of success coaching athletes and he's been awesome as a coach," Johannsen said of Tangen. "He's very passionate about what he does here. He's had a lot of athletes go to state and a lot of good performances and positive things."
Johannsen and his teammates are also part of a group that had to traverse the pandemic and missed a season during their high school careers.
"I'm very thankful that I get the opportunity to do anything; COVID kind of took that out, so I'm just thankful for every opportunity since then," he said.
Those upcoming chances to succeed are going to come swiftly with this year's track season washed out until nearly May.
"I've been told before to trust the process; you're not ever where you want to be at the beginning of the year," Johannsen said. "I know he's coached a lot of good athletes. I trust that they're going to coach me to do as best as I can at the end of the season."
Getting out on the water
Like many teachers, Tangen used the summer months to pursue his hobbies and turned one into a business venture running his own fishing guide service walleyslayer.com. He started working with guide Brad Laabs 22 years ago and has been running his own service May through October every year since.
"I've learned a lot from Brad. We've fished a lot. That's really grown the last few years. I kind of did it part-time and when I was coaching it was hard."

Brian Tangen
As high school athletics evolved, the summer months went from a time coaches could not be involved with their teams to a full-time commitment. That pushed Tangen away from varsity basketball.
"You needed to spend so much time in the gym during the summer and that's not what I wanted to do," he said. "I wanted to be in the outdoors. That's one trend that I really don't like. Kids are pulled from every sport and speed and strength and weightlifting. I get it. If you don't do it you'll probably fall behind the competition, but that's one thing I don't like. I wish kids could be kids, do their jobs in the summer and have fun."
Tangen still found plenty of court time coaching youth level basketball.
"I just enjoyed the outdoors and a little less pressure," he said. "It was hard to step away right away, but for me it was spending time with my kids when they hit that elementary time. It was hard to do both, so I stepped away from it."
There was hardly a year Tangen didn't coach basketball, but fatherhood superseded the head coaching job and he relished working with his kids and younger athletes.
"It just turned out there were openings and availability," he said. "There haven't been many years when I haven't been involved in basketball somehow."
He is looking forward to taking on more guide business in "retirement."
"Hopefully, that expands a little bit because I give up a lot of trips in September and October that I can now do," he said.
Being a fishing guide has its own set of stressors and has a synergy with teaching and coaching.
"They're paying you to catch fish, so there's pressure," he said. "Mother Nature rules. There are definitely challenging days, at times. You work as hard as you can to catch fish, teach some techniques. The fun part of that job is you get so many people that come back it's like fishing with your friends in the boat. You look forward to seeing people again. It's kind of the same. You've got four hours on the water, an hour of prep and an hour of cleanup, getting up early and checking the weather."
Taking in all in
As the school year has wound down, Tangen has noticed plenty of occurrences and responsibilities that he is doing for the last time. Out on the track, despite the slow start due to weather, he is taking in those last few moments of competition and helping kids in both the classroom and at practice.
"I don't think it will really hit home until September. My summer won't be any different than a normal summer."

Brian Tangen
Tangen's last year coaching track and field will be done as the district begins to move ahead with expanding and upgrading the track facilities.
"Yeah, I've been here 31 years and they build a new track when I leave," Tangen laughed. "It's needed and it'll be a real nice boost for our school and community."
Tangen and other staff members got to have input on the upcoming changes.
"They were real good about talking to us and including us in part of the meetings," he said.
More space for field events and the expansion to a regulation eight-lane track will allow for hosting bigger meets, like the Heart O' Lakes Conference championships, True Team meets, and potentially subsection and section meets.
Many of those meets involve 25 schools and family and friends. Better facilities have a proven correlation with improved athletics and also have a positive effect on town with so many people traveling to Frazee for events.
"And when people come in and see really nice facilities, I think it's an encouragement to get more kids to come here too," said Tangen. "I think it definitely can help. Not that you need the best all the time, but I think your facilities do matter."
Spending time with family
Tangen is a straight shooter and one of the few retiring coaches who did not drop the cliche' "taking time off to spend more time with family," although he has a new reason to do so in granddaughter Adley – the firstborn to daughter McKinzie and her husband Brady Solum.
McKinzie followed in her parent's footsteps career-wise and is a sixth grade teacher in Barnesville. She also coached junior varsity basketball and track and field prior to Adley's birth.
Brian's wife Brenda has worked at M-State Detroit Lakes for 31 years and is continuing her career. Three-decade careers are not easy without a great support system at home, something which Brian credits to his wife.
"I could not have done it, not without her support," he said. "She was totally okay with me retiring. She's always finding other jobs I can do now."
The couple's son Matt, a former Hornet standout, is nearby also. Matt graduated from the University of Minnesota-Duluth in 2018 with a degree in finance and currently works at Elevate Financial in Fargo.