City, county, state officials discuss future of Wannigan Park
News | Published on May 12, 2022 at 12:13pm EDT | Author: chadkoenen
0
Parks and Trails Commission assess project for future funding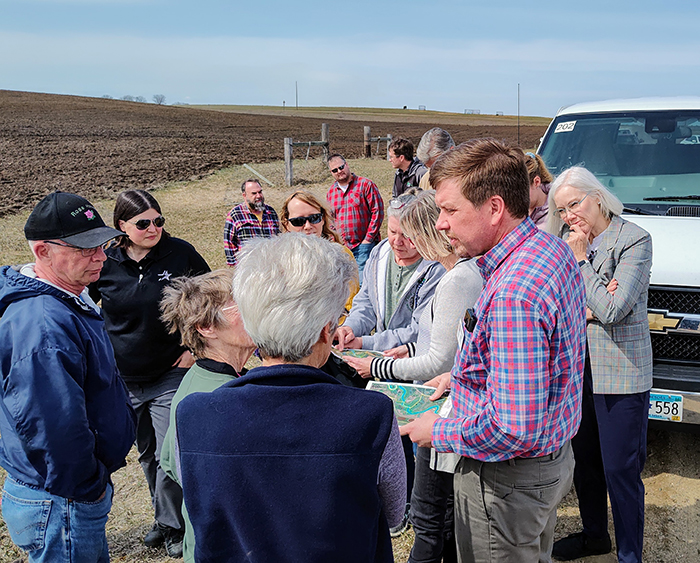 By Robert Williams
Editor
A large group of city, county and state officials, along with supporters of the Wannigan Regional Park Project (WRPP) met in Frazee on Wednesday, May 4. They met with Renee Mattson, executive director of the Greater Minnesota Regional Parks and Trails Commission (GMRPTC) and assistant director Joe Czapiewski to discuss current plans and ongoing efforts for developing the park.
The WRPP board had previously submitted a designation application in 2019 to the GMRPTC, but did not receive a high enough rating for potential acceptance and possible funding. The application was resubmitted in 2020 and received a high rating from the commission, which means the park project is now eligible to become a part of the GMRPTC system, according to Czapiewski.
"Now that the master plan is completed, it has come to us, and we're going through an extensive evaluation of it, which includes an independent evaluation team that is looking through it and comparing it to our criteria scoring system. We also do our staff review, which includes today's site visit we're going through today. We're still in the middle of that process and looking forward to learning more before the commission makes a final decision."

Joe Czapiewski, assistant director of the Greater Minnesota Regional Parks and Trails Commission
Both GMRPTC representatives went through a lengthy list of questions regarding maintenance, operations and funding for the project in a meeting that lasted just under an hour.
Regarding maintenance and operations, the park will be run by the Frazee Community Development Corporation (FCDC), but the city will have membership on the FCDC and the finance committee, providing oversight of the maintenance and operations budget.
The city's involvement is imperative in the event that there is a shift of operation back to the city at some point, which could be assigned to another non-profit, or the economic and development authority as a fallback to make any shift in operation as seamless as possible, according to Lorsung.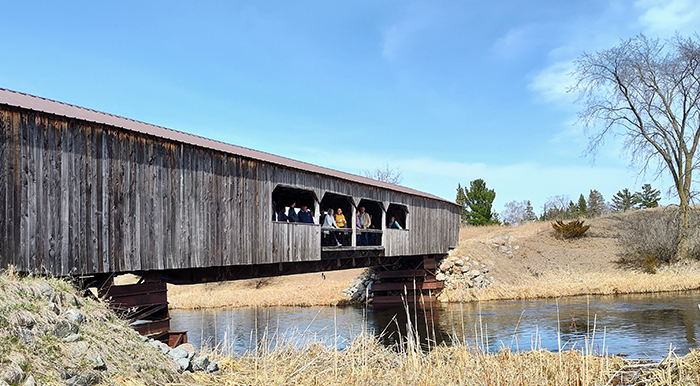 That connection was something Czapiewski and Mattson stressed as a key element to their purpose in garnering more information.
Former mayor Fred Daggett cited the event center as a previous successful team effort between the FCDC and city. The FCDC was formed in 1999 with a goal to build the event center.
Another key question was for the group to explain how it would work should something go awry, like an off-year or expenses that are larger than expected.
"I think the city would have to come up and step behind them with our resources and things we have to do since we are basically a partner in this whole situation once it's acquired. The city is looking at some of these areas and things to stand behind them with a mechanism we can put in place to take care of it."

Ken Miosek, Frazee mayor
Keeping surplus funds available for an issue of that nature is also a priority of the FCDC.
"It's my goal as president of the FCDC that as we do our fundraising and budgeting every year that we set a cushion aside," said Denise Anderson. "I think it's important that we have that rainy day fund."
While the park is still in the funding application stage, to get past that point, both Mattson and Czapiewski stressed the need for forward thinking.
"We're here to ask some tough questions," Czapiewski said. "Our role in it is to be good stewards of the dollars that the voters of Minnesota have given to legacy to give to you and other parks and trails if you're part of the system. You need to make sure that when you have those hiccups that things can continue on. That investment that our legacy group or other groups that you may approach for funding, those things need to be stewarded and still able to be there for the citizens of Minnesota to enjoy. That's why we're interested in post-operation things."
Steps to ownership and profitability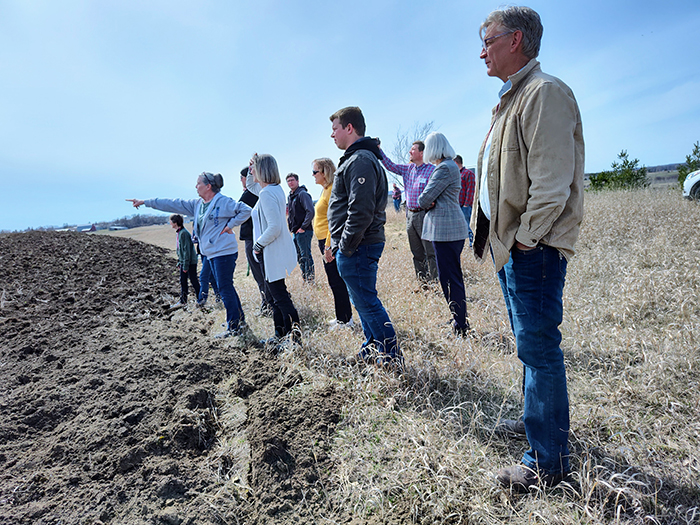 The land has yet to be purchased. It is still owned by Greg Ness and held in a trust until the acquisition monies are obtained.
"It's been just a huge gift for him to do that for us," said Anderson.
The FCDC will eventually purchase the land and it will accrue to the city.
In addition, the Parks and Trails Council of Minnesota has agreed to help with the acquisition, in the event there is an urgent need before the money can be accumulated for the purchase, according to National Park Service outdoor recreation planner Holly Larson.
Beyond the purchase, profitability and being able to maintain the property over time, are a major concern for the GMRPTC. One benefit Frazee has is an already profitable camping history, to go with projections of reaching $100,000 in first year profits from camping at Wannigan.
Two examples of camping profits in town are an 18-site campground which earns $35,000 annually and a primitive 4-site campground that earns over $3,000
"Campsites in the area definitely do get used. I think Wannigan will be beneficial for that and I do see it being profitable with the demand that we have."

Jordin Roberts, Frazee city administrator
There are currently 49 total campsites planned for WRPP when the build-out is complete, reservable up to two weeks per stay. It is not going to be a seasonal campground.
"The operations revenue from camping is going to self-sustain the park," said FCDC member Polly Andersen. "Starting from year one, revenue from campground reservations will completely offset expenses with a cushion."
Potential expansion for more camping is further down the road to meet demand.
"We did include space in the concept plan for additional camping for both RVs and tents that would be developed later in phase II or III if there was demand for more spaces," said Larson.
A preliminary budget for phase I of the project was shared at the meeting, from land acquisition to roadwork, water, electric and sewer, the building of RV sites and campground areas, archaeological studies, design and engineering costs and more to the tune of nearly $5 million.
"Does this get you to the place you feel you've got decent profitability or a chance of profitability, including purchasing equipment to maintain the property?" Czapiewski asked.
"We absolutely believe that," said Andersen. "This is for discussion purposes today; it's not a final financial application, but we've been very cognizant of what we need to make it successful and being sure that we're funded properly for that."
Connecting with other agencies
Between current projects going on in town like the beach project and the highway 87 project, the city and FCDC members have a good connection to how any funds made available from GMRPTC would be managed.
The WRPP board has partnered with West Central Initiative to help fundraising efforts and to collect those monies and guide the board through expenditures and reporting.
"I think that takes a lot off the plate of the board and that frees us up to do more development and fundraising."

Polly Anderson, FCDC member
If the park becomes designated by GMRPTC, the FCDC may need the city to submit the application and be in charge of reporting and managing the contract, which could occur for any major funding applications.
When asked if the city was willing to take on that burden, vice mayor Mike Sharp answered in the affirmative.
"This plan is a key component of our comprehensive plan," said Sharp. "We know the administrative side of things. We've applied for other grants through the DNR and such. I think we fully understand what we're getting into and we're prepared to meet that."
The city's comprehensive plan was a 2 1/2-year long planning process and the park represents a need residents of Frazee and the region stressed for the future of the city.
"Our city has been very committed to expanding outdoor recreation opportunities as a means of not only redefining our local economy, but the future of our city as a whole," said Sharp.
Anderson explained further.
"One of the biggest things we heard was the city's residents wanted more recreational activities; they wanted to utilize the river, which the Otter Tail goes right through this property," she said. "They wanted more bike trails and they wanted to do something with their town. Wannigan Park is a very important piece of that aspect. The residents and people in the region are very aware of what the plans have been for this for a long, long time and they're looking forward to us getting it done."
Roberts cited the DNR and MnDOT are already putting funds into the town with the two aforementioned projects at the beach and the highway. Any funds available from GMRPTC would go through similar processes, something city officials are already comfortable doing.
"We're working with state entities to improve Frazee, make it better and see it grow," Roberts said.
The city worked with the DNR for a grant of $250,000 for the Town Lake Beach project. City engineer Kris Carlson noted the 87 project is bringing a 10-foot multi-use trail from highway 10 through town.
"Eighty percent of that funding came from the transportation alternative program; the city is very active in grant administration."

Kris Carlson, Frazee city engineer
GMRPTC gives out legacy funds for Minnesota, but because it is not a fiscal agent, the contracts run through the DNR, so the city's familiarity with that process is a benefit.
Full project will take years
Wednesday's meeting was a big step in making the park a reality. Becker County is joining the city in support of that, although nothing financially yet. Currently, the county is in a support role.
"We're trying to help where we can," said county commissioner John Okeson. "We haven't committed anything financial at this time. It will probably come under our parks and rec department to bring it to the county board."
The county is open to assisting, but the FCDC is taking control of the project and finding ways to utilize any help it can get to get the project moving forward.
"The county will take an active role in supporting us," said Anderson. "They're open to the concept of helping us and supporting us through the project. That is one of the reasons we started the FCDC, so our board would have the opportunity to do fundraising and apply for grants for the development of the park."
A major public question about the project is when will it begin and that thoroughly rests with securing roughly $800,000 for the land.
"Our main goal is acquisition of the property and to start our phase I, some of the smaller development that we can do to get the area residents into that park and enjoy the trails and the river," said Anderson. "We understand this isn't going to happen in a year or two. We understand this is going to take, before it's finished, probably a decade."
Becker County and the city have already provided some initial funds.
Both the city and county contributed $2,500 each for the land appraisal fee and the city has supported the project with an archaeological survey scheduled to be done by June 30, according to Andersen.
Community development coordinator Tom Lorsung and Okeson cited the Detroit Mountain Recreational Area (DMRA) as an example of how the city of Detroit Lakes and Becker County worked with that project.
"How the county got involved was help improve the road going in there with our sales tax money. That's a possibility that the county would look at; that's where I think our money would be shared."

John Okeson, Becker County Commissioner
One of the major differences between the DMRA and Wannigan is that Detroit Mountain is run by a for-profit entity versus a non-profit running Wannigan.
Miosek pledged support on behalf of the city.
"If the city didn't want to stand behind them, we wouldn't be at this point either," Miosek said. "We have a stake. We're all part of it."
Official work on Wannigan Regional Park will kick off with a preliminary archeological dig at the site from May 10-11. This preliminary survey includes shovel testing as well as researching how the land has been used by settlers over centuries gone by. A report is expected by the end of July.
Other area officials attending the meeting and site visit were: Frazee high school superintendent Terry Karger; FCDC secretary and United Community Bank branch manager Ashley Renollet; park supporter Tony Sailer; North Country Trail Association representatives Steph Hogan and Karen Stenberg; former mayor and FCDC vice president Hank Ludtke; Daggett Trucking general manager and FCDC treasurer Erik Anderson; Becker County engineer Jim Olson; Becker County economic development coordinator Guy Fischer; Becker Soil and Water Conservation District county ag inspector Marsha Watland and incoming ag inspector Brandon Gill; Frazee chief of police Tyler Trieglaff; Joe Hernandez of the National Park Service and Patrick Hollister of Partnership for Health, the combined health departments of Becker, Clay, Otter Tail and Wilkin Counties.