Vergas veteran's memorial park dedication June 11
News | Published on May 12, 2022 at 12:17pm EDT | Author: chadkoenen
0
Fundraising efforts continue as project enters another phase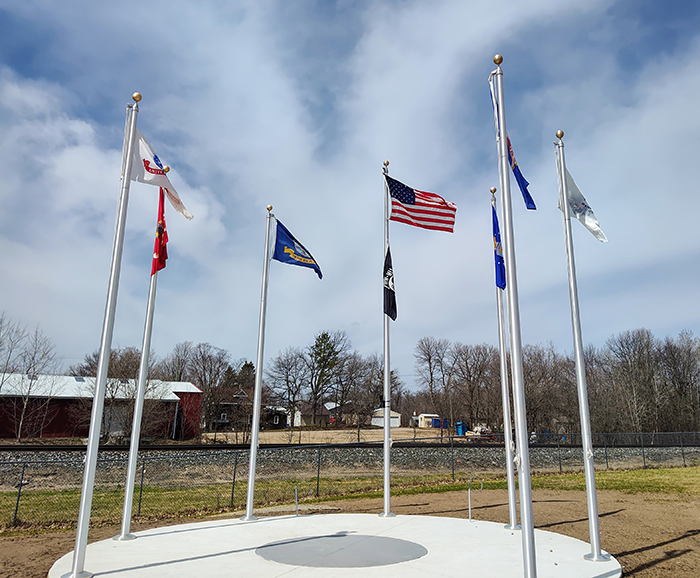 By Robert Williams
Editor
A dedication for the new veteran's memorial park in Vergas is scheduled for Saturday, June 11, beginning at 11 a.m.
According to organizer Lyle Krieg, the park continues to be an ongoing process with more donations still coming in and more welcome.
The project is entering its second phase of placing granite memorial pillars, benches and other landscaping enhancements to the area soon.
"We have eight benches that are spoken for and two pillars that are full of names right now. The support has been just outstanding."

Lyle Krieg, organizer of the Vergas veteran's memorial
The site has room for eight more pillars and more memorial benches, according to Krieg.
The project will not be completed at the time of dedication as it is an ongoing process.
Donations to memorialize a veteran or family member are still available and will be after the dedication. As that date nears, recently purchased donations may not be installed on the site at the time of the dedication, but will be added as soon as possible.
Future additions to the site include plans for an archway at the entrance to the memorial.
For the group of six project organizers, the past three years have been a worthwhile pursuit that will culminate at the June dedication, but the project and dedications will continue long into the future.
"We started in January of 2019 and were always talking back and forth before moving into more organized meetings with minutes and an agenda," said Krieg. "There's a lot of thought that went into it. It's been fun and an ongoing thought process. I've met some outstanding people, veterans and their family members."
Veterans and family members are invited to have their name memorialized, not just those living in or native to Vergas.
Donations can be made in three different ways. Money can be donated to the flag fund to help replace worn flags. There are nine flags at the memorial. A recent order for replacements ran approximately $300, according to Krieg, so donations will be needed for future replacements. Any dollar amount is welcome.
Names engraved to remember a loved one, or someone who served in the armed forces on one of the granite pillars, can be had for a donation of $150.
One of the engraved granite park bench memorials can be had for a donation of $5,000.
The dedication in June will be another phase of the project and a continuance of the fundraising to continue enhancing what is already on the site.
"We hope to spike some interest after the dedication and hopefully, maybe by fall, we could put another pillar up. We have more room."

Lyle Krieg
Donations can be made by check payable to WCI (note Vergas Veterans Memorial on memo line) and mailed to: West Central Initiative, P.O. Box 318, Fergus Falls, MN 56538-0318.
Online donations can be made at: www.wcif.org/give/funds/vcf.html, or a transfer of assets, stocks, real estate, life insurance value, IRA Funds, or other funds.
West Central Initiative has been utilized to ensure funds donated are tax deductible.
The June 11 dedication will include food donated by Ditterich Family Farms and will be served beginning at 11 a.m., until the dedication, which is scheduled for 1 p.m. Raffle drawings and a silent auction are to follow at 1:30 p.m.
Raffle prizes include: guns, cash, $100 gift cards, meat bundles, restaurant gift cards and more.
Raffle tickets are available from any Vergas Lions Club member.
Updates on the project, the dedication and fundraising can also be found on Facebook.com/groups/vergasveterans