Construction projects begin at school campuses
News | Published on May 19, 2022 at 5:03pm EDT | Author: Chad Koenen
0
Frazee school board holds end of school year meeting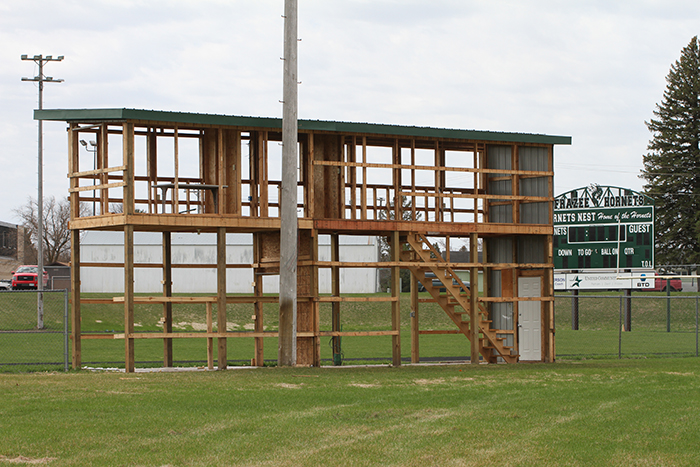 By Robert Williams
Editor
Demolition has started outside the Frazee-Vergas High School on construction of a number of projects, according to superintendent Terry Karger. He announced the beginning of the $8 million project at the school board meeting Monday, May 9.
The project was approved by the board 11 months ago.
The project includes a new track and field complex, as well as a football field, lights, bleachers, press box, concession/bathroom facility and relocation of the junior varsity baseball field.
Also being constructed are: a new student parking lot on the east side of the school; a new dedicated parent drop-off/pick-up loop and bus drop-off/pick-up loop at both the high school and elementary; indoor air quality and fire safety improvements; a new parking lot on backside of elementary school and an elementary school learning center.
The track complex and football field work was slated to begin in April, but was pushed back by weather. The project was estimated to cost $2.7 million. The field will sit perpendicular to the former Carl S. Ingebrightson athletic field running north-south, as opposed to east-west.
As part of the budget and facilities report from board member Nathan Matejka, the elementary school has soffit that has shown to be compromised this year and needs to be budgeted for and repaired.
Winter sports participation, shot clocks
Activities director Nick Courneya reported winter participation numbers to the board.
Boys basketball had 55 players participating in grades 7-12; 32 in girls basketball; 27 in wrestling; 16 in dance; 4 in gymnastics participating in the co-op with Detroit Lakes; 26 in knowledge bowl; 16 in robotics, 26 in the musical and 42 in FFA.
Courneya acknowledged the benefit all teams receive from Anderson Bus Company.
"They do pretty much anything we need. I can't thank them enough for what they do. They've been great to us."

Nick Courneya, Frazee activities director, on Anderson Bus Company's assistance
The capital outlay budget is significantly down at $56,000 for next year, down from a typical range near $200,000 or more. One of the athletic expenses is $6,500 for shot clocks.
Courneya announced that Frazee was the last Heart O' Lakes conference basketball program to approve the use of shot clocks this coming season. The Minnesota State High School League required schools to add shot clocks to basketball games for the 2023-24 seasons. Next season is optional and the decision was left up to conferences for the in-between year. Each team in the conference will be shot clock ready. Games against non-conference teams, home or away, will be optional.
Student council gets approval to decorate caps
Student council president Harley Kropuenske and vice president McKenzie Wake presented information to the board asking to allow this year's senior group to decorate their graduation caps for the ceremony.
The duo noted classmates wanted to decorate caps as a form of expression and to highlight their high school careers coming to an end, while creating an individualistic sense of pride towards graduation.
Kropuenske and Wake provided a list of pros for the cap decor: great for photos, add purpose and remembrance to an eventful day, show and help recognize what motivated students and bring more excitement to an exciting day.
They also listed a singular con, that being inappropriate or disruptive decorations.
Caps will be checked the day of the ceremony by administration, anything inappropriate would be covered or the cap replaced and a class meeting would be held to note decorating caps is a privilege, not a right.
"We'd like to be trusted with our own creativity to make the best of our graduation," said Kropuenske.
The board discussed the obvious negative possibilities and encouraged the students to work with administration on a concrete plan to avoid such an outcome.
Board chair Thaddeus Helmers noted, like the school board itself, the student council was voted upon by students to make the environment the best it can be and that role comes with responsibility.
"This is what you should be doing," said Helmers. "Coming up with ideas, solutions and working through it. You also have culpability because there are people who are going to do the wrong thing. As leaders, you have to convince those people doing the wrong thing to do the right thing for the best."
Joining Helmers in agreement were board members Mike Frank, Matejka and Daneele Shipman.
"I don't like setting rules that these kids can't express themselves," said Matejka. "I know it's popular, especially when you get to college and in other high schools, as long as you have good boundaries and ways you can prevent this from showing up when people are walking up."
Shipman challenged the duo to work with administration on a specific plan of what is and isn't allowed and a concrete plan in place for dealing with any challenges.
Decorating caps has not been done previously at FHS. It has been a formal ceremony up to this point.
Wake also requested the board allow additional student speakers at graduation from three to five people.
Early Childhood Family Education (ECFE) Advisory Board
ECFE wants to provide a handbook, specific to Frazee, the school and classes, to new parents at hospitals and people who move into the community, according to board vice chair Kimberly Antonsen.
Summer school classes will be held again this year, although the summer food program will not be a part of that due to the construction around both the high school and elementary campus. Early childhood and school readiness classes have been attended near to capacity this year.
Summer school office hours
Summer office hours were announced. The district, high school and elementary will operate four 10-hour Monday through Thursday; May 30 to September 2 from 6:30 a.m. until 4:30 p.m.