'Faith over Fear' benefit held for cancer survivor
News | Published on May 19, 2022 at 4:51pm EDT | Author: Chad Koenen
0
Family, friends come together for Cally Nundahl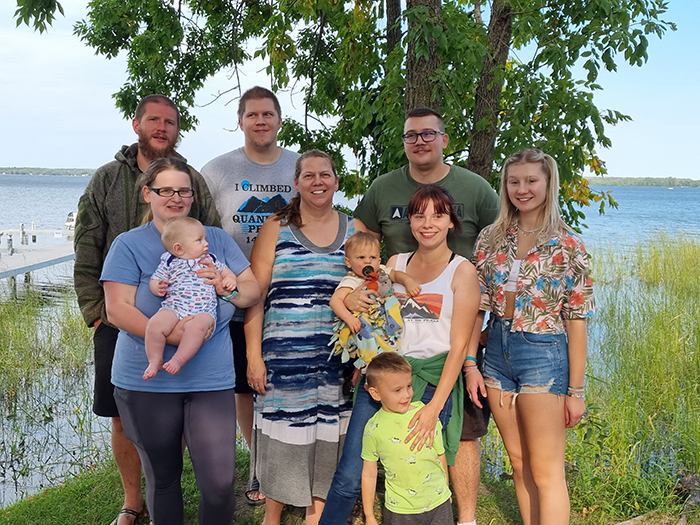 By Robert Williams
Editor
Cally Nundahl, of Frazee, has survived a trying year of treatments for cervical cancer and her friends and family came together Sunday in Frazee at a benefit to help aid her recovery.
After being diagnosed in late 2021, it took some time to come to grips with what the future held.
"Our first reaction was shock, then sadness, and wondering about how to tell our kids. Then fear crept in about what kind of treatments were in my future. I am petrified of needles and I avoid going to the doctor as much as possible. Telling the kids was hard on me, as I didn't even want to believe it myself. Our children: Chantelle, Levi, Tyson, Luke, Tucker and Calla took it well and have been very supportive and take good care of me."

Cally Nundahl
The ensuing months put new stresses on Cally's husband Darby and their children.
"Darby has been amazing and took over the household and everything else, including working his full time job at 702 Communications in Moorhead," she said. "He has been with me every step of the way and stayed with me when I had to be away in Rochester at the Mayo for my internal radiation. My son Luke drove me to most of my chemo and radiation treatments at the Roger Maris Cancer Center in Fargo."
Nundahl has faced other complications in the past and has found a positive in her health struggles while taking advantage of a new perspective on family bonds.
"I believe that cancer has changed me in a way that I cherish the time with my family and friends even more now," she said.
She received a life-changing diagnosis a few years ago when told she had idiopathic subglottic tracheal stenosis, which causes her windpipe to slowly close until it is a struggle to breathe.
"I have had three surgeries at the Mayo with laser ablation and dilation to open it up again for a while," said Nundahl. "So I know the feelings of being faced with death. I am just grateful for my time here with my loved ones, and I know life is short, so I want to make the most of it."
Treatments for cervical adenocarcinoma have been lengthy with multiple side effects, but Nundahl has seen the worst of it and came through feeling stronger.
"After the initial biopsies in September, I had surgery in November for more biopsies and conization, where they removed part of a tumor, taking curettages of the tumors in the cervix," Nundahl said. "I went through five weeks of radiation every day at Roger Maris Cancer Center and every Tuesday of those five weeks, I had chemotherapy throughout the months of January and February. Then I went to Mayo in March and over five weeks I had weekly treatments of internal radiation brachytherapy, which I was put under anesthesia for. The side effects over the last six months have been difficult but every day I am stronger and feel less exhausted. The fatigue and pain seemed to have lessened. However, I still have brain fog, which is difficult when trying to form thoughts and sentences. I need to remind my husband and children to be patient with me."
Much of Nundahl's inner strength to deal with the strife of the past six months comes from her faith in God.
"My Faith is very important to me. In fact, my motto throughout this process has been 'Faith over Fear.'"

Cally Nundahl
The motto was on the T-shirts at the benefit Sunday, May 15.
"I know I made it through these awful treatments with God by my side," she said. "There were days I wanted to quit, just stay in bed under the covers, but I felt like He took my hand and gave me strength to keep going."
Nundahl and her family enter a tense waiting game over the coming month on the treatment results. On June 16, they will find out if the treatments worked and if the cancer is gone.
"Because of our awesome God and my support system: my hardworking husband, caring children, beautiful grandchildren and amazing friends and family, I was able to endure all the tests, treatments, surgery and the side effects," she said. "I will come out stronger."
Nundahl and her family have been humbled by the support system created by the community around them.
"I am overwhelmed by the amazing support of my family and my friends," she said. "It is so humbling to receive the care and love they give me so freely. I just want to thank all of you who have reached out to me and Darby, sent cards, brought us food, gas cards, donated to the account at Frazee United Community Bank, donated items to the benefit party, organizers of the benefit and especially those who pray for us—the greatest gift. I truly love you all so much and I feel so blessed to be surrounded by such amazing friends and family. You all are in prayers and may God bless you."