FFA students compete at state convention
News | Published on May 19, 2022 at 3:02pm EDT | Author: Chad Koenen
0
First in-person convention since COVID pandemic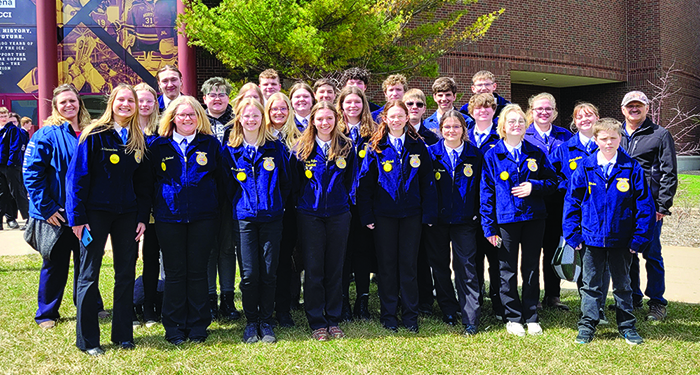 By Robert Williams
Editor
Frazee-Vergas students attended the 2022 Minnesota State FFA Convention April 24-26 on the University of Minnesota Twin Cities campuses, the Minnesota State Fairgrounds, and the St. Paul Pipefitters Training and Certification center.
It was the first in-person convention in two years, after the pandemic forced the convention to go virtual from 2020-2021. There were approximately 3,500 students in attendance from more than 180 Minnesota schools.
The convention was potentially the last for Frazee FFA advisor and retiring teacher Doug Schwarzrock, who was committed to FFA his entire career.
"The goal has always been that we want to see kids be successful," he said. "That's one thing I've always really enjoyed about the FFA. You get to work in a small group with closer contact and really work on trying to bring out their talent and be successful."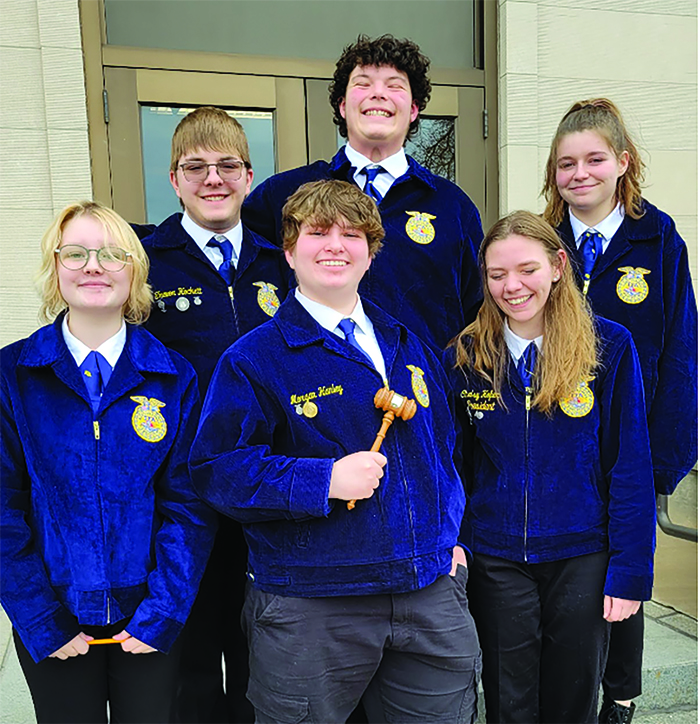 Attendees were able to listen to keynote speaker P.J. Fleck, head coach of the University of Minnesota Football program.
New officers were installed for the coming year: State President Emma Kuball of Waterville-Elysian-Morristown; State Vice President Natalie Beckendorf of Renville County West; State Secretary Makenzie Alberts of Pine Island; State Treasurer Brynn Lozinski of MACCRAY; State Sentinel Noah Erickson of Morris and State Reporter Caidyn Johnson of Fertile-Beltrami.
There were eight hall of fame inductees: Pat Dingels of Redwood Falls; Charles Krause of Buffalo; Becky Meyer of Vadnais Heights; Kerry Lindgren of Staples; Ronald Sommers of Northfield; Dave Swanson of Hawley; Erman Ueland of Fertile and Stan Vander Kooi of Buffalo.
Region presidents were also named:
Region I Barb Trego, Ulen-Hitterdal
Region II Mackenzie Kuschel, Sebeka
Region III Tyler Ratka, ROCORI
Region IV Alison Murrell, Braham
Region V Jack Frank, Redwood Valley
Region VI Madison Johnson, Tracy
Region VII Andrew Burns, GFW Pioneer Express
Region VIII Kaitlin Meiergerd, Hayfield
Frazee-Vergas is in Region I.
Frazee awards:
State degrees: Paige Engel, Morgan Hanley, Trevor Hockett, Chelsy Hofer.
Floriculture – Team Bronze: Mandy Danielson 153rd Bronze, Faith Pihlaja 144th Bronze, Alma Slevin 80th Silver
Forestry – Team Bronze 36th: Gage Heisler 113th Bronze, Westin Aschnewitz 106th Bronze, Carter Sonnenberg 137th Bronze
Meats CDE – Team Silver: Ella Perala 78th Silver, Karson Trieglaff: 72nd Silver, Trevor Hockett 91st Bronze, Morgan Hanley 28th Gold
Parliamentary Procedure – Team Bronze Ella Perala Reporter, Morgan Hanley Chairperson, Chelsy Hofer Secretary, Trevor Hockett Vice President, Jonathan Buhr Sentinel, Paige Engel Treasurer
Best Informed Greenhand – Team 21st Bronze: Lily Hovland, Annikah Bluart, Keela Hanson, Alydia Mitchell
Dairy Handling – Brady Mitchell Gold
Nursery Landscaping – Team Bronze 36th Bronze: Andrew Aho 131st Bronze, Addison Jager 87th Silver, Jonathan Buhr 143 Bronze
Soils CDE Team – Team Silver 19th: Kodian Schermerhorn 40th Gold, Raymond Holzhauer 29th Gold, Alison Jepson 104 Bronze
Poultry – Team 18th Silver: Paige Engel 27th Gold, Ten St Germain 21th Gold, Alydia Mitchell 116th Bronze, Chelsy Hofer 133rd Bronze.