The Backyard in Perham is expanding
News | Published on May 19, 2022 at 2:15pm EDT | Author: Chad Koenen
0
New space and training program is on the horizon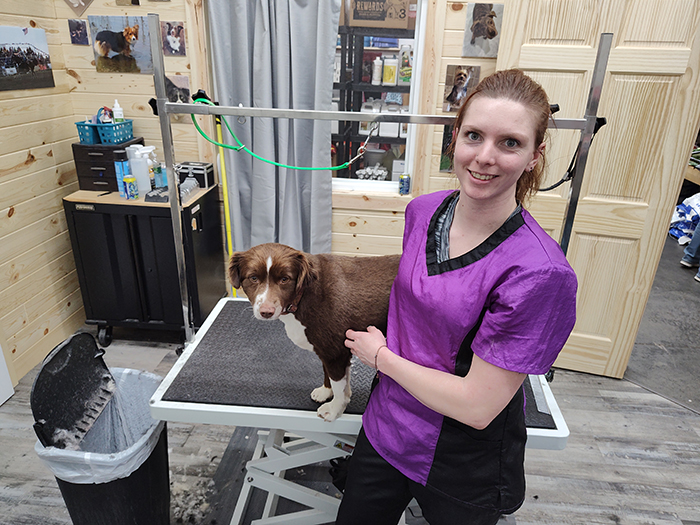 By Robert Williams
Editor
The Backyard in Perham is adding another building to its growing business in Perham.
Demand for boarding and daily playcare have created a need to split the daily pet daycare and overnight boarding facilities.
Plans are underway to open the new full-time playcare center later this summer in the old warehouse that formerly housed Pro Welding and Fabricating.
Currently, the playcare and boarded animals are together in one facility run by manager Ashley Schmitz.
"Things have gotten busier. Boarding numbers are up and playcare has stayed steady so it gets pretty crammed in there."

Taylor Doll, The Backyard store manager
Construction is slated to hopefully be finished by the end of June. The expansion will allow boarded animals enough space in the kennels and turfed, outdoor play area. The additional room will also allow the business to add dog training as a new feature.
Playcare is currently available Monday through Friday housing 15-20 dogs per day.
"It's gone really well and when we open up this new facility we'll have more space to spread them out more by their numbers and size," said Taylor. "It'll be a good thing once it opens up."
The focus on pets and necessary expansion has come as the company changes with growing household pet demand and a decrease in business from local, small-dairy farms. Thousands of those farms have disappeared across the country since 2018.
"Five years ago, we had meats, milk and cheese in refrigerators," general manager Tyler Doll said.
The company also carried Amor pork, meats from the Hutterite colony north of Hawley and other food products. That refrigerated area is where the grooming addition is now.
"We knew we had to make a switch," said Taylor.
Competition with grocery stores and a local cheese shop also made a change necessary and an uptick in pet business provided an easy transition.
"We're getting to the busy time of the year with people returning," Taylor said.
Grooming business picks up in the summer, along with boarding and playcare.
The Backyard has two groomers who are currently booked through June with a few openings here and there. Customers are encouraged to book ahead of time for appointments.
"It can be tough to keep up with the demand. It's been a good thing for us. It gives people a chance to check out what we have in the store."

Taylor Doll
The boarding facility has multiple options from standard kennels to premium private dog areas with a television, access to outside and cameras which allow owners to check in on their dogs.
The Backyard just upgraded store inventory with seasonal items like more scoopers and leashes, bird-specific feeders, along with a collection of food plots: radishes, turnips, peas, alfalfa, beans, onion sets, seed potatoes. Bird feeders are currently 25 percent off.
Much of the food and seed business started with selling corn and soybeans to farmers, but customers have built a strong base that is now stocked in the store.
The pet food consists of the usual assortment of kibble and canned goods to packaged gourmet dog treats.
The Backyard also helps in the community by providing free clean-up bags on the bike paths and at the Wardale Dog Park.
Check out monthly specials on all the different divisions of The Backyard at thebackyardperham.com