Wake graduates early from high school
News | Published on May 26, 2022 at 3:05pm EDT | Author: Chad Koenen
0
First FHS student to earn AA degree and finish a year early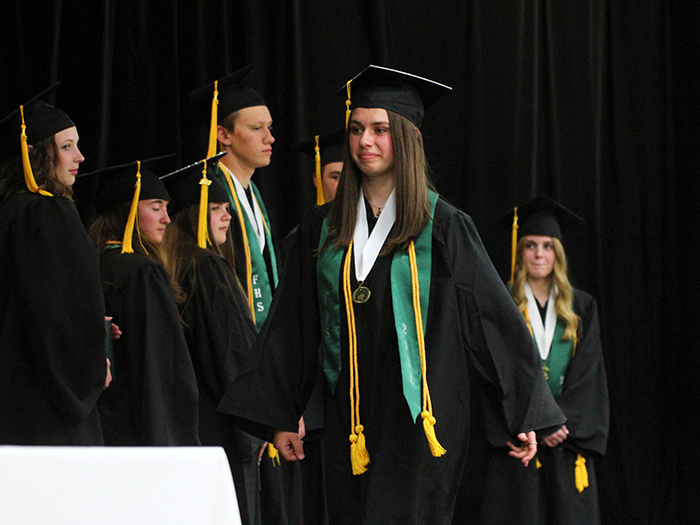 By Robert Williams
Editor
McKenzie Wake is doing something no other Frazee-Vergas High School student has done before. That being said, she is following in some family footsteps to reach that plateau.
Her brother Charlton was the first Frazee-Vergas student to graduate from high school with an Associate of Arts degree. Her older sister Kaitlin was one of the first students to graduate a year early.
"I just kind of went, you know what would be fun? I want to beat you guys, so I decided I'm going to graduate a year early and with my AA degree."

McKenzie Wake
As incredible as that achievement is, it was a decision she had to make as a freshman to skip her sophomore year and concentrate on collegiate courses, while completing her high school curriculum.
"My mom, who set everything up for my brother, was a big help," said Wake.
She began taking collegiate courses as a freshman and started working ahead on high school courses.
"I think my brother was a big factor in it," she said. "Seeing him go and experience everything made me eager."
Wake's academic prowess showed up early in her life when she began reading at a college level in third grade. She held high standards and a love for reading and english.
Coming from a family of teachers McKenzie and her siblings excelled in academia. Her mother Julie is a seventh and ninth grade science teacher. Her dad Charles is a sixth grade teacher.
McKenzie is majoring in Criminology and looked at three primary schools to continue her education after ruling out staying closer to home at the University of Minnesota: the University of Maryland, George Mason University and Penn State University.
All three schools are ranked in the top 20 nationally for their Criminology programs.
Surprisingly, sports was the deciding factor.
"I ended up going with Penn State just because I wanted to do something with sports," she said.
At FHS, Wake is a three-sport athlete in cross country, dance and golf, along with managing the varsity football team this past fall. She was a two-year captain of the Fly Girls, on the student council, the president of Frazee Students Against Distracted Motoring, vice president of MHS, prom committee, a member of MATCH and the list continues.
"Where I wanted to go, the bigger, out-of-state schools, I knew that was going to be a priority, the extra-curriculars. Sports, I just love sports. That was just a given."

McKenzie Wake
She plans to minor in Sports Studies and Crime, Law and Psychology.
According to Wake, Criminology is a broad subject on the behavior and theories of why criminals do what they do from shoplifters to serial killers and organized crime, along with forensics and science.
"A lot of it is also looking at history," she said.
Looking to the future, Wake's plan ranges from working as a private investigator to being employed at the Federal Bureau of Investigation.
That pursuit started with her first college class, as a high school freshman, sociology with Frazee social studies teacher Brad Morgan.
"At that time, I wanted to be an English major," she said. "That sociology class was a big part of it, looking at the bigger picture of society and everything. I loved that class."
Part of the class involved watching two episodes of the police procedural crime drama "Criminal Minds."
After binging the entire show, she got into a true crime podcast "Crime Junkie," thanks to her sister and continued taking in more of the genre.
"At one point I was watching Law & Order SVU' with my mom and she said, 'I can really see you being a lawyer,'" said Wake.
That was not going to fly with McKenzie. In fact, it was a eureka moment.
"I said, 'you know what? I don't want to be a lawyer, but you know what else would be cool, maybe something with the FBI or that crime perspective."

McKenzie Wake
Mom countered with the ideal of law school after attaining a Criminology degree, but that part of the future remains unknown.
To become an agent for the FBI, one must be at least 23-years-old. On her current trajectory, McKenzie will graduate with her bachelor's degree at 21 or 22.
"I would still have one or two years to do something," she said. "Like going to grad school or doing something with my minor or major, work in sports or some kind of law."
Having a plan and pursuit at such a young age takes an early grasp of perseverance. Sports helped with that concept.
Wake cited a Kobe Bryant quote on consistency and work ethic and as a Steelers fan, a line from Pittsburgh head football coach Mike Tomlin, "We are given a loss so we are given the opportunity to smile in the face of it."
Drive and motivation like that are necessary for a daily schedule that begins with three hours of morning class at school, the rest of the afternoon at home doing independent studies, before going back for sports after school and then back home for more hours in the books and 24 hours of homework on weekends.
In some sense, Wake realizes that she missed out on portions of her youth for studies, but used sports as a means to bridge that gap.
"I made room for that so it wasn't like I completely missed out," she said.
While a very outgoing person to speak to and obviously outgoing with all she has pursued, Wake's personality suits a more quiet lifestyle and conforms to hours of study.
"I'm a very introverted person, so when people are out doing stuff, I'm like, you know maybe it's best that I stayed home."

McKenzie Wake
That's also where Tomlin's words come into play.
"Going out of high school and kind of losing all those opportunities that I spent hitting the book and everything, I'm given that loss, given that opportunity to say I'm sad about it, but looking forward I'm given more an opportunity to smile in the face of it and say, 'I did a great job,'" she said.
At the conclusion of graduation Sunday, Wake will continue a tradition of working a summer job and taking a short break from studies, before departing for Pennsylvania in August. Her personal axiom on employment is the same as her studies.
"If you just do the work, it's not that hard," she said.
Wake was not one of the honor graduates selected to speak during Sunday's ceremony, but had plenty of people to thank and acknowledge in a speech she had prepared.
"I have a lot of people to thank, my family and a lot of separate families who have helped me along the way," she said. "My coaches, obviously, and a special shoutout to a couple of my friends Hailey Selly and Marcella George; I've literally known them since kindergarten and they've just been there forever. It's very nice to have and they're wonderful people. I also want to congratulate the people who don't often get congratulated like the robotics team, FFA, knowledge bowl and people who are able to run student governments. All these people who go unrecognized and mainly focus on academics."