Wilkowski joins Forum as intern reporter
News | Published on June 14, 2022 at 3:44pm EDT | Author: Chad Koenen
0
Recent grad pursuing journalism in college
By Robert Williams
Editor
Katy Wilkowski is kickstarting her pursuit of a career in journalism by working at her hometown newspaper as a summer intern reporter.
"I want to write; I've always wanted to do that," she said.
The recent graduate of Frazee-Vergas High School is spending her last few months in Frazee preparing for a move to Minnesota State University-Moorhead. Having already completed one year of college courses while in high school, she is concentrating her efforts at MSUM on classes she needs for an eventual transfer to Madison, Wisconsin.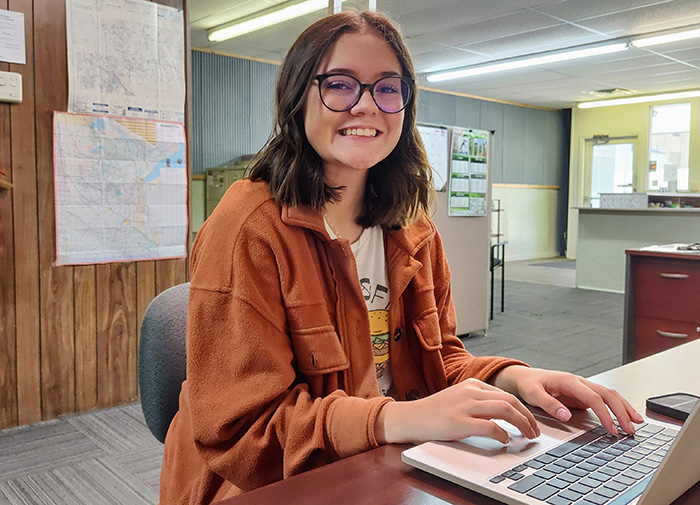 She plans to finish her undergraduate degree at the University of Wisconsin's school of journalism and mass communication.
"It's one of the best schools in the country for journalism and it's close and has a lot of outreach to Chicago, which is where I want to go eventually," she said.
Getting a jumpstart in the journalism field is a solid precursor to college, something she is really looking forward to beginning.
"I've been dreaming of starting to do something that really means a lot to me," she said. "I'm months away from starting it and it's just a little bridge to the start of something really big."
Working at the newspaper is an incentive and hopefully, a confirmation of what she wants to pursue in college.
"I feel like a lot of times I haven't really been challenged in terms of my writing," she said. "I crave to learn and to grow and to gain experience. I want nothing but to be the best person I can always be. There's always more to learn. I want to be challenged in a way that I haven't."
Like her fellow Frazee-Vergas graduates, getting out of high school was a challenge in and of itself. Wilkowski will be forever amongst the group of students that had their high school careers interrupted by the COVID-19 pandemic. To her, it was more than just an interruption.
"COVID messed up everything for everybody," she said.
The pandemic hit right after Wilkowski's 16th birthday, delaying her ability to get her driver's license, a must achievement in American life for any kid. Other than her job at Dairy Queen in Perham, she was homebound during much of the pandemic on her family's dairy farm outside of town.
"We went on lockdown," she said. "We were all stuck at home. I couldn't see anyone. I was in the middle of the boonies with just my cat. Work was the only contact I had."
While middle-aged introverts excelled during the crisis, for high school kids it was not that cool.
"I think 15 or 16 is one of the hardest ages you can be when you grow up, especially when you are stuck at home," she said. "My best friend would come over and we would talk through a window screen six-feet apart."
Being part of the Class of 2022 had a few benefits that were not bestowed upon the COVID-inflicted Class of 2020 and Wilkowski was able to find a silver lining as her class worked through a shortened sophomore year and fully-affected junior year. Those benefits surrounded any return to some kind of normalcy by graduation.
"It just depends on how you look at it and who you are," she said. "If high school is the most important thing to you in the entire world then the 2020 seniors had it rough. They missed their graduation. I had mine inside. We didn't have to wear masks."
She also threw herself into as many activities as possible when available, including three sports: volleyball, basketball and track, along with the MATCH program, student council, one act play, the musical, Hornet singers, choir, Interact Club, competing in pageants and the yearbook.
Wilkowski was editor of the school yearbook the past two years, while running the social media account for the school. She wrote "The Buzz" with her advisor, a school newsletter, and created "Potty Talk" with her friend Tiffany Lawrence.
"Potty Talk" was a written-word art form designed specifically for her fellow students that highlighted events of the week, with photos, jokes and student life stories.
"They were cute little things for people to read when they were in the bathroom," she said.
She got the idea from seeing a shorter version of it while at Breckenridge high school.
"I had a lot of fun writing it and it helped raise my writing skills and improve my interviewing processes," she said.
Putting multiple hours per school day into the yearbook was another writing and design experience that certified her love for working with words and photos.
"I fell in love with everything about it; the interview and writing process, the design process," she said. "I met great groups of people that shared a lot of common interests. Even the picture taking and editing process was fun for me."
Look for Wilkowski's stories and photos in this and upcoming issues of the Frazee-Vergas Forum. She will be highlighting stories ranging from features on young people to happenings around the area.
"I couldn't really imagine myself doing any other form of a job," she said.