Consistant weather makes for great fishing
News | Published on June 20, 2022 at 10:33am EDT | Author: Chad Koenen
0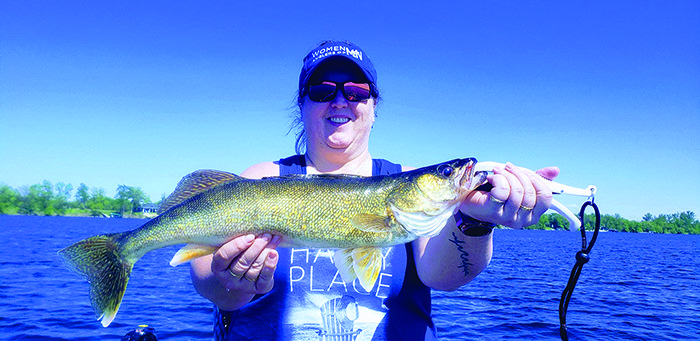 We have finally hit some consistent weather along with warm temperatures and the fishing has started to benefit from it.  We caught some amazing fish over the weekend and it was fun because fish were hungry and very aggressively feeding and the best part was we didn't have to be on the water at the crack of dawn.  
Walleyes were spread out like they do this time of the year but we found walleyes on the edges of the breaks with a bunch being very active out deeper than I would have thought. A jig and a shiner worked for active fish, but we got a lot more northerns on the jig then we did long lining a lindy with a shiner. At the end of the day, we were trying to limit out on walleyes our shinners kept getting smaller and smaller through selecting the bigger ones first and this resulted in us getting a lot of jumbo perch that wanted that 2-3 inch minnow versus our 3-4.5 inch shiners we were using at the beginning of the day chasing walleyes. 
When we were trolling, we rarely marked a school of fish on the depth finder that we didn't get instant bites. Stay mobile, focus on the electronics, and don't be afraid to leave a spot to try others like we did but we also came back to our best spot and caught the remaining fish needed for our limits. Most of our walleyes were inhaling the minnows so quickly that we had to cut a lot of lines since the hooks were not visible. 
Crappies have picked up are actively spawning on most lakes. We found them actively feeding and roaming in cabbage beds 7-9 feet of water but you had to be tight to the cabbage. Under each cabbage plant was usually one or two crappies sitting there down deep. We found a simple jig and soft plastic worked best for us with white being our best color. We had lots of people come in on top of us using live bait and they caught more small pike then they did crappies. We found we rarely caught any pike and it was very nice not having to deal with minnows. 
After other boats caught on to our presentation, I saw lots switching over to the jig and plastic but they were reeling in too quickly. The majority of our crappies were 5-7 feet down and when the jig hit the water we needed to let the jig sink 1-2 seconds before starting our retrieval otherwise you were only fishing 2-3 feet down and rarely would get a fish to bite. A slow and steady retrieval worked best but key was waiting to get the jig down into the weeds before starting the retrieve. 
I would expect the walleye bite to be switching from a shiner to a leech and/or a red tail bite very quickly and already hearing people using crawlers with positive luck. I have already made my request to a bait supplier for a pound of leeches because I know I will be going through a lot of leeches and I strongly suggest having a mixture of bait because in the next few weeks things will be switching up quickly. Still focus on the edges of breaks for walleyes but keep an eye on your favorite mid lake structure spots. Crappies are starting to spawn and should be on their spawning beds for a week or two but should hold to those summer patterns once they come off their beds.