Ludtke's life a winding trail to civic duty
News | Published on June 20, 2022 at 11:53am EDT | Author: chadkoenen
0
Back injury turns former mayor to community service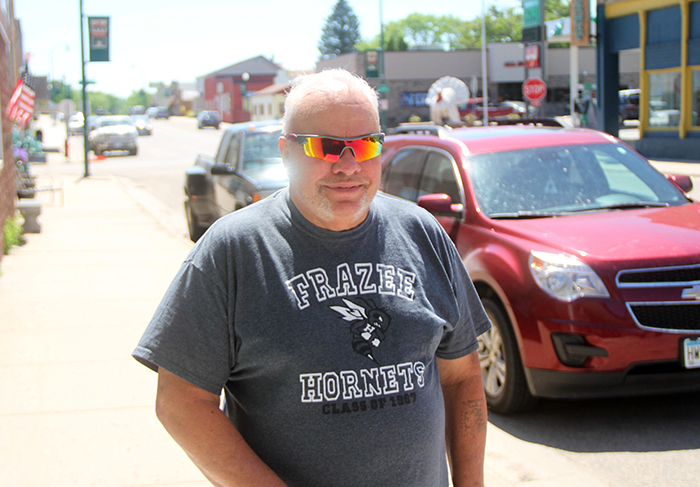 By Robert Williams
Editor
Former Frazee mayor Hank Ludtke took a winding path to local government, overcoming bad decisions and bad luck, on the way to becoming a constant and respected presence in groups and agencies from the city to state levels.
Looking back, his long list of responsibilities and charity are off the charts from what he set out to be as a young person.
"Way off," says Ludtke. "I didn't really have any idea what I wanted to do when I was young, other than I wanted to get out and see different parts of the country."
He did that and more working as part of the labor union, carpentry union, 49ers and teamsters. He was a heavy equipment operator, pipe liner, welder, hydraulics mechanic, rail salvage worker, auto body worker and auto and motorcycle repairman, service station attendant, with stints in the propane and logging business.
"I'd go someplace and learn something and then I wanted to go learn something more," he said.
As a student, Ludtke had a number of tough life lessons to learn.
He was born in Ephrata, Wash., before the family moved back to a farm Ludtke's father owned that is now the site of the Perham industrial park.
Ludtke's uncle owned Gamble stores in Frazee (now Seip Drug), Perham, Ponsford and Detroit Lakes. Ludtke went to school in Perham until 1959, before the family moved to Frazee. Ludtke's father bought Helmer Carlson's Texaco station in town and a propane business.
Ludtke lost his mom early when she died from cancer in 1957. At that time, he was not allowed to visit the hospital because of his age.
"The last couple years of her life I very seldom saw her, so I was raised by the neighborhood," he said.
Ludtke made himself indispensable to mothers around Frazee, especially when they were baking bread and making donuts, by doing chores around each house. Of one family that had three boys, he was the fourth.
The move from Perham to Frazee had Ludtke at a loss at first. He ended up graduating at the age of 17 in 1967, then moved to Chicago where his brother lived.
"I lied about my age and went to work on the docks," he said. "That lasted about four months until they found out how old I was."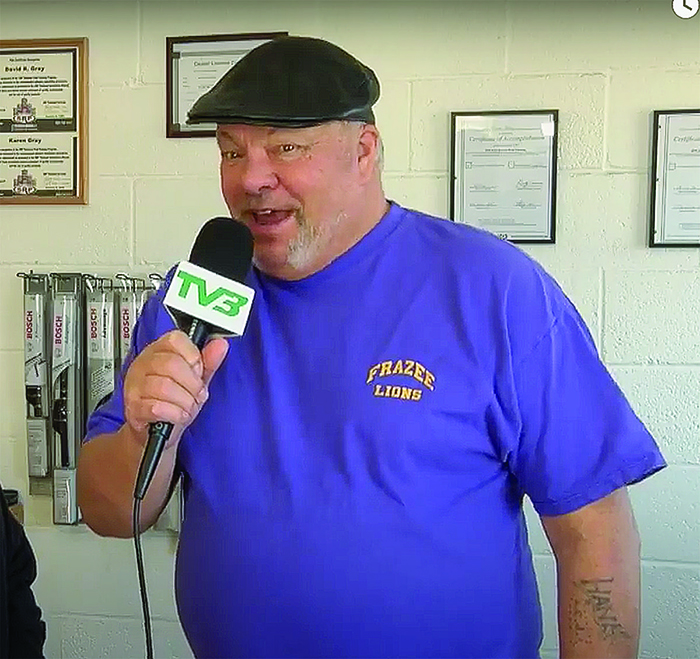 Then came a tougher lesson.
"I got in trouble after I got out of school, ended up in prison and that's how I went to the University of Minnesota," he said. "I got a scholarship from the penal system for Project Newgate.
The Minnesota Newgate program uses full-time college work as part of a comprehensive service that includes classes within the correctional institution, group counseling, and a transfer to a halfway house on the University of Minnesota campus.
Ludtke lived in a house on fraternity row and has a load of stories typical of such a setting.
He left university living in the twin cities, the Chicago area and back to Frazee. Ludtke was part of a crew working on multiple major thoroughfares in Minnesota during that time.
He was the form setting foreman on a crew that built Interstate highway 35W in the twin cities. Near here, he was part of the crew that made Highway 10 a four-lane road between Detroit Lakes and Hawley.
He married two times and settled into a career driving trucks and training drivers. All part of his one plan to see more parts of the world.
"I enjoyed driving," he said.
That enjoyment was abruptly interrupted in 1996 when he injured his back throwing pallets.
"About two days later I was laying on the floor," he said.
At the time, he was caring for his ailing father who lived in Park Rapids, paying for his dad's care while on the road driving, paying child support for two families and in a little bit of trouble with the Internal Revenue Service.
"I was making about $50,000 per year and living on bologna and water out on the road, because I can't afford anything and I threw my back out," Ludtke said.
He blew out multiple discs and his spinal column collapsed. After a failed surgery, he ended up teaching himself how to walk again and got back to work for Holland Enterprises in Fargo, working in safety, training and driver hiring.
His father passed away in 1997.
About a week later, he was injured a second time and a neurosurgeon claimed Ludtke would be wheelchair-bound for the rest of his life.
"He told me to go find a general practitioner to give you your pain medication and learn to live with it," said Ludtke. "I don't listen real well."
From there, a dispute with workforce safety of North Dakota ensued. He received a stipend, but North Dakota will not settle his case until 2033.
"If I'm still alive I'll be 84-years-old," he said. "They didn't like what happened right away and didn't pay any of the medical bills. If I had been in Minnesota, I would have been well off. I ended up looking at bankruptcy."
In 1997, Ludtke was still in the process of covering his father's medical bills, plus his other family expenses.
"Here I am in a wheelchair trying to figure this out," he said.
He ended up having to sell nearly all the family property except the home in Frazee to pay the medical bills.
"I ended up selling 145 acres on a small lake by Cloquet for $35,000 back to the First Nations," he said. "If I could have hung on to it for seven or eight more years, I probably could have sold it for $600,000, easy."
He sold the Park Rapids family home.
"I was trying to figure out how I was going to survive," he said.
He ended up living in the upstairs of the Frazee home as the rest was unfinished.
"I was huddling up in my recliner and wheelchair just making sure the furnace worked," said Ludtke.
He taught himself to walk again and had made a couple solid choices in choosing his doctor and a few friends who helped him rise from the situation.
"My general practitioner said, 'Hank, you have to stop feeling sorry for yourself.'"
"I said, 'I'm broke. I've had to sell everything. My house isn't done. I can't work anymore. What the hell am I supposed to do?'"
His doctor had an answer.
"He says, 'You need to get involved in some type of community or public service. There are a lot of people who are worse off than you are. Quit feeling sorry for yourself.'"
Gordon Sanders, a former county commissioner, also had a few choice words to motivate Ludtke.
"He said, 'Hank, there are lots of things you can do around here instead of just sitting around getting drunk. People need people like you that got some time to do this stuff and you're young enough yet and what the hell else are you going to do?'"
Ludtke joined the sportsman's club and Becker County taxpayers association in the late 90's and started doing work with Neighbor to Neighbor in the early 2000's delivering meals on wheels.
That list has grown extensively in the years since. Ludtke threw himself into community service at all levels of government and for the betterment of his situation and self.
He was one of three Minnesota mayors on the Red River Basin Commission, a University of Minnesota Extension Central Region Sustainable Development Partnership and Clean Energy Resource team member. He currently chairs the Frazee and Becker County Economic Development Authorities, is the vice chair of the recreational advisory committee, a Neighbor to Neighbor board member and volunteer. He's on the Sportsman's Club board of directors, the Frazee Community Club, Lion's Club, Grow Frazee Vergas board, a member of the Heartland Trail committee and Minnesota State water trails. He does private landowner outreach for the North Country Trail Association and reviews application work for the University of Minnesota and West Central Initiative. He has also hosted his "Spotlight on Frazee" television show for Leighton Broadcasting's TV3 for more than a decade.
Local government provided a couple hiccups on the way to the new Hank Ludtke. The first time he ran for city council he received about 35 votes. He was somewhat haunted by his past.
"A lot of people remembered when I used to ride motorcycles a lot and there were times when I'd have 60-70 bikes in my yard and a band going in the shop," he said. "They didn't think I'd be a good council person."
He ran two years later on the platform, "I've got the time for Frazee."
He had a plan to go with that platform.
"I said I'm here to take care of the elderly and to help the kids. The rest of us can take care of our own damn selves. The elderly had the knowledge and we aren't using it. The kids need the mentorship that the elderly have and all of us need to get outside."
Despite the planning, the election result was mired and coined 'Pencilgate,' after a failed write-in attempt to keep Ludtke off the council.
He was eventually announced as the winner. Four years later, he was the mayor of Frazee.
His first plan was to retrofit the city parks.
"We realized parks and recreation was the cheapest thing and the lowest hanging fruit that we could do," he said.
From there, his plans expanded.
"You need to look not only at your community or the county, you have to look at the region," he said. "A win-win is getting something done in the region. You can't just bring one town up and let the other ones…you don't take care of Rome and let the rest of the world rot."
Much has changed during and since Ludtke's run as mayor from 2006-2018.
"We've had a lot of businesses come and go in the city," he said. "I bet we had 30 businesses come and go while I was mayor and on the council."
In an effort to bring business to town, Ludtke has worked extensively for decades on bringing multi-use trails to the area and sees Frazee as a perfect hub, one that will support the trail systems and the town.
This summer's highway 87 construction project completes one of those connections.
"I think it's a major one to connect some of the parks to downtown and the trails to downtown," he said. "It gives a cross-city thoroughfare to the school. It's another way to connect neighborhoods to the school, downtown and to the parks."
Later this month, a decision will be made that will have a major effect on the future of Wannigan Park, another future benefit to current businesses and the potential growth opportunities around town.
"The whole idea was to get the amenities and trails here and get people to come see how beautiful it is here," he said. "You have to get them to come to town and you have to have something for them to do."
For Ludtke, small government and community agencies have provided him something to do and there are very few meetings around Frazee where he is not present.
"I'm concerned," he said. "It isn't like I do a lot. I think what you do, the things that come along where they need a little bit of extra help here and there, you be that person. You do what you can to help all those things because it's for the betterment of the community. That's the big thing. What is going to keep the community going?"
Small town government also provides a constructive way to actually accomplish something, as opposed to current situations at the state and federal level.
"I never imagined that things could be so messed up as they are right now," said Ludtke. "We have two political parties that seem to both be having major affections for the far extreme groups instead of the 90 percent of us who can get along with one another and want to work and live together instead of having all this chaos and havoc."
Being a contributing part of groups here in Frazee is a refreshing opposite of that perspective.
"This is the only place you can get something done," he said.