Vergas residents dedicate Veteran's Memorial Park
News | Published on June 20, 2022 at 12:03pm EDT | Author: chadkoenen
0
Hundreds attend ceremony and festivities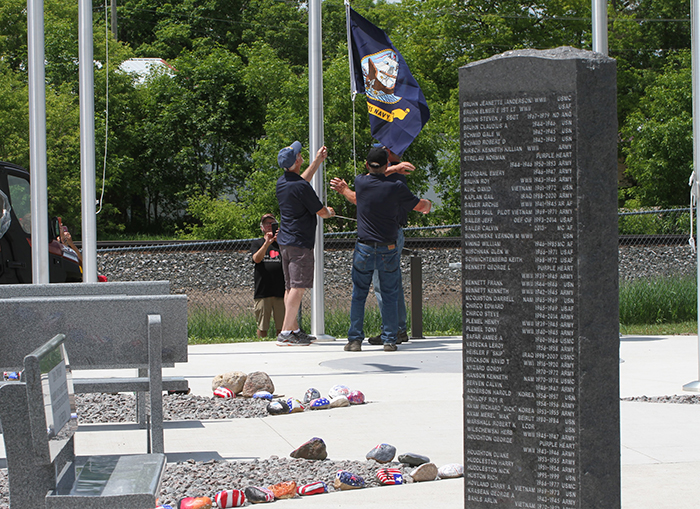 By Robert Williams
Editor
A large throng of people were in attendance to dedicate the new Veteran's Memorial Park Saturday, June 11, in Vergas.
The day started off with lunch provided by Ditterich Family Farms and included raffle drawings and silent auction items during the two-hour gathering.
Committee members Dennis Breitzman and Lyle Krieg both spoke during the dedication thanking a long list of people and businesses that contributed to the park.
"Obviously, this park is here to honor all veterans because they're the reason we can get together like this," said Breitzman. "We dedicate this memorial to them and also dedicate it to the city of Vergas. This is going to be a Vergas city park."
Breitzman noted the support the committee got from the public made the completion of the first three phases happen five years faster than anticipated.
"The support we have had for this project has just been incredible," he said.
Breitzman took a special moment to thank Alvin "Pete" Peterson, a retired national guard veteran, who was walking by the park during the installation of the granite and made a generous donation to the memorial on the spot.
Both Breitzman and Krieg memorialized Rodger Palmer, who passed away in May before seeing the park completed. Breitzman used humor to memorialize his friend.
"This whole thing was Rodger's idea," Breitzman said. "Rodger kind of did what Rodger is really good at. He had a great idea and then got us to do all the work."
Palmer was the commander of the Am Vets in Frazee and played an active role in the creating and fundraising efforts of the memorial. He also helped to start the annual free veteran's steak dinner which is sponsored by three local Lions Clubs, according to his obituary.
"I wanted to make sure we keep him in our thoughts today," said Breitzman.
Krieg had a lengthy list of businesses to thank and outlined future additions to the park including a granite slab in front of each flagpole, more pillars and benches and a large arch at the front of the memorial.
Mayor Julie Bruhn gave a speech centering on gratitude, remembrance and honoring the lives and legacy of every veteran.
"As you walk around and read the names, also learn the stories, share the stories," she said. "Let this become a community story of gratitude, remembrance and honor."
Vergas State Bank and Vergas Insurance Agency donated $2,000 checks to the memorial during the ceremony.
"The thing that resonated with me is the fact that anytime you would drive by here you would see any of these five guys here making this park what it is," said Sherri Hanson. "These guys all served and they brought that service back to their community."
Joining Breitzman and Krieg on the committee were John Lotzer, Doug Safar and Henry Ditterich.
Frazee band director Brian Selander and members of the school band played the service songs for each flag that was raised during the dedication.