Zitzow opens custom service and repair shop
News | Published on June 20, 2022 at 11:58am EDT | Author: chadkoenen
0
small engine, compact tractor shop available in Vergas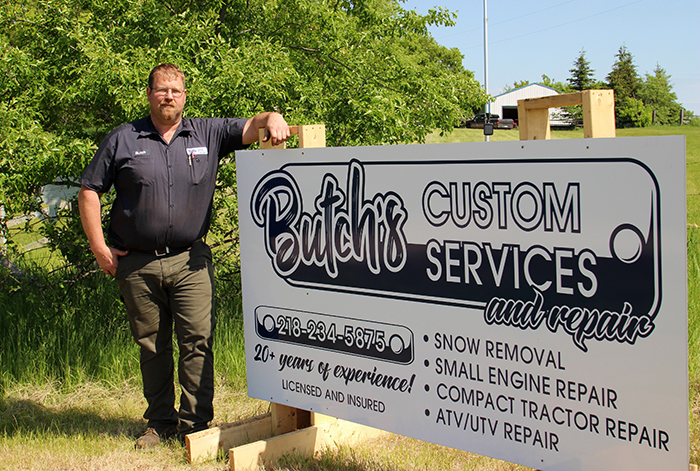 By Robert Williams
Editor
The Zitzow family name is well known around the area and Butch Zitzow added a new business under the family moniker just outside of Vergas.
Butch's Custom Services and Repair is a one-stop shop for small engine repair and compact tractor repair.
"I do anything from a push mower up to a 60-horse compact tractor," he said. "This is my first week on the job and I keep telling myself I should have done this years ago."
Zitzow did not grow up a motor guy, but put two decades of labor into the business working in Fergus Falls and Hawley learning on the job.
"I went to school for sales and marketing, of all things," Zitzow said. "I've been doing strictly this for the past 20 years and I wanted to be my own boss and work on my own terms."
Learning on the job allowed for training on nearly every manufacturer in the market like Polaris, John Deere, Arctic Cat, Yamaha, Suzuki and more.
Branching out on his own, Butch joins brothers Kevin (Vergas Auto Repair) and Jeff (Zitzow Electric) in the repair business in Vergas.
"My whole family has been really helpful with information to get it up and running," he said.
Zitzow bought a friend's snow plow accounts and added that to the business during the winter, partly to subsidize the repair business and keep snowmobiles away.
"That will keep me from working on snowmobiles," he said. "I don't care to work on those."
Despite being open only one week, business has been steady already.
"One thing about being a mechanic, there is always stuff to do," Zitzow said. "I've gotten plenty done this week and I've got plenty more to do."
Besides lawn mowers and tractors, the growing popularity of side-by-sides and utility vehicles add another element to the repair business, along with all-terrain vehicles, especially during the summer season.
"It's lakes country," he said. "There are always people that need work done."
Currently, Zitzow offers a pick-up and delivery service for customers who cannot get their machines to his shop. In the future, he is planning on offering mobile service as well.
"Eventually, I want to get into mobile service," he said. "I have to feel everything out first."
There are instances where Zitzow has already done work on the road, especially with people who are on vacation or just at the lake to relax and don't want to spend time working on their own machines.
"There are a few people who are swapping their machines out," he said. "They want their snowblower taken off and want their mower deck put on and will pay to get it done."
Having worked at RDO in Hawley for the past decade, Zitzow has a customer base around the Cormorant lakes and is looking to branch out closer to home.
"I've been around here my whole life, so everyone knows me," he said. "I hope it keeps coming. I'm busy right now, but I have to make sure I keep it coming."
While the business is new, the work is not. Zitzow has been working off and on in his home shop for the past six years, but had yet to make the move to full-time work as a business.
"I know a lot of people and have worked on a lot of people's stuff throughout the years by word of mouth," he said.
Butch's Custom Services and Repair is located southeast of Vergas at 34015 County Highway 36, less than 15 minutes from Frazee, Perham and Dent, and a 20-minute drive from Pelican Rapids.
"I'm kind of in between everything," he said.
Hours are Monday through Friday 9 a.m. to 5 p.m. Pick-ups and drop-offs are available on the weekends and after hours.
Zitzow works on all makes and models, with his main points of expertise on Polaris and John Deere Machines.
Call or text for an appointment or more information (218) 234-5875 or visit facebook.com/butch.zitzow.