First child blooms True Blue Flower Company
News | Published on June 29, 2022 at 7:06pm EDT | Author: chadkoenen
0
Second-year flower shop open in Hobart Township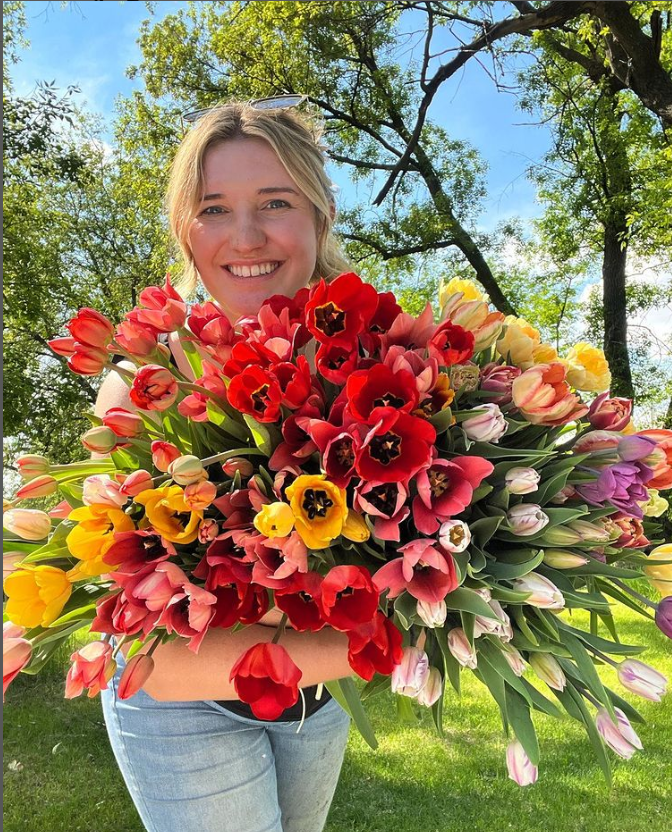 By Kathryn Wilkowski
Reporter
After giving birth to her first child, Bayleigh Lautenschlager started up a new flower business, True Blue Flower Co., near Vergas.
"I plan on doing this for as long as I am able to," she said. "It's what I'm passionate about."
Bayleigh and her husband, Payton, moved back to the Vergas area in 2018 to settle into quiet, simple beauty, and started her business merely two years later.
"This business was more complex than I had ever imagined it to be," she said. "But it was my excuse to quit my job and start doing something that I loved."
Bayleigh was born and raised between Frazee and Vergas and grew up diligently working on her family's dairy farm. While being surrounded by agriculture all her life, she always knew that whatever she did for her job, she hoped it would bring her the grounding source she had always found while working on the family farm.
"The quiet Minnesota woods surrounding the farm proved to be the perfect teacher of life lessons growing up," Bayleigh said.
After working as a dairy cattle nutritionist for many years after college, she had her first child, True Jacob, in the heart of COVID in 2020.
"We had three miscarriages before having True and my flower gardens were the things that kept me going. I could pour my heart and soul into them and they helped me see the good in things again," Bayleigh said. "True is my 'Spring after Winter' and I want to show him it is important to do what makes you feel like your most genuine, true-blue self. For me, that means growing cut flowers with True by my side."
Daycare was at an all-time high for demand and price during the kickoff for the pandemic and Bayleigh's family felt the pressure to find something perfect for their newborn.
"Daycare fell through at the last minute," Bayleigh said. "After that, me and my husband decided that the best decision was for me to quit my job and stay home with the baby."
With newfound time and energy, she decided to revisit her childhood dream of owning her very own flower shop.
"It was always kind've sitting in the back of my mind that this is what I wanted to do," she said. "Once I had my first kid, it was like the push I needed. It always felt unattainable. But once I saw other amazing florists do it throughout Minnesota, it felt possible."
Lautenschlager started this business two years ago and it has grown so much over the years.
Her cut flowers are available July through September through bouquet subscriptions, partnerships with Otter Coffee and MANNA Coop Detroit Lakes, on-farm events such as yoga classes among the True Blue Flower rows and self-serving pick-your-own-bouquet straight from the farm, and fresh bouquets to purchase at her roadside farm stand located on Co. Hwy four near Vergas, Fridays through Sundays, 8 a.m. till whenever sold out.
While steadily growing in business, Bayleigh keeps her assets small and does almost all the work herself.
"I get a lot of help from my family and husband," she said. "But keeping it small enough so I can stay home with my baby is still really important to me."
You can reach True Blue Flower Co. at 701-509-3966 or by her website: https://www.trueblueflowerco.com