Vergas Pickleball courts in final fundraising stretch
News | Published on June 29, 2022 at 11:51am EDT | Author: chadkoenen
0
Phase two completed with new surface installed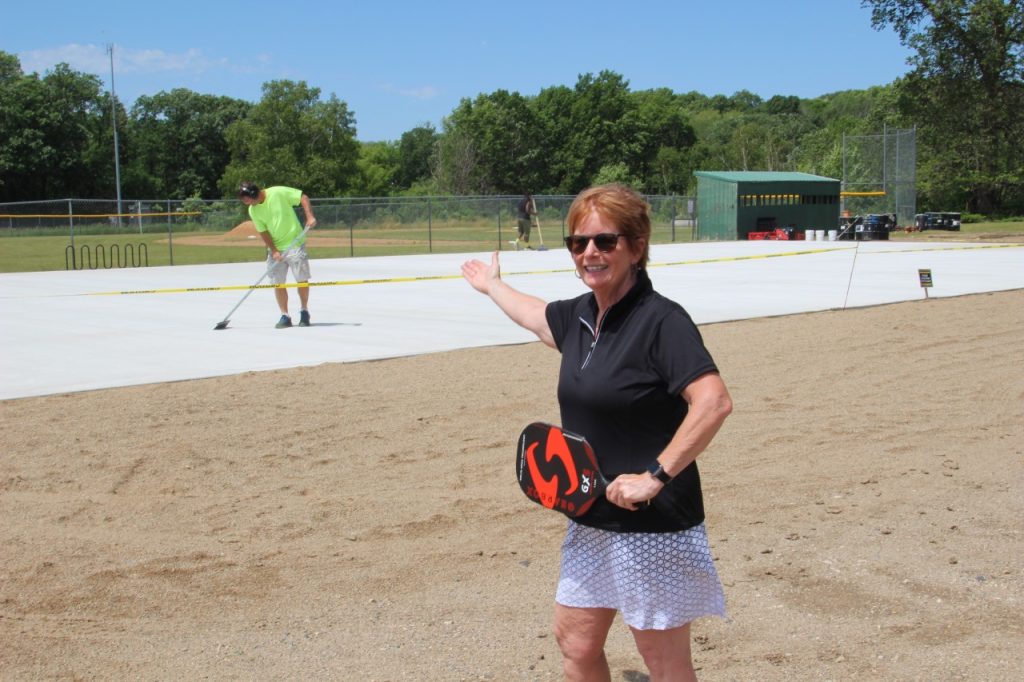 By Robert Williams
Editor
The second of three phases of construction of the new pickleball courts in Vergas was completed over the weekend as the concrete slab that was poured last November was covered by JB Surfaces from Fargo.
The surfacing work is a big step in allowing for posts to be installed and nets to be put up with the final phase of work still to come.
The last bit of the project consists of the fencing and signage around the courts and the funds for that work still need to be raised.
Ironically, it was the Franklin family of Franklin Fence Company that got the ball rolling on the project with a large donation to secure naming rights of the courts when pickleball in Vergas was just an idea.
The project started with conversations between Ron Franklin, Shannon Charpentier, Maria Sontag and Jill Shipman.
"I'm sure it was some coffees and some wine and we just said we can do it; let's do it," said Charpentier. "With that, we started some fundraising. We just started because we are all pickleball nuts and we believe it can happen."
The four members created the Pickleball committee, adding Sherri Hanson as their fifth member. Hanson, and other city officials have played a key role as well from allowing the courts to be built in the current location and getting the fundraising started.
"Which was huge," said Charpentier. "Julie Lammers works with West Central Initiative. She put in time for us and we got Sherri Hanson on our committee. She doesn't play pickleball but we got her on it because we needed her for the city meetings. If we wouldn't have had Sherri I don't think we would have made the progress."
Charpentier utilized her background in marketing, advertising and design to start the push for public support.
"I'm semi-retired and I just got after it doing the logos and brochures," she said.
Partnering with the city to use the Vergas community website and West Central Initiative as the project fiduciary were important steps in the beginning.
The courts are in full view of the ever-changing cityscape of downtown Vergas and the brand new veteran's memorial park adding another place for community residents to gather and socialize, complementing those new businesses and amenities.
"There are so many great things happening now in Vergas and you can just see it with the grocery store, apartments, workout center and the new design center," said Charpentier. "It's just happening and we know what's going to happen down here."
Current pickleball players utilize courts in Detroit Lakes, eight of which were created by local fundraising spurred by players of the game.
"We're modeling this completely after DL because it worked so well," Charpentier said.
Detroit Lakes is currently the closest area with courts spread around town – six outdoor courts at People's Park, two available at the new South Shore Park sport court and players have access to indoor courts at the DLCCC in the winter.
Detroit Lakes obviously has a bigger pool of people to draw donations from and the city has also aided expanding the game in town. The courts have been operational since 2019. Alexandria has also expanded courts in the hopes of hosting tournaments. One of the keys to making the sport a success for cities is having at least four courts together for hosting tournaments, something the Vergas group insisted upon.
"We've been asked why we just don't do one or two and that's never a good idea," said Charpentier.
Her opinion is backed up by statistics provided by the USA Pickleball Association in that players will travel to play in tournaments and the association estimates each of those players will spend over $100 per day on gas, food, lodging, shopping and other expenses.
The committee is making a big jump for Vergas in terms of having dedicated courts in such a small town.
Mentor (population 104) and Palisade (167) have pickleball but are using converted tennis courts, or in Palisade portable nets.
Isle (751) has six converted tennis courts and draws players from Aitkin, over 40 miles away.
Perham offers both indoor (PACC) and outdoor areas for the game. The KLN Pickleball Courts are currently being constructed and will feature eight dedicated courts with permanent nets and individually fenced courts. A grand opening is planned for later this summer.
KLN was one of the companies that the Vergas committee approached for donations and the group has received support from both Perham and Detroit Lakes.
"We started with the players and the businesses in town here," said Charpentier. "We just keep asking people and we got some good feedback from the DL folks."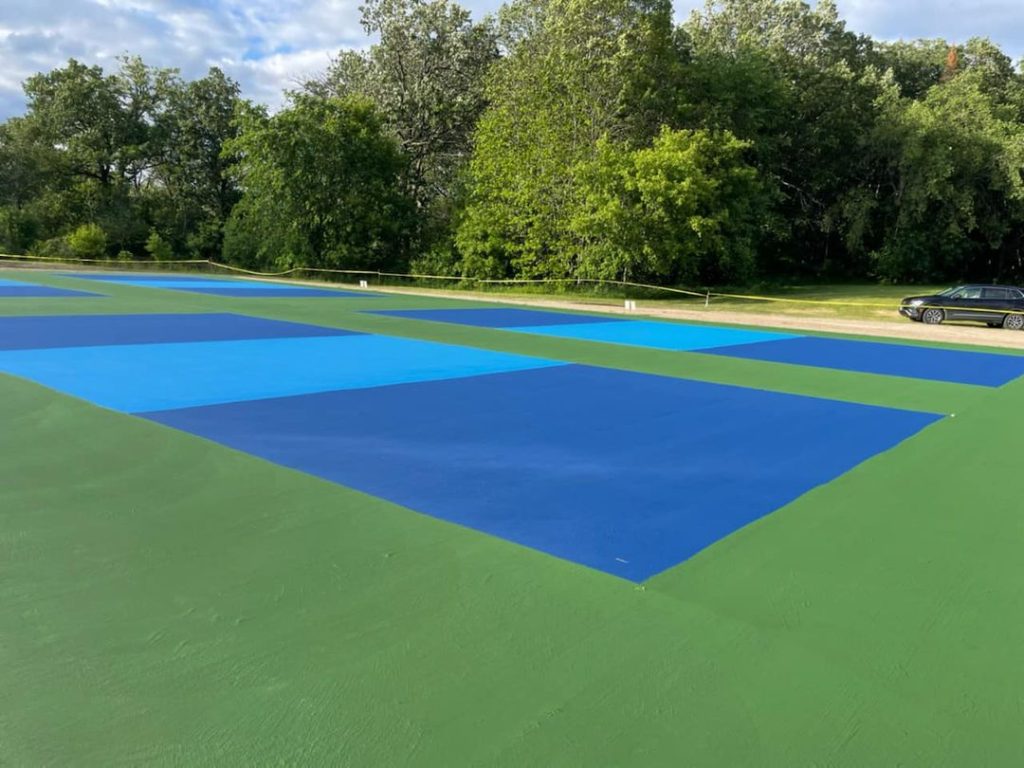 Some of those DL players actually live closer to Vergas and are contributors to bringing pickleball to Vergas. The same can be said for people who live between Perham and Vergas.
The presence of courts in Vergas will be as much incentive for DL and Perham players to come to town as much as the current Vergas players still want to play at DL's People's Park.
"We're not leaving DL, that's family," said Charpentier.
Being able to host games in Vergas and have local access is why the final push to raise the funds and finish the courts is so important to the committee.
"There are going to be 25-30 people down here every morning and they're going to get gas, groceries and they're going to have a beer. It's pretty exciting," Charpentier said.
Completion of the funding for fencing will allow for full play on the courts. Temporary fencing may be installed to get play underway this summer utilizing a snow fence for ball control until the last of the funds are raised to complete construction, including signage for rules, advertising and information, along with paddle holders and other finishing touches.
On the Friday and Saturday of Looney Days from 10-11 a.m., each day, the courts will be open for demos so people can try out the sport.
Pickleball is a community sport for all ages but has really flourished in the demographic of retirees. The total number of players is 5 million in the United States alone. The Vergas courts will help push the number of places to play in the country past 10,000.
For Charpentier and her group, the physical exercise is just part of the reason they enjoy playing so much.
"A lot of us are 55+, some retired, some semi-retired and it's as much about mental health," she said. "It's social as much as it is physical. We played this morning; I can't get enough of the game."
The group has raised roughly $90,000 of the total goal of $130,000.
To donate: visit cityofvergas.com/events/pickleball-courts