Johnson's a popular choice for Looney Days Grand Marshals
News | Published on July 5, 2022 at 2:25pm EDT | Author: Chad Koenen
0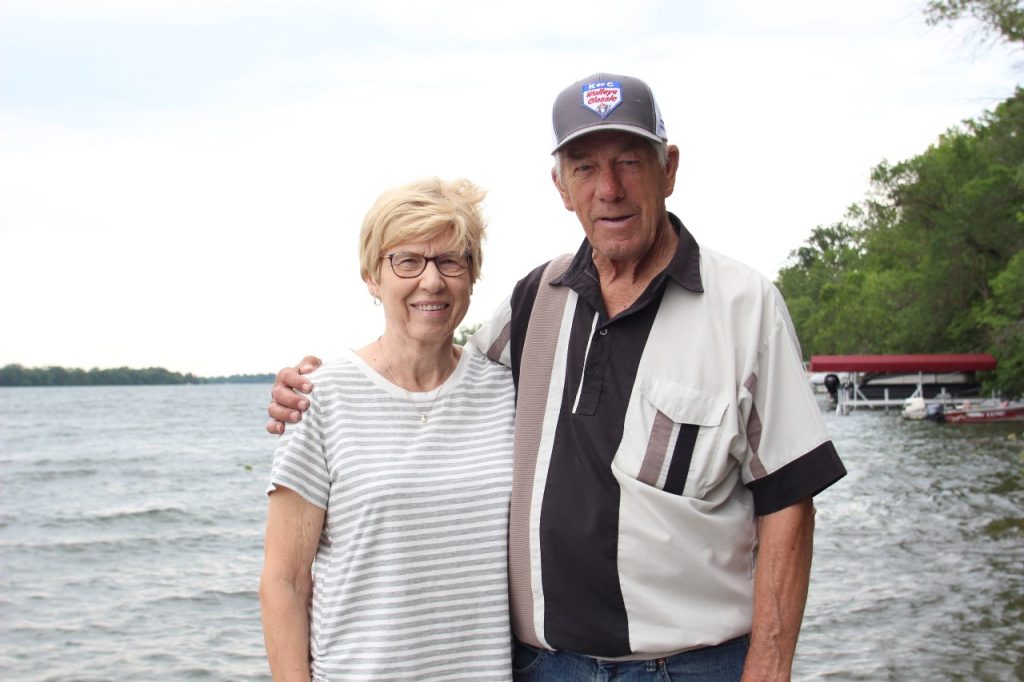 By Robert Williams
Editor
While not natives of Vergas, Jerry and Kathy Johnson have been integral members of the business community long enough to deserve that title.
Having been key contributors to the town for nearly a half-century has earned the couple another title as they were named the 2022 Looney Day Parade Grand Marshals by the Vergas Community Club.
"We're greatly honored considering all the people that are such good leaders and have contributed so much to the community," Jerry said. "We feel honored to have that bestowed upon us."
That feeling of honor was bounced back at the Johnsons by more than 80 comments of support for the decision and the couple on Facebook when the community club announced the decision.
The Johnsons moved to Vergas after buying Long Lake Resort in 1974 and the following year Jerry was hired as the elementary principal in Frazee where he worked for two decades before retiring.
His retirement has been filled with keeping the resort in shape while Kathy keeps it running.
One of their generational customers at the resort, Stephenie Thaller-Gunterman, summed up the Johnson's impact on their customers in the comment section of the community club's post.
"We have been coming to Vergas for 45 years," she said. "Kathy and Jerry are the greatest. They are caring and loving people who try their best to make things nice and comfortable for your stay. We just love all our years with them. Five generations of our family have stayed with them. They are the hardest working couple I have ever seen. They are always helping out others and their community. Great choice. Congratulations to our long-time friends."
Jerry and Kathy themselves are long-time friends having been married for 60 years.
Jerry grew up in Mose, North Dakota until he was 10 before his family moved to Bemidji. He graduated from Bemidji high school in 1957 and got his teaching degree from Bemidji State University.
After graduation, he taught in Ada for two years, then Fergus Falls and spent six years as principal in Elbow Lake before the couple purchased the resort and moved to Vergas.
Kathy is a Bagley native and graduated high school there. She began working at the local hospital in medical records as a high school junior.
After the Johnsons married and moved to Ada, Kathy worked as a secretary for the superintendent and the principal before raising the couple's three children Brad, Lynn and Nathan. Once Nathan reached second grade, Kathy went back to work as a bookkeeper in Vergas for multiple businesses, including Paul's Insulation where she worked full-time for a total of 36 years.
All three of the Johnson children grew up at the resort and graduated from Frazee-Vergas high school. For Jerry, watching his kids and the rest of the students over a 20-year span provided a positive perspective on his career.
"What's been the most rewarding thing about us living here all these years and being a principal is seeing the kids grow up," he said. "You really don't know if you did a good job until you see the kids grow up and see what they become and see how they become parents and how they treat their kids."
The school is an extension of both Vergas and Frazee, something that kept both Jerry and Kathy in the area with no plan to leave.
"It was a great place to work," Jerry said. "Good school system and good people and that's probably why we're getting this honor. We've been part of this community and been supportive of it. It's such a great community."
For the Johnson's, Vergas is definitely home.
"We stay in the winter and we're going to stay here until the ol' ticker…or we have to move, but we'll be in Vergas," Jerry said.
A classified ad in a regional newspaper alerted the Johnsons to a possible future in Vergas.
"We always wanted to buy a farm but in the '70's you didn't buy a farm because they were so spendy," Jerry said. "We saw an advertisement in the Fergus Falls Journal for a resort at Vergas. We'd driven through Vergas before and we always thought it was such a nice place. We saw the ad, called, come up and bought it the next day. We went right back to see the banker and brought him up. He looked at it and said, 'if you don't buy it I'm going to.'"
The Johnsons added onto the house on the property and modernized the four cabins. Back in 1975, the rates were much lower than today, but that first year they had to raise those rates.
"They were charging $45 a week and we went to $60," said Kathy.
"And we lost half of the customers," Jerry laughed. "I think there were some tight people."
In the decades since, the couple's dedication to the resort has the season of four summer months booked full before business slows down around the return of the school year. People currently staying in a cabin this week are part of a family that has been visiting the Johnsons since their first year running the resort.
Long Lake Resort has a dedicated customer base to match the dedicated owners.
"We're full most of the year," Jerry said.
"Basically it's repeat customers," said Kathy.
Jerry and Kathy are the only staff members at the resort doing all the work themselves to keep the business going.
"She does most of it," said Jerry. "I'm the dock boy and the maintenance guy. It's work and it's getting to the stage where we can't keep going. That's a lot of years to be doing something like we've been doing."
Part of the reason the Johnsons keep working at the resort is an unspoken obligation to the families that have made the property part of their lives for 47 years. Both have worries about what a potential buyer would do to the resort and the accompanying 625-feet of lakeshore.
There is room to expand with more cabins but that was not something the Johnsons were interested in and certainly are not now.
"I'm retired; I'm not going to work harder or send her into more cabins," said Jerry.
Being married and business partners for six decades takes mutual admiration and the ability to laugh. Both Jerry and Kathy share a mutual sense of humor and laugh frequently retelling stories about how they met, which is a truly American love story centered around dance halls and the national pastime in their youth.
"The first time I saw him was…my cousin talked my other cousin and I into going to the Pine Lake Pavilion in the summertime for a dance and it was the boringest thing we ever did and we were not ever doing that again, but he did ask me to dance," Kathy said. "Then a few years later we met in Shevlin at a dance hall there."
The couple met frequently at baseball games. Jerry and his Bemidji club had a good rivalry with the boys from Bagley. Logistics also played a role in getting the couple together.
"She had a car and I didn't," said Jerry. "We met a lot at Shevlin. I rode over there with my buddies and it was old-time music. I wasn't much into college dances."
Jerry continued playing baseball into adulthood as a 12-year member of the Fergus Falls Hurricanes while living in Elbow Lake and the move to Vergas.
"It was really fun when I came back here and played in a little town like this," he said. "There was much, much more fan support here and good ball players. I couldn't get over the ballplayers in the league when I came here."
In the near half-decade the Johnsons have lived in Vergas, one of the biggest changes Jerry mentioned was the disappearance of Sunday afternoons at the ballpark.
"It would be full of fans for ball games," he said.
Jerry has taken care of the ballpark since it was redone in the '90's. In the past few years, he has toned down his workload from the entire park to infield maintenance. The Vergas ballpark has a special hold on a guy who loves baseball.
"The reason we have that is because Freddie Meyer donated $50,000 to the baseball team," Jerry said. "He was an old bachelor, never missed a baseball game. Nobody knew he had any money and he left $250,000 to the city. That's why I've always taken so much interest in caring for it. I've been trying to keep the baseball field as good as I can."
Baseball continues to play a big role in their lives as they were out of town last weekend to watch their 10-year-old grandson play.
On Sunday, August 14 at 2 p.m., the Johnson's family will reverse roles and watch Jerry and Kathy lead the Grand Parade through Vergas on the final day of the festival of Looney Days.
Being named grand marshals of this year's parade in a year where so many changes are happening in town is fitting. They have seen plenty of changes since 1975. They also embody the village's innate trait of keeping alive what has always made Vergas a special place to live.
Their work at the resort and in the community has spread those characteristics and created lasting memories for thousands of residents and visitors.
For up to date information on this year's Looney Days visit the city's website cityofvergas.com or the Vergas Community Club and Looney Day's 2022 pages on Facebook.