Warm water temperatures makes for a hot bite
News | Published on July 5, 2022 at 2:17pm EDT | Author: Chad Koenen
0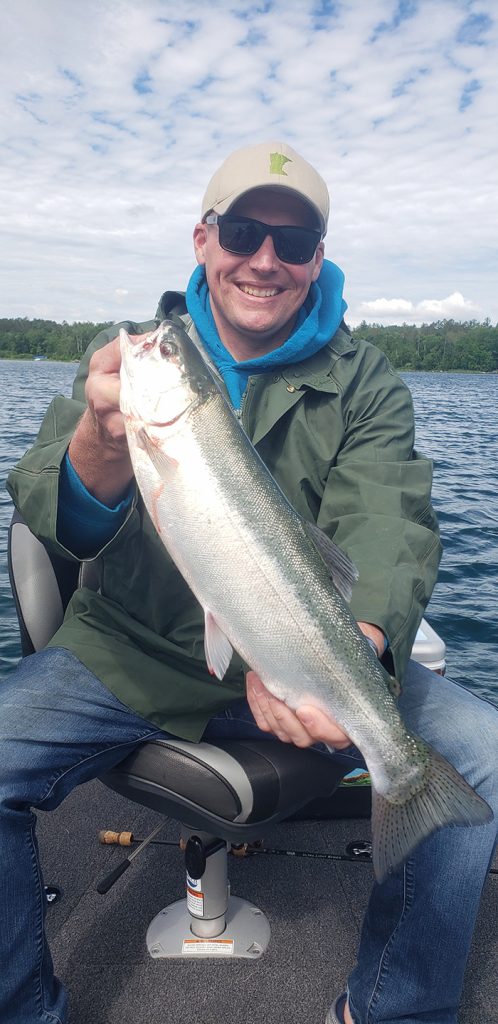 Summer has arrived and it has brought our typical summertime bites. Water temperatures have increased a lot in the past few days, and it has pushed a lot of fish out from shallow water patterns to mid lake structures to find cooler water and bait fish. 
With the warmer weather it has brought the typical summer problems that a lot of minnows are now harder to find so a lot of people are using more leeches and crawlers as a result.
Leech ponds took a hard-hit last year with the low water levels and has caused leeches to be a very hot commodity. If you are a diehard leech user, I strongly suggest stocking up if you see the size, you like because they might not last long in the coolers of your local bait shop. Few of our local bait shops do sell by the pound and I strongly recommend this way of purchasing for the next few weeks.
My favorite way to find fish time of the year is trolling a simple rig of a plain #4 snell hook with a single bead in front of it tipped with a leech and just enough weight to get down to bottom but not enough to sink into the weeds. When you troll leeches do not go too fast and I normally only target 0.4-0.7 mph while I fish. Keep your bail open and a finger on the line and if you feel a bite let out some line and let the fish eat your leech. 
When I come up to a spot, I normally use this presentation to find active fish. I use my GPS to mark where we are getting fish and if all our bites or fish are coming from one area I switch to a jig and leech and start focusing in on that area. Joys of this presentation is almost everything will bite, and it helps with kids keeping them active with catching something.
This past weekend we changed it up with switching to targeting rainbow trout. We have a few local lakes that are stocked with trout, and it can give people a change of pace and something new and fun to do instead of just walleye fishing. Everyone thinks you need fancy technology and big lures for trout but for them I use panfish gear with plain hooks and slip bobbers. They are a fun fish to catch and something different for the dinner table than deep fried fish.
I teamed up with the Brady Oberg Legacy Foundation and we had the opportunity to take six veterans out trout fishing. This was a unique opportunity and a rewarding trip for me since this was something new to almost every one of our veterans and it didn't take long to catch fish.
After 5 hours of fishing with a few small adjustments through the morning we had to call it a trip because we were limited out. It was fun when we got back to shore because they were telling their fishing stories from the morning and each and everyone had the largest grins on their faces.