Motorcycle stunt show in Frazee July 16
News | Published on July 11, 2022 at 11:54am EDT | Author: chadkoenen
0
Event includes a hot dog feed and a 140-foot slip-n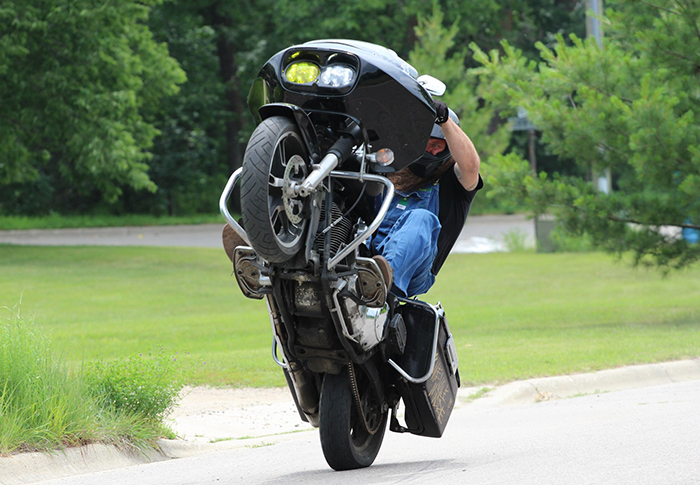 By Robert Williams
Editor
Josh "Bubba" Samuelson has turned a celebration of his birthday into a full-on mid-summer motorcycle extravaganza and has invited the public to an afternoon stunt show on Cherry Avenue Saturday, July 16.
"It started out as my birthday party, now it's just a big get-together," Samuelson said.
In the past few years, the group has barricaded the street off to perform stunts for party guests and passers-by.
This year, for the sake of organization and to share the stunts with motorcycle enthusiasts, especially kids, Samuelson approached the Frazee city council to get approval to close a portion of Cherry Avenue for the two-hour stunt show.
"I'm glad I went through the steps to get the city council approval," he said.
The city approved the temporary road closure and provided Samuelson waivers for the riders to eliminate the city of any liability as suggested by city attorney Thomas Winters.
Samuelson travels nationwide on his Harley taking part in flat track racing. In 2020, Harley-Davidson refocused building within the brand and celebrating the heritage of grassroots flat track racing.
Part of Samuelson's birthday bash consists of racing flat track at a private track in southern Otter Tail County Friday, July 15. That race is a fundraiser to contribute financially to the track's owner and help with his current medical situation.
"There are guys coming from all over to race and ride," Samuelson said.
Saturday from 10 a.m. to 3 p.m., at least 50 riders will be off on a ride around the region before returning to Frazee for the stunt show from 4-6 p.m.
"I just think it will be something different for all the kids to see," Samuelson said. "I want the whole community to come."
Samuelson will be joined by professional riders in the performance and he has worked fundraising into the stunt show as well. 
Keith "Hawaii" Yonemura will be serving up hot dogs, chips and sodas with all proceeds being donated to Frazee Rescue.
Giving back to the community and providing some excitement for kids in a small town are two big reasons why Samuelson chose to make part of his party a public event.
"The main reason I wanted to get it to the public and for the kids to come is to realize there is still stuff to do outside," he said. "It's so driven inside with computers. That's my main thing and like me, I've loved the wheelies on anything since I was a kid."
The gathering will also include bean bag tournaments and a 140-foot slip-n-slide.
One of Samuelson's racing sponsors, DVS shoes, is donating a free pair of shoes to be given away to one lucky kid in attendance.
Stickers and autographs from the riders will be available after the stunt show.
Off-street parking will be available.
The idea for the show started when Samuelson met up with a couple riders in the Twin Cities and they started the gathering a few years ago. The weekend activities are based in nostalgia, something that Samuelson is eager to talk about why these guys get together to let loose and have a little fun.
"It's so crazy the way the world is now," he said. "Everybody is afraid to do stuff because they're going to get sued. Just stop. We're going to have a good time."
The motorcycle stunt show will be held Saturday, July 16, from 4-6 p.m., at Sixth Street SE and Cherry Avenue in Frazee.