Veterans Memorial receives AARP grant
News | Published on July 11, 2022 at 11:48am EDT | Author: Chad Koenen
0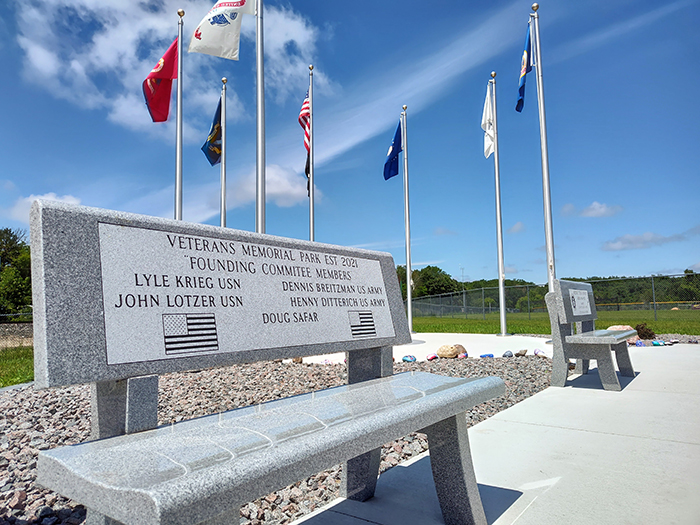 By Robert Williams
Editor
The Vergas Veteran's Memorial was selected from more than 3,200 applications from nonprofits and government entities to receive a grant from the American Association of Retired Persons (AARP), as part of the the sixth annual AARP Community Challenge.
Some $3.4 million is being distributed to fund 260 quick-action projects across the country. The funds will help urban, rural and suburban communities make immediate improvements and jumpstart long-term progress to support residents of all ages.
"These funds will assist with completion and ongoing improvements of the site," committee member Doug Safar said. "We give thanks for the support of AARP and all who have supported this project to honor veterans. If you haven't had an opportunity to visit the memorial, stop in Vergas for a time of relaxation and reflection."
The AARP grant was one of seven distributed in Minnesota and Vergas was by far the smallest community on the list, which included Duluth, Minneapolis, the Twin Cities region, McLeod County and Princeton.
That small area of Vergas had competing interests in the grant as the Vergas Pickleball committee had also submitted for potential funding.
AARP Community Challenge grants are funded in all 50 states, Washington, D.C., Puerto Rico and the U.S. Virgin Islands. Grants will improve public places; transportation; housing; diversity, equity and inclusion; digital access; and civic engagement, with an emphasis on the needs of adults age 50 and over. Many of this year's projects will help communities leverage funding under the American Rescue Plan Act and the Infrastructure Investment and Jobs Act.
Minnesota AARP
grant recipients
• Duluth: Duluth Age-Friendly and Ecolibrium3: Teams of participants will design solutions that will make the city more age friendly. Areas of focus will include housing, transportation and more.
• McLeod County: Mid-Minnesota Development Commission: Transit tokens will be distributed to older adults and disabled people in residential facilities, and childcare providers will receive passes allowing them to take children in their care to such facilities, promoting intergenerational contact.
• Minneapolis: City of Minneapolis: The network of "mobility hubs" — spots around town that aid travelers — will be bolstered with improved signage and seating, and local ambassadors will be hired to educate residents about their use.
• Minneapolis: Mill City Church and IMBY MN Project: A showcase accessory dwelling unit will be built and a multimedia campaign explaining the benefits of this compact housing type will be produced.
• Princeton: City of Princeton: The Bike Assist Program will offer an electric hybrid cargo bike to families for a wider variety of transportation opportunities.
• Twin Cities region: Hearts and Hammers: Homes of low-income owners will be rehabbed, including weatherstripping; the construction of accessibility ramps, stairs and walkways; and landscaping or yard renewal.
• Vergas: Veterans Memorial Park: Three-quarters of an acre of city-owned land will be turned into a veterans memorial with full ADA compliance.