Johannsen commits to track at UW-Eau Claire
Sports | Published on July 21, 2022 at 12:34pm EDT | Author: Chad Koenen
0
Johannsen reaches out to Eau Claire coaches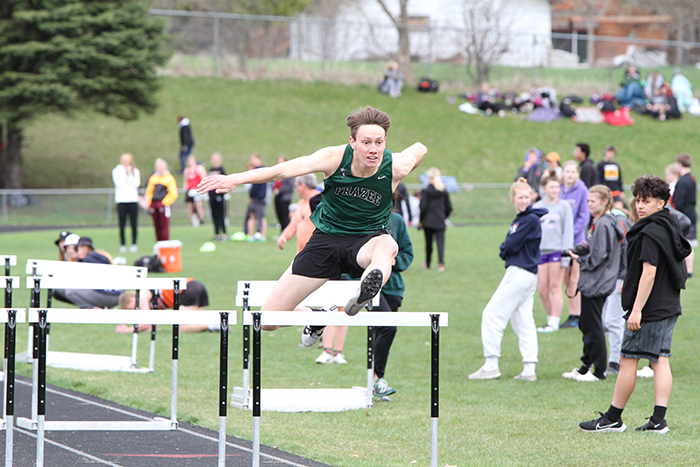 By Kathryn Wilkowski
Reporter
After a successful senior year track season, Nathan Johannsen is following his dreams of running track at the University of Wisconsin – Eau Claire.
"I have always told myself that I don't know where I will go to school, I don't know what I will study, I just want to run," he said.
After gaining a love for track as he got older, Johannsen transitioned to a mid-distance runner by the end of his senior year running the 800, 110 hurdles, and the four-by-four relay. He also competed in the high-jump as a field event.
"I think at some point in time, I like each sport I played the best," he said. "But by the time I graduated, I realized that track really was my favorite."
While growing up, running was ingrained in the Johannsen family. Through running 5k's as a family, "talking track" after meets with his dad and sister, and running alongside his mom since the early ages of first grade; Johannsen has been a part of the Frazee-Vergas Cross-Country and Track programs since they have been offered to him.
"Family is really important to me in general," he said. "We've always been close but we really connect through running and being active outdoors together."
The decision on where to go college is no easy decision for any senior, and it was no different for Johannsen.
"I first was on the Eau Claire campus as a sophomore when I went with my sister, Jaryn," Johannsen said. "I remember thinking that it was really nice and the feel I got from both the school and the town was better than any other school I had toured so far. Plus, my sister is there so I know how good their track program really is."
Alongside Nathan, his sister, Jaryn Johannsen is also attending Eau Claire as a student and is running track.
"I am very excited for my brother to be going to the same school as me. When I was a freshman, it was very difficult not knowing anyone from the area. So having Nathan there will be fun especially for the carpools home on holidays and weekends," she said. "I am also excited to see what Nathan will accomplish this next year. Most people that run for Eau Claire see a big improvement over their four years and I strongly believe Nathan will be one of those people."
Johannsen will be moving into the dorms late August with practices starting shortly after.
"I'm really excited to be pushed by my teammates," he said. "Eau Claire's program is amazing and I want to become the best runner I can possibly be."