Tapping into trends stimulates Lakes Corner Liquor store
News | Published on July 21, 2022 at 12:25pm EDT | Author: Chad Koenen
0
Four Corners business continues to grow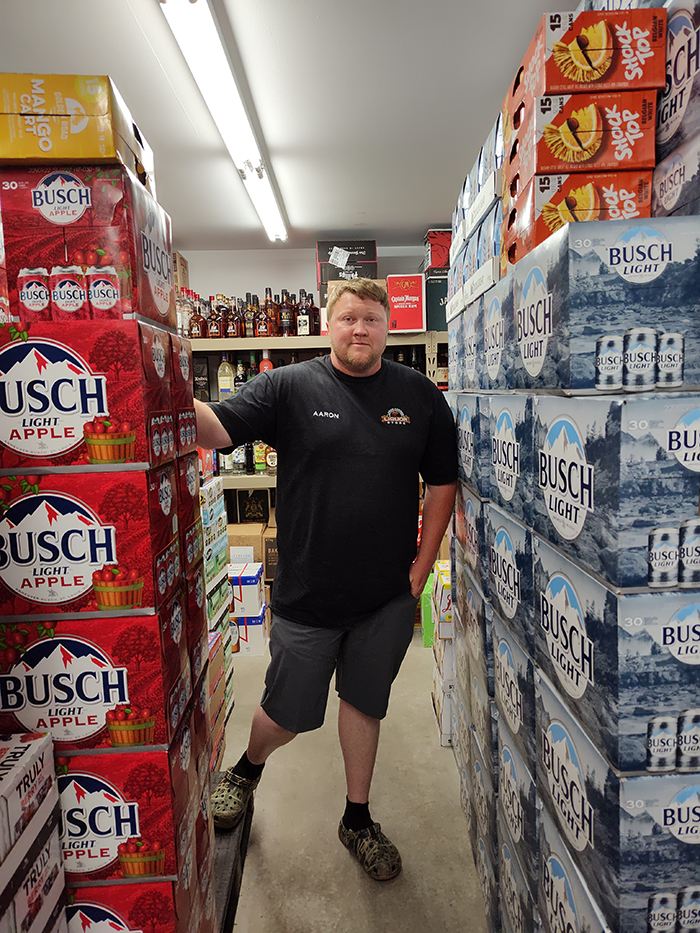 By Robert Williams
Editor
Business was thriving this past weekend as it has been for Lakes Corner Liquor at Four Corners over 12 years in business. A store that began with a meager 720 square feet has seen multiple cooler additions and increased storage capacity. For owner Aaron Aslesen, the growth has coincided with both a learning curve and profit margins.
"It's been as fast as we can afford it," he said.
Lakes Corner Liquor came to be after the closing of Hansons FlyWay on Height of Land Lake. The lack of a liquor store in the area was an obvious need and business opportunity for Aslesen and his family, who own land in the area.
"This was for sale for many years and we finally just jumped at it and figured we'd give it a try and it's been a steady grower ever since," he said. "It's a low margin, high volume type of business so you have to buy in bulk quantities and sell in bulk quantities to make a real go at it. That's where all the storage space comes into play."
Future plans involve increasing both the retail space and more room for storage.
The biggest change in 12 years of business has been the need to continually create space.
"It's such a volume business. We're constantly adding on to get the buys and the prices that everybody wants to pay."

Aaron Aslesen, owner of Lakes Corner Liquor
Unlike many businesses, Lakes Corner Liquor managed to successfully navigate the pandemic, despite some competition opening up at the same time across the highway.
"Those were the two best years we've had," he said. "That's when the food trucks came; the last couple years they have been so popular from when all the restaurants were closed."
Wood Fire Pizza has been the star of the show on Food Truck Fridays at Lakes Corner Liquor.
"We tried the food trucks last year and it went really well so we booked them for the whole summer on Fridays," said Aslesen.
The success of food options at the store spilled over into Saturday for the first time this summer with Blue Line Bbq out of Park Rapids serving customers last weekend.
Aslesen's business has catered to both the public by building picnic tables for diners and also installing an electrical setup specifically for the food trucks.
Keeping in touch with the needs of customers is key to success at the store. Two of Aslesen's specialties go hand-in-hand with his customer base.
"I know my craft beers and I know my whiskey," he said.
Aslesen has used his knowledge base as a business advantage.
"We can't compete with Cash Wise and these giant stores because they will literally go and buy a whole semi," he said. "They're doing the volume, but what we can compete with them on is craft beer. Not only compete, but beat them. Have a better craft beer selection. Have a better bourbon selection. We can pick a few items and just own those items and still try to carry everything that everyone wants at a fair price."
Lakes Corner Liquor stocks all the regular inventory of any other liquor store, but has gained a following for its collection of rare and hard-to-find bottles.
"Craft beer was always big here and now we've found another niche with the whiskey."

Aaron Aslesen
Aslesen has a stash of allocated bourbons and whiskeys that he has saved that will be sold via a raffle system later this year, so everybody has a chance to buy them. The raffle day will likely coincide with the arrival of the store's single-barrel select bourbon.
Lakes Corner Liquor will be getting an allocated barrel of 1792 bourbon made specifically for the store.
"The master distiller tastes a bunch of barrels and it's a single barrel store select, so instead of them putting all the barrels together and bottling them up, they picked out a really good single barrel for us," he said.
The bottles from the single barrel will be specially labeled for Lakes Corner Liquor.
"There are only a select amount of barrels that are sold into Minnesota every year so it's kind of a cool thing if your store can get one," said Aslesen.
The purchase ability of the stash of rare bourbons and barrel proofs will be raffled along with the select bottles.
"It's a good way for us to let everyone get an allocated bottle from our store," Aslesen said. "That's a new thing. Every year we try to dial something new in. The last few years we've been working on bourbon and just all different types of whiskeys. The bourbon is our new thing that we've been trending on and it's been going really good."
Capitalizing on niche products is as important as being aware of coming trends before they become trendy.
"You try to see it way in advance. It went from ciders to seltzers, now last and this year they're going into canned cocktails. This year canned cocktails have been going strong. The real popular ones are High Noon and Malibu."

Aaron Aslesen
This year has also brought on more hard sodas, like Hard Mountain Dew.
"This is mega-popular and there is other stuff too; they're using household names like Simply lemonades," said Aslesen.
Hard Dew is a top 10 seller at the store.
"Which is crazy for something new," he said. "As long as we've had it, it's been fantastic,"
Aslesen stresses that Lakes Corner Liquor matches its varied inventory with the most affordable prices around the lakes area.
"Our markup is lower than everyone else because of smaller staff, smaller store, smaller sales," he said. "We're still able to be competitive; we just don't have 100-case stackers of product."
Lakes Corner Liquor is located on the southeast corner of the intersection of highway 34 and county highway 29 in Detroit Lakes. More information can be found on the company's website www.lakescornerliquor.com