Two months remain for Attic Shoppe in Vergas
News | Published on July 21, 2022 at 1:49pm EDT | Author: Chad Koenen
0
Anderson seeking buyer to keep business going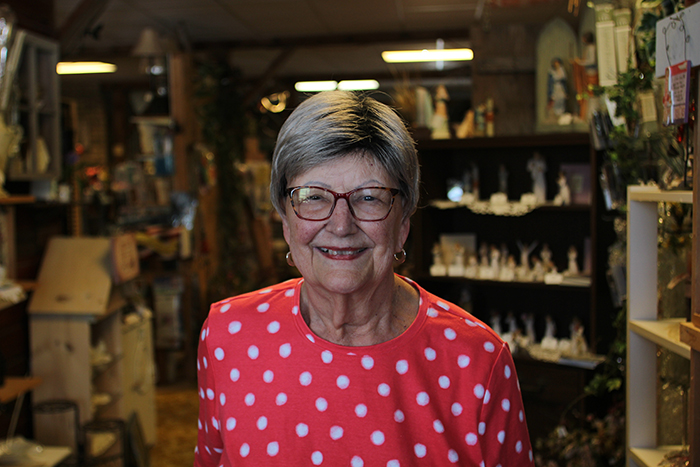 By Robert Williams
Editor
Vergas native Bonnie Anderson is ending a long run of local women who created and maintained The Attic Shoppe in downtown Vergas. Anderson has put the business up for sale and plans to close later this year due to health reasons after an accident a couple years ago.
"I fell and broke my femur and I am not able to work because of health reasons and age," she said. "It's just too much to try and run without working here."
Not being present in the store on a regular basis was a push to sell the business, albeit regretfully.
Anderson was back in the store Wednesday, July 13, and ran into some longtime customers who missed her and will definitely miss the business should a buyer not be found.
"We just had people here who said, 'we've been coming here for 30 years and we're going to miss this Attic," Anderson said.
The business was listed for sale with Coldwell Banker approximately 18 months ago and had an initial buyer who declined to pursue the purchase due to COVID-19 concerns.
"She backed out and so far I haven't had anybody else interested so I plan to close in September because I don't want to go through another winter without any income and paying the bills," said Anderson.
Parting with the business is of necessity, but definitely a bittersweet change upcoming for Anderson, her customers and employees.
"I love the shop. I love doing everything up here and I miss it immensely. The girls that work for me say the same thing, 'we're so nostalgic; we don't want it to close,' and they would work for a new owner if anybody would step up and take over. It needs somebody younger with young tastes and being able to go to the markets."

Bonnie Anderson, owner of The Attic Shoppe
Prior to the digital age, finding goods at wholesale markets was essential and store owners would travel the country looking for potential inventory.
"We used to go to Las Vegas, Atlanta, of course all the Minneapolis markets and Kansas City," said Anderson. "You've got to keep up with new things."
Given the history of the shop, Anderson knows people have a vested interest in keeping it a part of downtown Vergas.
"I know there is," she said. "I just haven't found the right person who wants to step up and take over and I would just hand it over to them, everything that's here. We've put in the air conditioning and we've got everything ready to go with the business. They just have to come in and take it over and we've got the 30-some years following. It's a good business."
The Attic Shoppe was formerly located across the street back in 1985. The store was offered for purchase to Merilyn Fischer, who put together a group of 11 women, one of them Anderson, and some of them complete strangers, to run the store as a cooperative.
Seven of the 11 became part owners with Jan Bunkowksi, Lynette Nelson, Dorene Kvam, Marge Kubitz, Terry Pausch, Linda Dinsmore, Debbie Gray and Joni Johnson joining Fischer and Anderson—all playing pivotal roles from president to bookkeeper to working consignors.
For some of the group, The Attic Shoppe was a second job to their other professional careers.
The store moved across the street to its current location in the Vergas Creamery building in 1990 and the business initially ran under the slogan, "We're worth the climb," alluding to the steep stairway to the upper level of the building.
When the group was running the business, there were more than 80 craftspeople contributing products to the co-op's inventory.
Part of the early success was due to seven different women providing items from seven different perspectives, whether those items were homemade or purchased at market.
Anderson's current version of the store continues to have a remarkable variety of items and the store has a pleasant overall aesthetic.
She opened her original shop in a cabin on Rose Lake on family property after returning to Vergas upon the retirement of her husband from the border patrol in Pembina, N.D. Business was a little hit or miss at the lake.
"It didn't work out because when I had it open nobody came and when I didn't have it open somebody said I came and you didn't have it open."

Bonnie Anderson
She joined the Attic group as a working consignor in 1989 and moved completely from Rose Lake to downtown in 1991. She has been with the shop ever since, taking over as the sole owner in 2011 after Fischer passed away from cancer.
From 11 to seven and finally down to just one owner, continuing a successful business is not easy and Anderson came into the business not having worked in retail. She made her success by enjoying what she did.
"I loved coming up here and working and doing the displays, the whole thing," she said. "I enjoyed it."
She has also worked through the changing business climate and much worse stresses like the pandemic.
"When we started out everybody bought something that they made. It was just a bunch of crafts," she said. "The craft business sort of died back and all the gals that worked here, we all made something, so we didn't do as many market items back then. Since I've been alone, I've done mainly market, so it has changed in that way from a craft shop more to merchandise."
Anderson also introduced more custom art, especially of lake designs, and carried multiple recognizable brands including Minnetonka Moccasins.
The look of the store has changed over time as well. The contemporary interior is far more easy to navigate than back in the early days. Shoppers used to leave their purses at the counter just to get through the store unencumbered.
"It's a lot more open now," said Anderson. "We had so much more stuff. You can almost get through the aisles."
One would assume that being in business for more than three decades requires a certain passion for all aspects of the job. However, that's not the case with Anderson, who giggled while telling how she got started.
"I just kind of fell into it. My husband retired and he was 53 and I was 48 and I didn't want to be in the house all the time. I loved to do floral. I worked in floral shops and that's what I did here doing floral arrangements."

Bonnie Anderson
Outside of the original group of women, the store has also been a place of employment for many different Vergas women over three decades. Currently, aside from Anderson's granddaughter Kelsey who is helping out this summer, the rest of the staff are close to a communal retirement.
"I appreciate my current employees for stepping up for me while I've not been able to work," Anderson said. "I've had a lot of young girls and now I have three retired ladies who want to spend time with their grandkids too. I've been trying to talk them into buying it because they know the business."
For Anderson, the people of Vergas are what stand out when she looks back on all the years in the shop – from customers, both local and vacationers from the surrounding states.
"The people are wonderful," she said. "Everybody will help you out. They have your back. Since I fell and I've been kind of laid up my church friends bring my mail in, I have a cleaning lady and everybody just helps you out. Anything you need, there is somebody there for you."
She also showcased how she has shown that same sentiment to others.
A gentleman on vacation came to the store looking for strawberry rhubarb jam and was disappointed upon being informed the store did not carry any.
Anderson to the rescue: "I said, 'I'll make you a batch tonight. I've got rhubarb.' So, I went home and I made him a batch of jam and he's been back every year and he says, 'you're my jam lady.'"
The Attic Shoppe continues to have a large inventory despite not having restocked in over a year. Some of the more well-known items, even the décor, are beginning to disappear. On Wednesday morning, the boat in the store was purchased and removed, which is a good thing.
"I didn't want to pack it all up and quit," said Anderson. "It's been fun. It's been a good run."
As the final weeks count down, Anderson is having a continual sale with items at 40 to 50 percent off.