Jollybird Studios offers various art services locally
News | Published on July 27, 2022 at 5:09pm EDT | Author: chadkoenen
0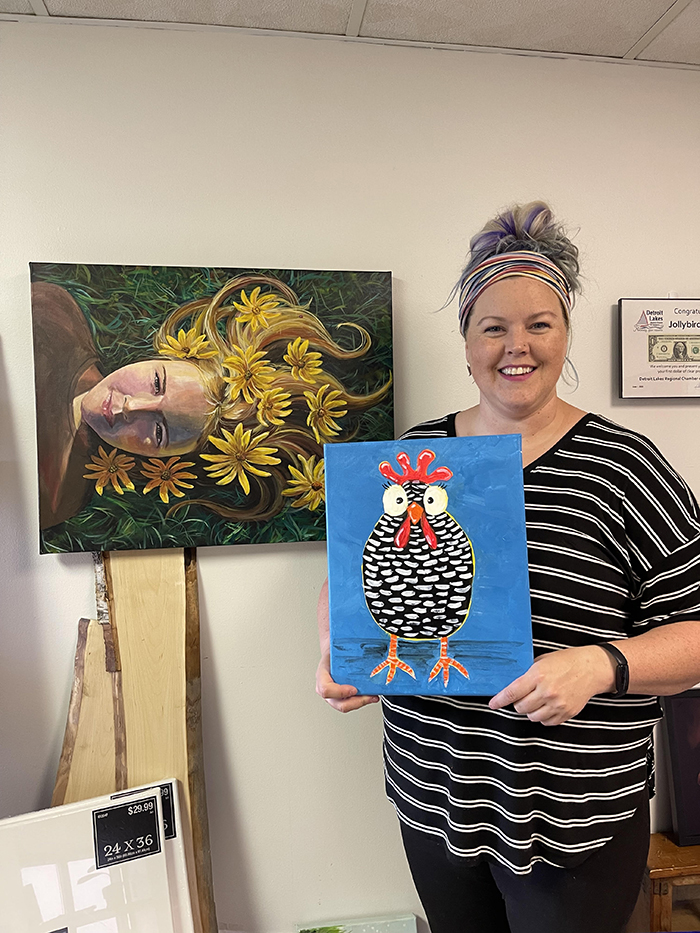 By Kathryn Wilkowski
Reporter
After a long career in the healthcare field, local artist, Anna Lassonde, switched her path in life after a tragic horseback riding accident. She has been offering various art services around the local area for the past two years.
"I've wanted to be an artist since I was a kid. After I injured my back, I ended up having to do art anyways. I can do it on my own time and I love sharing art with people. It was kind of my calling."

Anna Lassonde
With art in the family, Lassonde looked towards her grandmother and great grandmother for inspiration and lessons on painting. Later on, Lassonde took art classes at North Dakota State University for a semester and explored painting and other art forms.
"I was always drawing and painting growing up," she said. "But for the most part, I am a self taught artist. Through experimenting with art, I just kept growing."
Spending most of her childhood in North and South Dakota, Lassonde moved to the Detroit Lakes area to start her business, Jollybird Studios, in 2020 right before the pandemic hit. Making ends meet with commission work at the start of her business, Lassonde has now widened availability to a variety of services with a specialty in pet portraits.
"I've been doing this full time for the past two years. I take whatever jobs I can get. I'll do murals, commission work, painting parties, and some private lessons."

Anna Lassonde
Although Lassonde has her own studio and does art full time now, prior to her injury, she had begun this journey with painting classes with the senior citizens at her facility. Unable to understand why there weren't many creative outlets for many senior citizens in assisted living, Lassonde made it her mission to get grant funding and create a program that allows senior citizens to express themselves through art.
"After I went out on my own, my vision was still with me," she said. "So I was able to do step-by-step painting classes twice a month at each facility for four months after I applied for a grant. By the time I applied for the grant a second time, I got to see them all progress and it was super fun. They didn't even need my direction anymore. They were painters now. And they all have access to paint supplies even when I'm not there. So I think that's really cool."
With painting and selling being a hard business to make a living out of, artists are having to become creative to make a livable wage. Luckily, people love making art. Lassonde explained that even though she enjoys just painting, classes also bring her immense joy.
"I love people. I really enjoy sharing art with people. I love doing class, I love senior citizens, I love doing kids classes. It's just really fun. I like to give people different opportunities at my classes. If they want to paint something else, I want to give them as much creative freedom as possible."

Anna Lassonde
Lassonde offers various services including; commission work, pet portraits, murals, and private lessons. She also is available for painting parties where you can have painting classes with friends or family for two hours and $40 per person. She'll arrive with all the painting supplies and a step-by-step painting to complete together. 
For more information, contact Anna Lassonde from Jollybird Studios by email: anna@jollybirdstudio.com or by phone: 701-261-4023.