McVane inducted into Minnesota Rock Country Hall of Fame
News | Published on July 27, 2022 at 5:27pm EDT | Author: Chad Koenen
0
FCC resident opened for Bobby Vee, Dick Clark, The Coasters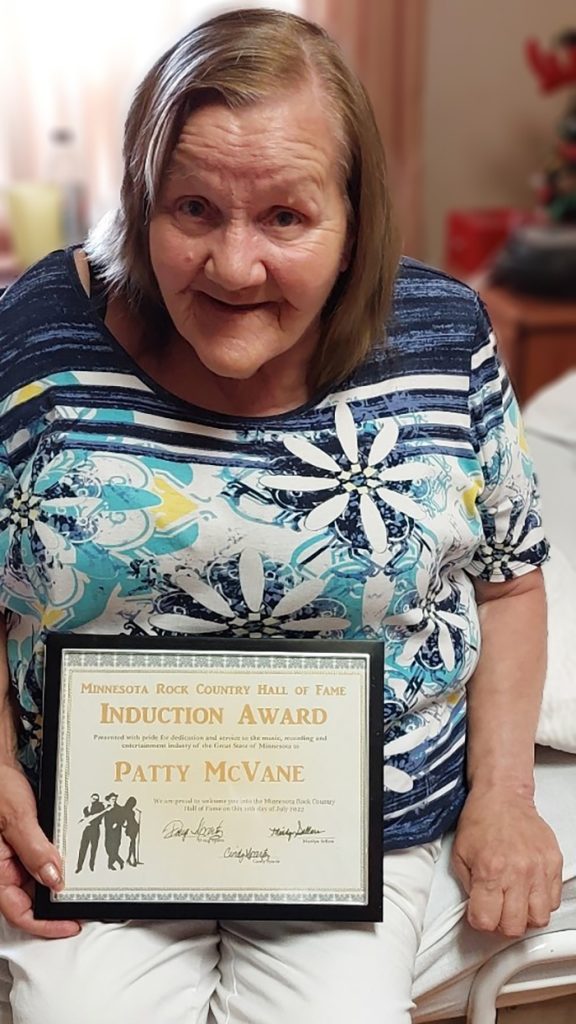 Patty McVane, a local recording artist and resident of Frazee Care Center, has been recognized for her many contributions to Minnesota's music, recording, and entertainment industry by the Minnesota Rock Country Hall of Fame.
On Monday, July 11, McVane was presented with an Induction Award from Doug Spartz, chairman of the Minnesota Rock Country Hall of Fame and the Mid-America Music Hall of Fame.
Music has been a part of McVane's entire life. Encouraged by her musician parents, she began taking piano lessons from her mother and singing when she was five years old. Her music career took off once her husband, Jonn, introduced her to several bands. His influence helped ignite her love for performing as part of a group. Most notably, she was a key member of the band Catillac.
Throughout her career, McVane has toured all over the Midwest, performing at clubs, dance halls, specialty events and casinos. She also performed in Disney World and several locations in Nashville. Both McVane and her husband opened for many well-known musicians, including Bobby Vee, The Coasters, and Dick Clark. She also backed-up famous bands like The Shirelles, The Beach Boys, Tommy Roe, and Gary Lewis.
"When you think of someone who should be in the Hall of Fame, Patty certainly fits all the criteria," said Doug Spartz, Chairman of the Minnesota Rock Country Hall of Fame and the MidAmerica Music Hall of Fame. "On behalf of the Minnesota Rock Country Hall of Fame, it gives me great pleasure to welcome Patty McVane into the Hall of Fame."
When not on-the-road performing, McVane shared her time and talents by serving as an organist and piano player for many churches throughout Vergas and Perham. As a volunteer, she also performed for residents of senior communities, including Frazee Care Center.
Frazee Care Center is managed by Minneapolis-based, Health Dimensions Group (HDG), a leading senior care and living management and consulting firm. HDG manages 47 communities in seven states, serving more than 2,500 residents and 2,000 team members. Also in Minnesota, HDG manages Boundary Waters Care Center in Ely, as well as Traverse Care Center and Prairieview Place in Wheaton.
About Frazee Care Center: Since 1971, Frazee Care Center has served the changing health care and housing needs of Minnesotans in the Frazee and Vergas area. The care community offers comprehensive long-term and short-term care options for individuals in need of 24-hour skilled nursing care or rehabilitative care after surgery or other illness. Assisted living is available at both Frazee Assisted Living and at Vergas Assisted Living in nearby Vergas. For additional information about Frazee Care Center, visit www.frazeecarecenter.com, or call 334-4501.
About Health Dimensions Group: Minneapolis-based Health Dimensions Group (HDG) is a leading management and consulting firm, providing services to post-acute, long-term care, and senior living providers, as well as hospitals and health systems across the nation. HDG has been serving health care organizations for more than 20 years with a firm commitment to its values of hospitality, stewardship, integrity, respect, and humor.
For additional information about Health Dimensions Group, visit healthdimensionsgroup.com, call (763) 537-5700, or email info@hdgi1.com.