Shipman car show is all about family
News | Published on August 2, 2022 at 11:53am EDT | Author: chadkoenen
0
Proceeds from car show to give area family a service dog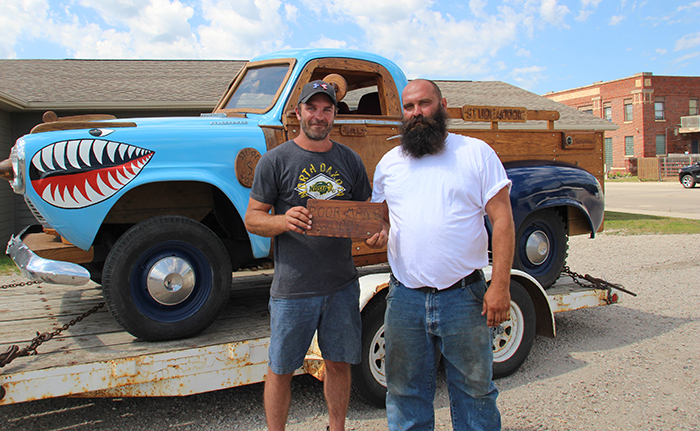 By Robert Williams
Editor
The Tyler Shipman Memorial Car Show is one of the more special events during Turkey Days and this year's show had familial tangents running up and down Main.
Getting the show back to Frazee's main drag was important and something that did not happen until the last moment.
"We had a year off for COVID which was kind of weird and we were off of Main last year," Daneele Shipman said. "To get back on Main Street, I was kind of concerned to see how things were going to progress. It was really exciting for me to see the same amount of people come out and to see all of Turkey Days back on Main and seeing all the people supporting us and to support the rest of Frazee today—a great turnout."
For Daneele, Tyler's mom, the event is an emotional reunion that she and her team have turned into a philanthropic good time that certainly has a bittersweet edge to it.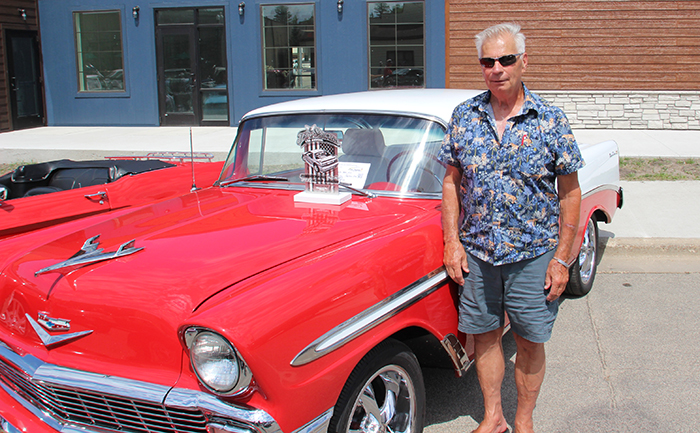 "It's super special," she said. "Losing a child, there is nothing that can explain that or fix it or help it, but for us, you have to make a choice. You're either going to move forward with positivity or not. For me, especially, I decided I wanted to move forward and use that horrible experience to make a change in somebody else's life, hopefully, in a positive way. That's what this car show is to us. Making Tyler's life a legacy instead of a tragedy."
Part of that legacy now includes a family in need who were the quiet benefactors of this year's show.
"Not everybody knew what was going on because the family didn't want to be the center of attention, but the end result of today was we presented a check for $1,500 to a family who had an 11-year-old girl with congenital heart disorder and PTSD who wanted a service dog," said Daneele. "That is what everybody did today without even knowing it."
While car owners loved talking about their vehicles and visitors enjoyed checking them out, the show is more than it appears at face value.
"There is much more going on here than everybody knows," Daneele said. "They're having a fun day, but really, it's not just a car show.
Grandpa Walt's Studebakers
Brothers Kelly Miletto and Shaine Tate brought a pair of unique Studebakers and by doing so were keeping a family tradition going as the cars were part of a lot owned by their grandfather Walt Linius, of Rochert, who passed away in 2021.
Some of Walt's many hobbies were woodworking and fixing up Studebakers and those efforts could be seen combined in a baby blue truck that garnered a lot of attention from car enthusiasts at the show.
"The cross member for the transmission is even made out of wood," Kelly said.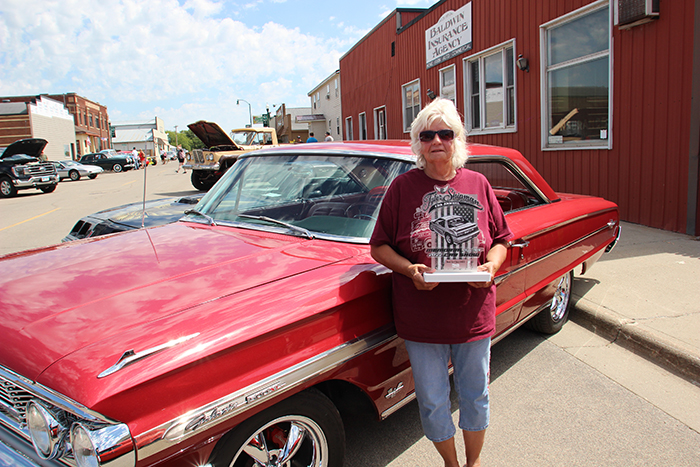 "Grandpa was a hobby guy and he ran dozers his entire life; he was always working," said Shaine.
During the handling of Walt's estate, the grandkids wanted to know what was going to happen to the cars. They managed to acquire all but one.
"They sold them to us and five out of the six stayed in the family and this was the last one he ever restored," said Kelly.
One of their sisters had a third Studebaker in the show as well.
The brothers even had a part in helping Walt with this final project.
"Shaine and I, about 20 years ago, put the paint job on the cab and the fenders," said Kelly.
Unlike many of the cars being shown, the truck is less made of original parts but chalk full of originality and personalization.
"He kind of created it," said Kelly. "The shark is modeled after the P-40 fighter jets from World War II in honor of one of his best friend's dad that died in the war."
The Shipman show is one of the only places the Studebaker's have been shown recently. Walt brought them to town until he could no longer do it.
"They haven't been outside in over 10 years," Shaine said. "We pulled these out of the shed last May and it took us all this time to get 'em going."
Niemi's classics win awards
Arden and Linda Niemi of Felton had a pair of red-blooded American classics that quickly caught the eye of fans and the judges, winning awards for both Arden's 1956 Chevrolet Bel Aire and Linda's 1964 Ford Galaxie 500.
Linda sports an all original 390 motor, 4-speed manual transmission, factory style interior and the Galaxie is painted in inferno red metallic that sparkled in Saturday's sunshine.
"That one does real well; people really like it," Arden said. "She's pretty proud of her little car."
Across the street, Arden was parked with his Bel Aire, a car with a personal meaning.
"I love the tri-fives and the only reason I picked the '56 was because my dad had one," he said. "I've always liked the style a little bit better in the '56 and there are more '55's and '57's on the road."
The car has been an ongoing project since Arden found it in Huntsville, Alabama, over a decade ago.
"All I cared about was a solid body and frame – it's been under construction for 13 years," he said.
The interior really stood out on the Chevy in an ivory white leather that sparkled in the sun like Linda's inferno red. The interior work was done by Jody Nelson of Mister Stitch Upholstery in Hawley
"I told him I wanted the wow factor; he did a wonderful job on it," said Arden.
The Niemi's attend car shows regularly and why not with the pair of lookers they pull up in. They were making their second appearance in Frazee and like to stick to gatherings like the Shipman when they show off their rides.
"We like going to small town shows like this," said Arden. "They do a real nice job here."
Fawley's Fieros
It would not be the Shipman Show without a Fiero in the mix and there were plenty on hand Saturday, including a pair owned by Jason and Shannow Fawley of Owatonna. The Fawleys run a local show of their own, the The Cornerstone Owatonna Car Show, annually on the third Saturday in September.
The Fawley's got front row spots in front of Seip Drug to show off Shannon's 1988 black Fiero Formula and Jason's 1987 Fiero GT in bright green was hard to miss. Both cars were award winners in their respective Fiero categories.
"We actually had a silver one to begin with, it was a four-cylinder, kind of a base model to get us started," said Shannon.
That first Fiero was around when Jason was part of the original build team for the Tyler Shipman car.
Jason's GT is a V-8 conversion that Shannon found while perusing Craigslist.
"I was just googling Fieros and I saw this bright green thing pop off the page," she said. "I saw it and I immediately called my husband and we bought it on sight."
The '88 Formula became hers and she is just fine with that.
"That was the last year and basically the best of them," she said. "It's got better suspension and a few little changes, plus the Formula package. It's mostly original and only had 70,000 miles on it when we got it."
The couple left their pride and joy, a '72 Buick Skylark in metallic blue back in Owatonna, to showcase their Fieros in a show they helped to start. Like Daneele Shipman, the Fawleys believe the show has a sense of something bigger than just a collection of great looking cars.
"The family took the show over; we just come now and help," said Jason.
Lovers of unique vehicles certainly enjoy being around their compatriots and Jason was first to mention a few local Fieros coming up for sale and what keeps the car popular but almost a dirty, little secret for owners.
"It was the only mid-engine car that was mass produced until the new Corvette in America," he said. "These are still kind of undergrounders. The '80s are coming around in popularity and these are starting to pick up."
There is also a younger generation sometimes learning about Fieros on sight.
Frazee provides an easy way for enthusiasts like the Fawleys to help explain the unique, little Fiero as does the show—it remains the favorite car of Tyler Shipman.