Courneya named Miss Frazee Outstanding Teen
News | Published on August 9, 2022 at 2:09pm EDT | Author: chadkoenen
0
New Outstanding Teen to promote self-confidence in today's youth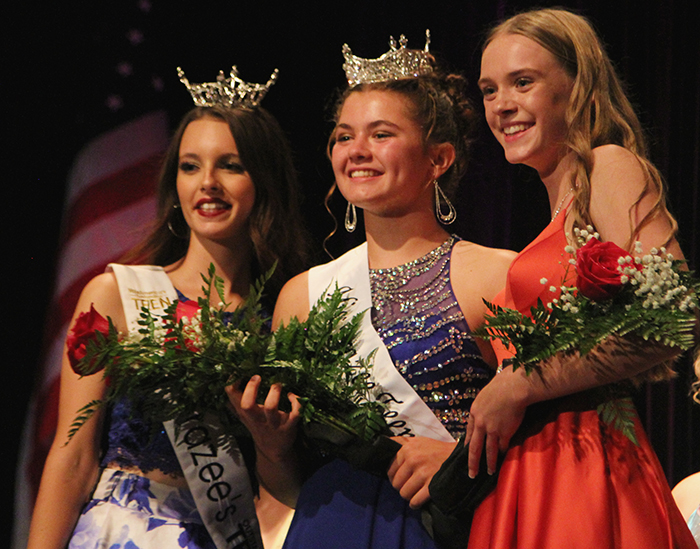 By Kathryn Wilkowski
Reporter
After a grueling week of memorization, shopping, rehearsal, talent practice, and writing, Katie Courneya, daughter of Nick and Nicky Courneya, was finally crowned Miss Frazee's Teen 2022.
"It was originally just going to be a fun thing to do; I didn't expect to win at all," said Courneya.
Deciding to run alongside her friends, Maggie Blaine and Alydia Mitchell, Courneya wanted to make the most of the experience.
"Alydia was actually the one who convinced me and Maggie to do it," she said. "But, she ended up not being able to run herself."
Winning not only the crown, but the community service essay, Courneya took home an astounding $1,100 in scholarship dollars to build towards her goals in the future.
"I know I'm going to college. I don't know where, I don't know what for, I just know that I'll be going," she said. "So I'm really grateful for everything I was able to win."
Courneya relentlessly went through the pageant promoting self-confidence in today's youth. She plans on using her platform to build up the confidence of her peers through fundraising and many events that get the youth more involved in the community.
"I played tackle football in fifth grade and it was amazing," she said. "I picked this platform because I was the only one confident enough to play and it ended up being the best thing that I did. I want to give other kids the confidence to have the same opportunities that I was able to have."
Since winning the title of Miss Frazee's Teen, Courneya has gone with her sister queen, Marcella George, to the turkey lunch, pet and doll parade, Turkey Days parade, and demo derby.
"It's a lot less nerve-wracking than I had originally thought it would be," she said. "It's a lot easier to do it with Marcella. She's really nice and she made the first day really fun. I'm excited to have more experiences with her."
As an incoming eighth grader at Frazee-Vergas High School, Courneya is heavily involved in the girls basketball team, volleyball team, and softball team. She is planning on involving herself with the student council this upcoming fall term as well.
"I plan on involving my platform while I'm at school. One of the things I'm planning on doing is putting confidence boosters on sticky notes and putting them on kids lockers throughout the year," she said. "I'm really excited. I love being able to use my voice in a powerful way. It's a lot easier to listen to someone who has a title, than someone who doesn't. So it's going to be a really good year."
Courneya will be making appearances during Vergas' Looney Days weekend from Aug. 11-14 for the junior pageant and parade as well as the Northwest Pageant in Detroit Lakes on Aug. 14.
To keep updated on the events being held on behalf of Katie Courneya's platform, visit www.facebook.com/katiecourneya.
"I just want to thank Heather (Perrine), Alice (Furey), and Jay (Esteson) for making the pageant look so beautiful and putting up with us being a little crazy, because I'm pretty sure we were," Courneya said. "And I want to have everyone in the community looking forward to the different activities that I'll be planning throughout the year."