George named Miss Frazee 2022 during Turkey Days
News | Published on August 9, 2022 at 3:26pm EDT | Author: chadkoenen
0
Family comes together for pageant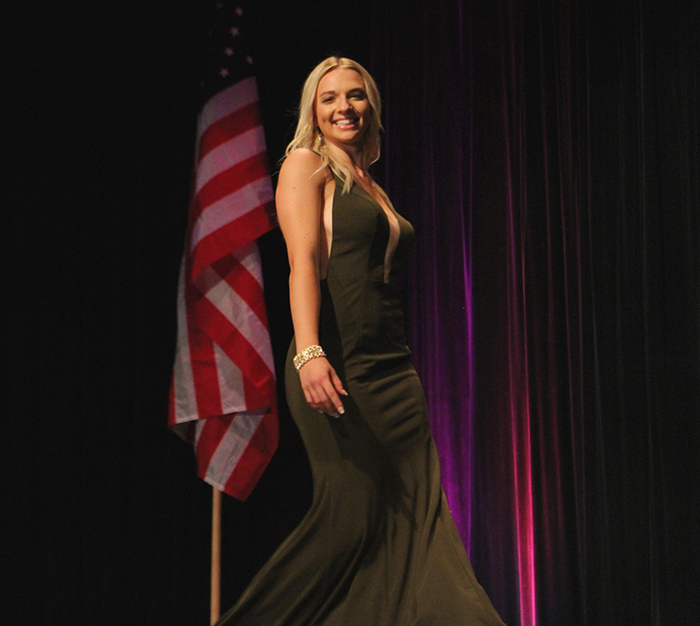 By Kathryn Wilkowski
Reporter
In light of family gatherings, Marcella George ran for Miss Frazee this past Turkey Days weekend and took the crown in the day-long competition.
"I was thinking more of the future and wanted to make sure I was doing the best I could with obtaining scholarships and Miss Frazee is the best pageant in terms of scholarships," said George. "Plus, my sister, Katie Winter, ran for Miss Frazee in 2015 and ended up winning Miss Frazee. I saw it in her and I know how much fun it was for her and the rest of my family. That was definitely a huge influence."
Along with the crown, George also took home $3,500 in scholarships from three different essays, winning the talent portion, and academic achievement. Along with the paid rewards, she also won the evening gown competition and private interview.
"I was in complete shock; I was really nervous going into scholarship rewards," she explained. "So, when I heard my name being called is when I first realized that I had a shot—I was freaking out. After the runner-up was called, I didn't want to put it into my head, but this could be my moment. I wanted to be Miss Frazee, I was so nervous."
In preparation for the pageant, George had an array of help from her closest friends and family and her sister, Katie, offered up her services any way she could.
"Having Katie there throughout the entire experience was like the best thing ever," she explained. "She made me feel so reassured. It was good to know that I always had someone in my corner."
With a background in her own mental health experiences, George chose to represent a cause that would connect her to the youth of our community personally—mental health awareness for youth.
"I knew I wanted to choose a platform that I could personally touch on. I felt like this was the perfect way to finally express how I feel and help others. Because that's what I love to do," she said.
With the new title of Miss Frazee, George has a lot of ideas on things she can do with her outreach. Between reading to elementary kids about expressing their feelings, a dance camp to uplift confidence, and writing in the local newspaper, George has big plans for the upcoming year.
"In terms of mental health, when you're younger that's where it starts. So I definitely want to do as much as I can to include them throughout the year," she said. "I'm right here in town, my main focus is always my community. By being at the school, I have the ability to talk to so many more people than I would have if I were just a year older."
To keep in touch with Marcella George throughout her year of reign, visit facebook.com/Miss-Frazee-2022-Marcella-George or.instagram.com/missfrazee2022/.