Kohrs reflects for her last month as queen
News | Published on August 9, 2022 at 3:23pm EDT | Author: chadkoenen
0
Miss Wolf Lake encourages pageants on young girls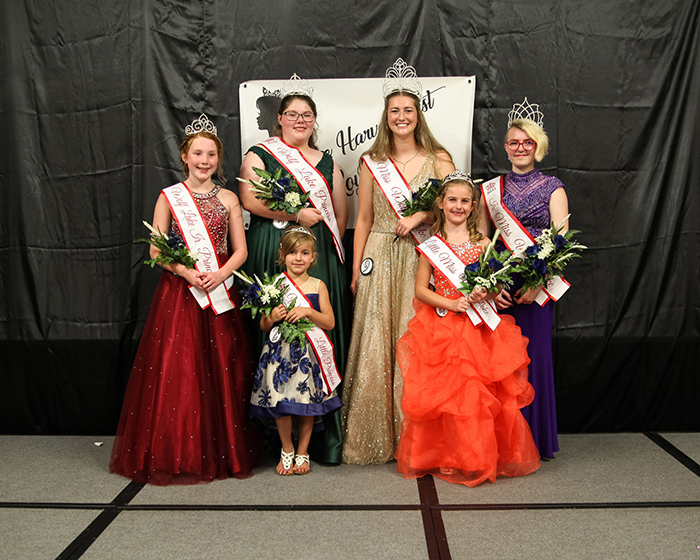 By Kathryn Wilkowski
Reporter
During last year's Wolf Lake Harvest Festival, Desarae Kohrs was crowned Miss Wolf Lake after a long day of interviews, dancing, and dress changing.  ¶  "I've always looked up to the other princesses and been inspired by them," she said. "I wanted to be that positive role model for those younger girls. I wanted to be someone that they could look up to and hope to be one day."  ¶  Unlike Miss Frazee or other pageants under Miss Minnesota organization, the Miss Wolf Lake pageant does not hold a talent competition and does not require their girls to uphold a platform.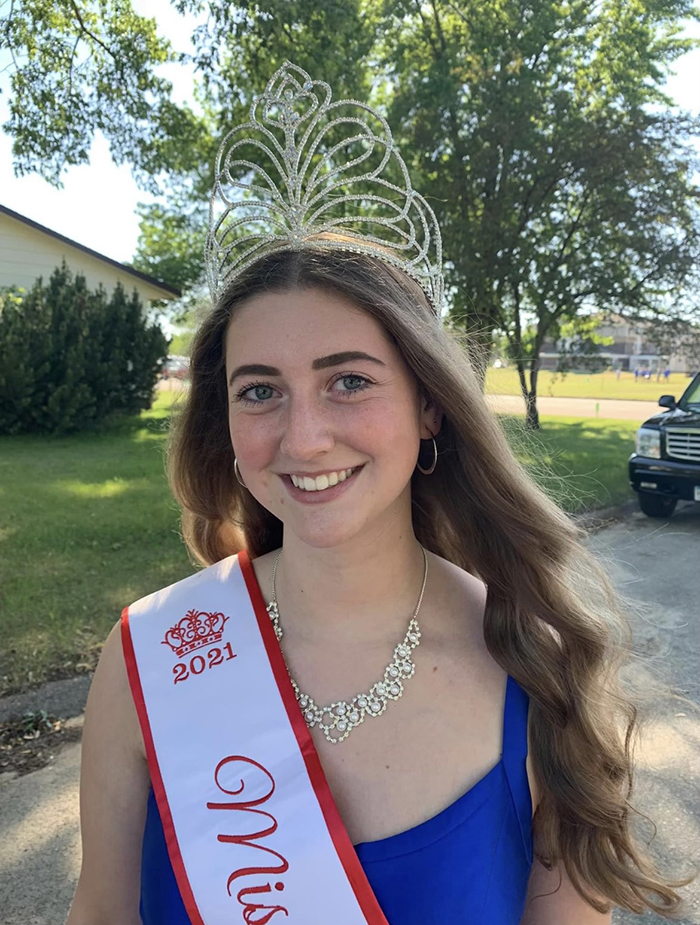 "We first go through the interview process so that the judges can get to know us," Kohrs explained. "Then, we perform a dance that luckily doesn't get judged. I'm unbelievably clumsy. After that, we get dressed in our formal gowns and walk the stage. We get judged on our demeanor and public persona."
Running against only one other contestant, Kohrs still did a lot of work ahead of time to get herself as prepared as possible for the upcoming pageant. Between trying in different dresses and working on her public speaking, nerves were definitely in the picture during the competition.
"It was a little intimidating for sure. One of the judges was actually a former Miss Northwest and it was really hard not to fangirl and keep my composure. I was so excited to just talk to her and meet her. But it was really exciting to get in front of everybody in a really pretty dress. I thought it was really fun."

Desarae Kohrs, 2021-22 Miss Wolf Lake
Following the crowning, there was a loaded weekend of appearances throughout the rest of Harvest Festival for Kohrs. However, the first experience outside of Wolf Lake, shaped her reign more so than any other.
"The first event I actually went to as Miss Wolf Lake was actually the Princess Warrior 5K in Wadena. It was a big community event where a little eight-year-old girl, who was diagnosed with cancer, had a wish to be remembered and wanted to continue her legacy," she said. "I went to that without really knowing much about it. But when I showed up, there was a ton of royalty everywhere. Past royalty, present royalty, even Miss Minnesota was there. It was so cool to see everyone come together for this one cause. It was really special."
Kohrs has spent her time as queen making appearances at lunches, talking to people and meeting people, attending pageants, parades, and getting to know her own court.
"It's been a really good year. Between the pageants, parades, and many appearances, it's been so much fun to meet all the different people and especially the little girls who are in awe that I'm a real-life princess. It's been amazing," she said.
Along with Miss Wolf Lake, the pageant also crowns a Junior Miss Wolf Lake, Little Miss Wolf Lake and three other princesses.
"It's really been great. When the littles ones first went into it, they weren't quite sure of it, they were kind of shy," she said. "But now that we're getting to the end of it, I've gotten to watch them grow into their crowns. It's been so amazing to watch them come out of their shell and become confident. They now talk to people, keep their head held high, and enjoy it. It's great."
After being crowned on a Friday, merely two days later, Kohrs had moved into the University of Concordia for her freshman year of college. She plans to return to Concordia for her upcoming sophomore year.
"There were a few events that I couldn't attend because I was at college and that was really hard on me, my court, my family and the community. I just felt really bad because I wanted to be here as much as I could, even though sometimes it wasn't possible."

Desarae Kohrs
Contemplating journalism or communications but not yet decided, she plans on using the many skills she gained through this experience throughout the rest of her life.
"I learned a lot about who I am as a person. I've seen a lot of growth in myself and my ability to be confident," Kohrs said. "This crown gave me the opportunity to get out of my shell and get to know others. I got to see things from a different perspective."
With the pageant coming up, Kohrs recommends anyone of the age requirements to try out doing a pageant at least once. Between the boost of confidence, the life skills, and life-long friends, Kohrs see's no possible regret in running.
"I think that pageants are such a wonderful thing to get involved with," she explained. "It makes you more sure of yourself as a person and it's one of the most inspiring things that I've done. It helps you find yourself. I would recommend it to everyone."
To see Kohrs before she gives up her title, stop by the Loony Days parade Sunday, Aug. 14.
The Wolf Lake Harvest Fest Pageant is Friday, Aug. 19 at 6 p.m. this year. To run for the pageant, visit www.facebook.com/WolfLakeHarvestFestival/ where you can fill out a form to be the future Miss Wolf Lake.