Lakes Fit brings a state-of-the-art gym to Vergas
News | Published on August 9, 2022 at 3:40pm EDT | Author: chadkoenen
0
New 24-hour fitness center opens for business Aug. 8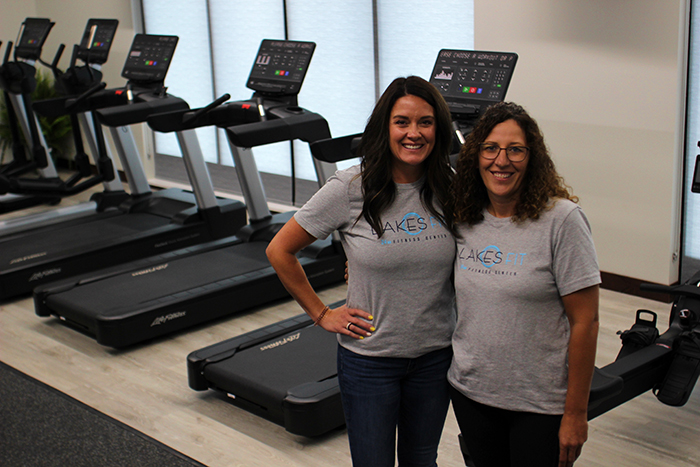 By Robert Williams
Editor
Altona Square in Vergas is coming to life and Lakes Fit 24-hour Fitness Center was the first business to open its doors for business on Monday, Aug. 8.
Lakes Fit is a 24-hour fitness center with modern and cutting edge workout equipment, along with a separate mirrored-workout room for classes.
The gym is a first for Vergas and was the idea of certified personal trainer Heather Schmid.
"It was Heather's dream and we all got on board and followed her dream," partner Wendy Zitzow said.
Zitzow and Schmid, along with their husbands, partnered on the project as the building around them transforms from Goodman's Supermarket to the state-of-the art residential and retail space that is nearing completion.
"It feels like it went super fast. There were maybe a couple months in the dead of winter where it kind of seemed like it stalled. All of a sudden, February 1st rolled around and we had to get going, make decisions and get these things ordered. It's been a whirlwind and everything has gone so smooth for most things."

Wendy Zitzow on getting Lakes Fit ready for opening
"We lucked out," said Schmid. "Especially with equipment and supply chain issues."
By ordering in October of 2021, the gym has everything in place except one machine by opening day. Schmid and Zitzow have worked together seamlessly to bring a gym to Vergas and their plan has been equally as efficient.
"I think picking out the two colors and the name were probably the one thing we had to go many tries at before we liked it," said Zitzow. "That was probably the most difficult, but everything else has been right away."
"Our tastes are the same and we actually agree on a ton, so it's worked out really slick," said Schmid.
Having a gym in town has been a Vergas need for some time, stated both in community surveys and the comprehensive plan questionnaire.
"We thought it would be a perfect opportunity to bring a gym to Vergas in one of the retail spaces," said Schmid.
Lakes Fit also will save local workout enthusiasts lengthy drives to surrounding towns.
"That comment has been said quite often," said Zitzow.
"Especially winter time, having to worry about getting on icy roads," Schmid said.
Given the variety of residents in the Vergas area, planning the logistics of the gym, from memberships to classes offered has been a challenge. The target demographic spans the entire community.
"I actually think that we have a target catering for the lakes area. We're trying to be very creative in our plans to make it work for the community. People work out of town; people have lake places. We're trying to figure out memberships that will accommodate a variety."

Wendy Zitzow
The offerings stretch from guest passes to annual memberships for families and individuals.
"We have had a lot of annual interest," said Zitzow. "But that's where we had to get a little creative where you can have a six-month plan, but you can freeze it. We have passes available for people that would be here at a resort for a couple weeks. We've been trying to think of everything to meet the needs."
The modern and sleek design of the gym really stands out. The basics came from a drawing by Schmid that was programmed digitally by Life Fitness and PRx Performance out of Fargo to bring her ideas to life.
"They played a large role in the design process," Schmid said. "I've worked out for a long time and been a part of a lot of gyms and just took that knowledge and applied it to this space."
The design was based on maximizing the floor space, which extends right to the perimeter of the room and includes space-saving equipment.
The weight training equipment retracts to the walls to allow for lunge work or other activities that need open space in the gym. Barbells, weight plates, bars, kettlebells and other equipment are located on the walls. Entire squat racks use hydraulics and can be easily folded back to the wall by one person.
The large windows allow for one-way viewing outside while being mirrored to the outside for personal privacy while working out in the daytime, along with shades that block the view to the interior at night.
The fitness center has 24-hour key fob access and 24-hour surveillance.
"We have security cameras too for safety," said Schmid. "We've had questions about that. If anybody is in here at night and they're alone, we're able to look back if there are any concerns and hopefully help people feel safe. We'll be locked as well when we're not staffed."
Like the gym's layout, the business is equal parts strength training, cardio and class oriented.
"We have a variety of cardio and strength equipment that hopefully will meet the needs of most people," said Schmid. "If people are also interested in classes, if they're a member they can get a punch card at a discounted rate."
There are also options for people who just want to participate in classes.
Both owners got examples of what their customer base's needs are by asking for feedback from their social media presences on what types of classes people desire.
Classes will include yoga, strength training and silver sneakers, which are classes specifically designed for seniors.
"We asked for input from the public on what they'd like to see and we hired a yoga instructor who will be here twice a week and she will offer a morning session and an evening session," said Schmid.
Schmid is a certified personal trainer and will be offering strength training classes twice a day as well.
A third instructor is coming on board to offer more variety in terms of classes, such as PiYo, a mixture of pilates and yoga, and boot camp and HIIT classes. Both of the latter exercises incorporate bursts of intense, repetitive activity, before moving on to the next exercise in a predetermined series.
"We have been trying to get the word out and get the public's input and that's been the easiest way to gain that," said Schmid.
Lakes Fit is located at 105 E. Main St. The fitness center can be reached via email: info@lakesfit.com or by phone: (218) 234-7686.
Membership information can be found on an informative and well-designed company website: lakesfit.com and the gym posts to social media via instagram.com/lakesfit_vergas and facebook.com/LakesFit.
The fitness center will be staffed during Looney Days from 8 a.m. to 3 p.m., Friday and Saturday Aug. 12-13, for attendees to get a closer look at the amenities.
People can also connect with Zitzow or Schmid individually to check out the gym by appointment.