Detectorist finds lost family heirloom
News | Published on August 19, 2022 at 3:37pm EDT | Author: chadkoenen
0
Tobias solves 30-year Engle mystery
By Robert Williams
Editor
A long standing family mystery was recently solved when metal detectorist Alika Tobias helped the Engle family find a family heirloom that had been lost for more than three decades on the family farm in rural Frazee.
Donna Engle had given up hope of ever finding her father's ring that was lost on a deer hunt.
Donna's father Raymond Korinta farmed near Osage, and due to the nature of the job, never wore a wedding ring after marrying his bride in 1942. Upon retirement, Raymond's wife purchased a tiger eye ring for him.
"My mom bought him this ring; after he quit farming he wore it all the time," Donna Engle said.
The ring stayed on Raymond's finger until deer hunting season three decades ago.
"It was either the late 80's or early 90's," said Donovan Engle.
Donovan was on that hunting trip with Raymond and other family members.
"We were driving the river bottom down here and we kicked a deer; he (Raymond) was posted on the field, and we kicked a deer out and he hit it and it went across the road, into the ditch and went down," said Donovan.
Raymond was after his kill with Donovan coming up behind on the road.
"I walked alongside him and went down into the ditch and he had the nasty habit of cutting the throat of the deer," Donovan said. "He picks the deer up by the ear and the deer stands up. He puts an arm around him and tried to wrestle with him, some say he was dancing, it looked like he was wrestling him. They went about 16 to 20 feet and then my brother ran down into the ditch and finished the deer off."
Raymond proceeded to gut the deer and in the process lost his ring.
"When he got home he noticed his ring was missing," Donovan said. "Nobody could find it."
Wherever it had landed, that's where it sat until this year.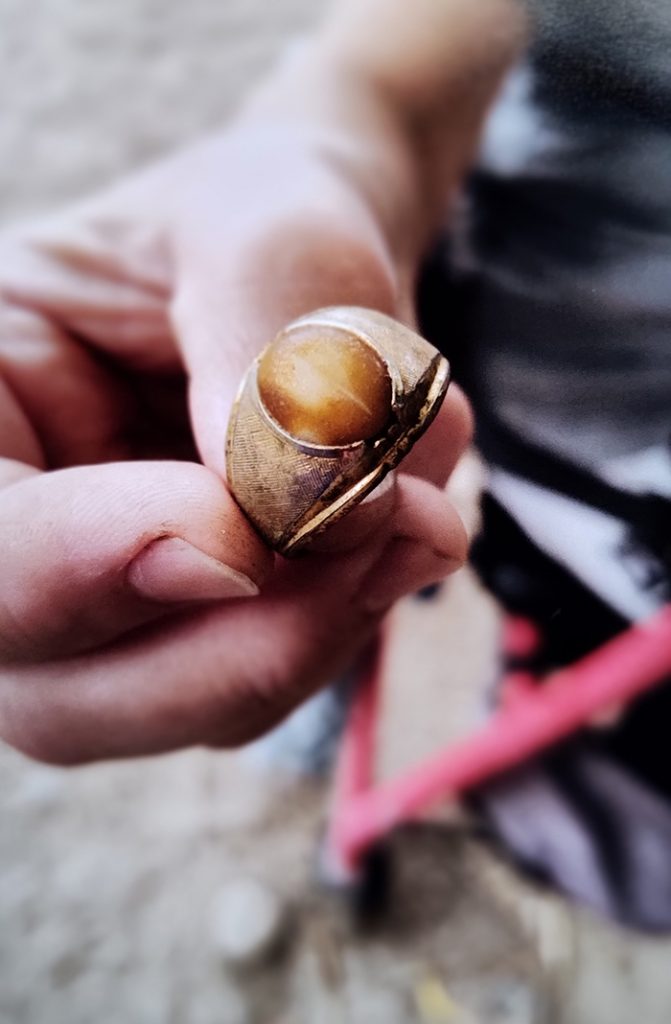 "It could have been up on the field and plowed how many times over in 30 years," Donovan said.
Alika Tobias has been metal detecting for the past two years and his hobby is more than finding artifacts, it's the history behind them that intrigues him. The Engle's story also had a sentimental twist.
Alika's daughter Coco befriended one of the Engle's granddaughters Lizzie a couple years ago and Alika heard about the story of the ring in a conversation about his detecting hobby during a winter visit. He returned later in the year to conduct a search.
"Give me a general area, there's a good chance I can find it—if it's metal," he said.
Donovan had little hope the ring would be found. Donna had a bit more optimism.
"I just thought, go for it," she said. "In my wildest dreams, I never thought I'd see it again."
Metal detectors have a way of attracting inquisitive people and Tobias has caught the eye of a few people living in houses built in 1914 near the Frazee-Vergas High School that housed the postmaster general, the fire chief, the police chief, the mill owner and the banker a century ago.
"It's nicknamed Millionaire's row," said Tobias.
At one of those properties, Tobias has located 40 indian pennies, 20 different silver coins from Mercury dimes to a Liberty Seated dime and a size 13 sterling silver thimble.
"When I went back and researched the mint mark, it showed that particular silversmith came through this town in 1902 only," he said. "So now I know that it was made in 1902 and when I really researched the postmaster general, he had a daughter at the time. It can almost be tied to her."
Finding the mysteries connected to his finds is what intrigues Alika the most.
"I like to put a story to it," he said.
One area he prefers to search is road and sidewalk tear outs, which made the Highway 87 construction an optimal place to detect.
"A lot of times, that's where a lot of old stuff resides," said Tobias. "I prefer doing research on a place before I go."
Tobias uses a series of phone apps including one for aerial photos from the early 1900's to present, another for landowner information and Google Earth with the Library of Congress Sandborn fire insurance map overlays, which show the size and location of historical buildings on a specific property from 1907 to present.
"It gives me a good place to look," he said.
Tobias looks for heavy traffic areas, like a walkway from a back door to an outhouse, or mailbox locations.
"Before they had stamps on your envelope, if you had to send a letter you just put a dime in the mailbox," he said.
The change from the mailman would be left in the mailbox and oftentimes a penny would be dropped. Tobias has started a collection of early 20th century coins from recent finds here in Frazee.
He has also picked up detailed knowledge of the history of Frazee, including when the train depot and timber platform moved from three miles east of town to the city limits to aid in loading timber from the old mill.
"That made Frazee an epicenter," he said. "It became a booming town."
He has also located a ring prior to searching at the Engle property.
"I actually found a Jostens ring. It was a class ring from Frazee and his first, middle and last name were inscribed on the inside," he said.
Tobias is far more interested in the history of the finds than the objects.
"I enjoy making people smile more than that little hunk of gold will bring happiness to me," he said. "Sentiment is way more important."
Donna's lost ring was full of sentiment and Alika's quest was not going to come up fruitless.
"It was a big deal because I knew the sentimental value because he's no longer with us," he said. "It's like listening to a voicemail from your long lost—it's something they left you. I wasn't going to leave until I found it."
Once pointed in the right direction, Tobias was off on a quest that lasted approximately an hour.
"He asked us where the general area of the ring was and I'd say close to an hour later we heard him yell from the yard," said Donna.
Tobias had a plan for his search and got an early hit on his detector.
"I started a grid pattern and while I was going I hit a solid 19 on the visual display identifier— for me, that means it's either a penny or something brass," he said. "I dug and when I flipped it over it was an empty 30-ought-6 casing."
Having heard Donovan's story about his brother's kill shot and Raymond's deer wrestling led Alika to believe he was close.
"When I looked at it, that was probably the mercy kill," he said. "If he was standing up there and this cartridge is here, I felt like I'd gotten close. About three more swings after that I get a solid 30, which is either silver or big, chunky non-ferrous metal."
Bingo.
"Before I dug it, I already knew it was going to be the ring or something of the sort," Tobias said.
Moments later a very emotional reunion was had.
"He brought it up and stood in front of me and I knew it right away," said Donna. "I started bawling."
"She just dropped down to her knees with her head in her hands," said Donovan. "I think the first words she said was, 'I thought I'd never see that ring again.'"
Donna has been seeing plenty of the ring since then.
"I cleaned it up and have been wearing it every day," she said.