Ditterich Mercantile brings groceries back to Vergas
News | Published on August 19, 2022 at 3:06pm EDT | Author: chadkoenen
0
New store swamped with business opening week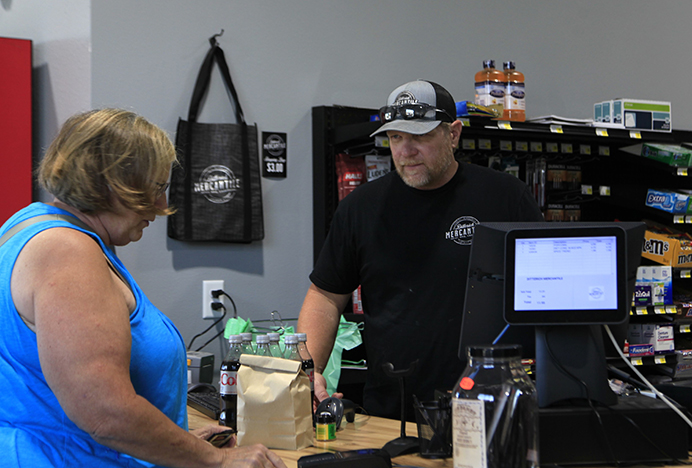 By Robert Williams
Editor
From the Summers family opening up their Re/MAX realty office and the versatile design center down the block earlier this year to crews putting the finishing touches on Altona Square this month, no new business has been more anticipated in Vergas than Ditterich Mercantile, the long-awaited replacement to Goodman's Supermarket.
A constant flow of customers entered the new store for purchases Thursday and many of those people stopped to chat with owner DuWayne Ditterich, some even giving him a thankful hug for bringing a grocery store back to town.
"People are unbelievably excited to have us here in town," he said.
Part of the reason the Ditterich family opened the new store was their own feelings for a big missing business piece downtown.
"We missed it too. Right when it happens you're like that's how it is, but after a couple months it's not good that we don't have a grocery store. Then after three, four, five years it's really not good."

DuWayne Ditterich
In a space smaller than Goodman's, the new store is packed with product diversity.
"Everyone who walks in is in awe and the next thing that they say is, 'How do you get that much variety in two aisles of groceries?'" said Ditterich.
The Mercantile is the byproduct of working with community members to bring it to fruition.
In 2018, DuWayne was asked to be on the Vergas grocery store committee.
"Of course, the first thing they asked me was, 'Will you build a grocery store?'" he said. "I've got enough irons in the fire."
DuWayne and his wife Jennifer had a conversation with their three sons about the family business and its future.
"I asked the kids, 'Do you want to farm or not?'" said DuWayne. "Because if you don't want to farm there is absolutely no sense in me trying to expand and increase the farm. We'll just keep the beef going. They didn't want to farm. Fair enough."
He then proffered the idea of opening a grocery store to see if there was any interest.
"Five out of the five people in the family were interested in helping with that," DuWayne said. "So we decided, heck yeah. I went to the grocery store committee and said if somebody buys Goodman's, tears it down and builds a new one we'll lease space. Jeff Zitzow and Tyler Schmid with S&Z Properties decided to take that on. I committed to it, said a 10-year agreement with you guys, let's get this done. Since then, it's been a whirlwind of setting it up and it's been fantastic and a lot of fun. A lot more work than farming to get this set up."
The Ditterich family put in a ton of work at the farm to get to this point providing beef to several restaurants throughout the years.
Pre-COVID, they were in a dozen restaurants with their beef. After the pandemic, the family dropped down to providing meat to six restaurants and now just three.
DuWayne started raising beef in 2013, just four head a year for family and friends.
"We were sick of not getting good meat. I was going to figure out how to get good meat for the family and I'll sell three and get mine for free. 

DuWayne Ditterich
That lasted about four years and word got around quickly and demand went up.
"The people around here didn't have an outlet to go buy meat and we started raising meat about two years after Goodman's closed," he said. "It was perfect timing as far as our farm went, but we didn't think it was going to be that successful. We literally thought we'd sell 12 head a year.
The family business continued to evolve from there.
"There was just a tough time in farming around 2015, 16 and 17 too," he said. "The prices weren't very good and things like that. It was time to diversify."
The Ditterichs opened a small store on their farm.
"We bought a freezer and wanted to sell 12 head out of the farm to make it worthwhile," he said.
That plan ended up being far more than the anticipated dozen head of cattle.
"The first year we sold 77," he said. "We knew we had something good going."
In 2019, the Ditterichs purchased a food truck to feature their meat.
"The food truck was a huge hit and so we kind of outgrew the farm," he said.
That success continued the business evolution from food truck and farm store to the Mercantile.
"We had a food truck that's hard to cook out of. A farm store only selling frozen meat," he said. "This is easier. It's much more friendly for business. We have a commercial kitchen now and we can sell fresh meats."
The Mercantile is also home to a variety of regional products that promote businesses like the Ditterich's.
"I promote other farmers and local products," he said. "We want to sell maple syrups and honeys; Pride of Dakota stuff. We've got Brad's Seasoning out of Fergus Falls and Curt's Barbecue out of Underwood; Big Deck Barbecue out of Fargo; Thunderbird Ranch out of Valley City. Zoob's Nuts out of Wyndmere and Pelican Pete's Pistachio out of Pelican Rapids. We're focusing a lot on that because people like that and it's fun to have those products. I enjoy it because it's not a commercialized product. We want people to come in and go, boy, we can't buy that anywhere else."
Selling those products at a reasonable price is also important.
"We're here to help people. It's important to us to have competitive prices. We're not Walmart or Aldi cheap and that's not our goal. We will try to be the same price or better of all the other smaller grocery stores. We want people to not shop in Fargo; we want them to come down here and buy their ice cream, get their milk and cheese."

DuWayne Ditterich
Early demand has not been a surprise to the family, but to some of their vendors.
"The bread guy came in on Monday and his jaw dropped because we had nothing left," said Ditterich.
The deli portion of the store is still a work in progress. Once hiring of a couple positions is complete, DuWayne will be concentrating on getting the deli going in the coming days. The deli will serve warm lunches and to-go lunches, along with the assortment of fresh meats. Customers can even dine in the store at a couple small tables near the front window.
Ditterich Mercantile's early success came after a quiet, soft opening. There was no publicity, no fanfare. They just opened the doors Friday, Aug. 5, and the customer flow has been steady ever since.
"How we opened the doors was we took down the paper off the doors," said Ditterich. "We didn't say anything. Once we got our first customer we posted that on Facebook and it got almost 500 likes and 100 comments. Unbelievable local support. It's crazy."
Both seasonal customers and locals from town have made stops in the store. Both crowds are essential to the Mercantile's success.
"The lake people are great and they're here in the summer," said Ditterich. "They're fantastic and we love them, but I think we're at 60-65 percent of our business is local people too and that's a very good sign for the future to come."
Hours of operation at Ditterich Mercantile are 8 a.m. to 7 p.m., Monday through Wednesday and on Saturdays. Thursday and Friday's hours are 8 a.m. to 8 p.m.; Sunday 9 a.m. to 2 p.m.
The entrance is located near the alley by the liquor store.