Harvest Festival kicks off Friday night
News | Published on August 19, 2022 at 2:57pm EDT | Author: chadkoenen
0
Weekend to include mud run, parade, pageant
By Chad Koenen
Publisher
Mud will be flying during the 39th annual Wolf Lake Harvest Festival this weekend. 
The festival kicks off on Friday night with a bean bag tournament at the liquor store, as well as the Miss Wolf Lake, Junior Miss and Little Miss Pageant. The pageant will begin at 6:30 p.m. as the 2021 royalty of Little Miss Princess Lydia Budzein, Little Miss Princess Amelia Hrdlicka, Junior Wolf Lake Princess Alexis Davidson. Junior Miss Wolf Lake Gillian Pope, Wolf Lake Princess Kaiden Langford and Wolf Lake Queen Desarae Kohrs will pass on their tiara to the 2022-23 royalty.
Candidates this year for the Little Miss, Junior Miss and Miss Wolf Lake include: Hana Isola, Ailey Yliniemi, Anna-Mae DeGroat, Hanna Beck, Annette Hermanson, Jordan Nelson, Isabelle DeGroat, Mia Schermerhorn, Kylee Arndt and Charlie Johnson.
On Saturday the Wolf Lake Harvest Festival will continue with a 5k run/walk at 10 a.m., as well as the Petro and Car Show at Kinnunen Store, which will also begin at 10 a.m.
Area children will have their chance to race in the obstacle course at the sledding hill from 11 a.m. to 12 p.m. There will be four age categories for people ages 10-12, 13-15, 16-18 and 19 and over. There will be prizes given away for the fastest time in each age group.
The pedal tractor pull in front of the liquor store will get underway at 12 p.m. and the harvest festival parade will roll through downtown Wolf Lake beginning at 2 p.m.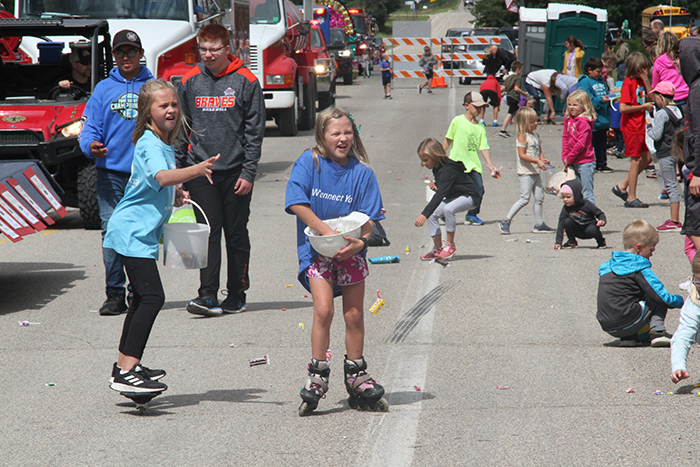 The mud will be flying following the parade when the annual mud run will be held at the mud pit. First prize will receive $250 in each category, while second place will receive $200 and third place will receive $50.
The festivities will come to a close with the bean bag tournament at 3 p.m. and a street dance featuring Whiskey Business beginning at 8 p.m.