Hornet girls basketball takes on new coach
News | Published on August 19, 2022 at 11:21am EDT | Author: chadkoenen
0
Heinsius transitions from boys to girls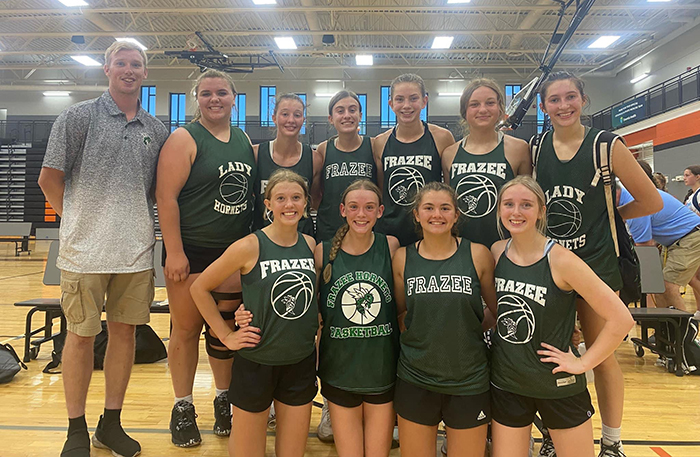 By Kathryn Wilkowski
Reporter
In only his second year teaching in Frazee, Trey Heinsius transitioned over from boys basketball to take over the girls basketball head coach position.
"I've been in love with basketball since I could walk," Heinsius explained. "I played basketball in high school and in college and I knew once I got a job, I wanted to jump right back into coaching. I coached fifth and sixth grade basketball since I was a junior in high school and coached seventh and eighth graders all throughout college. Basketball has always been a huge part of my life. It's a big part of who I am and I didn't want to let go of the game. Head coach was always my goal."
Taking a job in Frazee right after college, Heinsius now teaches sixth grade reading and English at the elementary school.
"I actually coached all the Mahoney's in softball when I was at Morris getting my teaching degree," he said. "I met their grandpa and he mentioned I should check out Frazee once I graduated. It was a great area and I always wanted to move up north. I knew right away that I could be here forever."
After taking over the position this summer, Heinsius has taken his team to two breakdown tournaments, as well as two practices a week to get the girls more acquainted with their new coach.
"The girls were excited right off the bat. It wasn't a struggle with the transition at all, both the team and I handled it really well," he said.
The girls basketball team will face a whole new set of coaches this year with both Jason Reierson and Julie Karger moving on from coaching the girls team. Taking over alongside Heinsius is Paige Callahan, who has coaching experience in Albany, Long Prairie, and Bemidji High Schools prior to coming to Frazee.
"She's teaching in the elementary with me," Heinsius said. "I don't think it's going to be a problem but it will take some time for the girls to adjust to two new coaches right off the bat."
Alongside being assistant coach for the boys basketball team, Heinsius also took time to help coach softball and help line judge for the volleyball team.
"It helps that I've already been here a year and most of the girls know me already," he said. "Whether I taught a younger sibling or coached a brother in basketball, I'm a familiar face and it's been really helpful."
After graduating high school, Heinsius transitioned to play basketball at Central Lakes Community College in Brainerd and then continued coaching there at a junior varsity level.
"After playing for two years, I was offered a JV coaching position for the college I went to and I wanted to see if I liked it. After that, I fell in love with developing players to the best of their ability but also teaching them life skills that they may have never realized at the time. Basketball has taught me a lot more than putting a ball through a hoop."
As the school year comes close and basketball season is just around the corner, Heinsius and the girls are excited to see what will come from this stirring change.
"The girls here work hard, they have fun, they want to be here, and I have so many high goals for this upcoming season," he explained.
The girl's basketball team will be starting their season mid-November and will have many games for the public to take part in. Make sure to support Heinsius and the team during this exciting change.