Johnson named grand champion loon caller at Looney Days in Vergas
News | Published on August 19, 2022 at 11:15am EDT | Author: Chad Koenen
0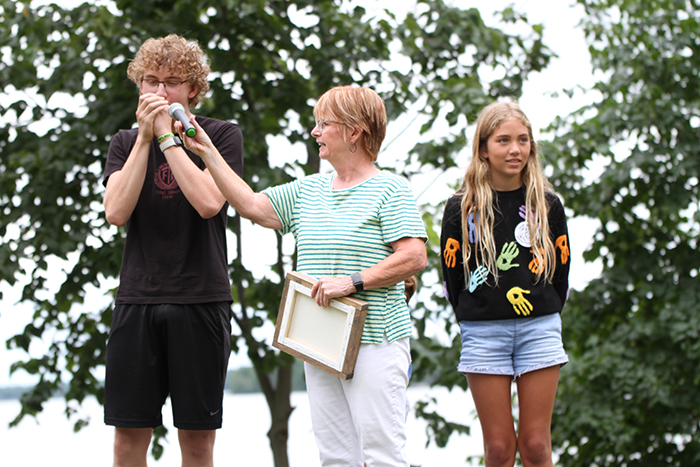 By Chad Koenen
Publisher
In his first, and possibly last loon call contest, Nick Johnson was able to be the last "loony" caller on Saturday afternoon.
Throughout the contest Johnson joked around with the emcee, judges and the approximately 100 people in attendance while on stage. Though he has never entered a loon call contest before, Johnson was able to edge last year's grand champion Ella McHattie and Sylvia Bauer in the finals to come away with the title of Grand Champion Loon Caller for the 2022 contest.
Johnson, who was staying at a cabin on East Spirit Lake, said he learned how to make an award winning loon call from his brother a few years ago.
"This is my first and doing this and probably my last," joked the 17-year-old Johnson after capturing first place. "I had some confidence (coming into the event). My brother taught me at my cabin a few years ago."
In addition to Johnson, McHattie captured first place in the 0-8 age category. She was crowned as the grand champion at last year's contest. Second place in the 0-8 category went to Bennett Noreen and third place went to Remi Clifford.
In the ages 9-15 category, Bauer captured first place, while Leah Ellenson took second place and Quinn Peterson captured third.
Johnson captured first place in the 16 years and up category, Johnson took first place, while Mike Mickelson took second and Ryan Peterson captured third.
Loon callers from East Spirit Lake took first place in the lake contest and Gorentz Dairy won first place in the battle of the businesses.